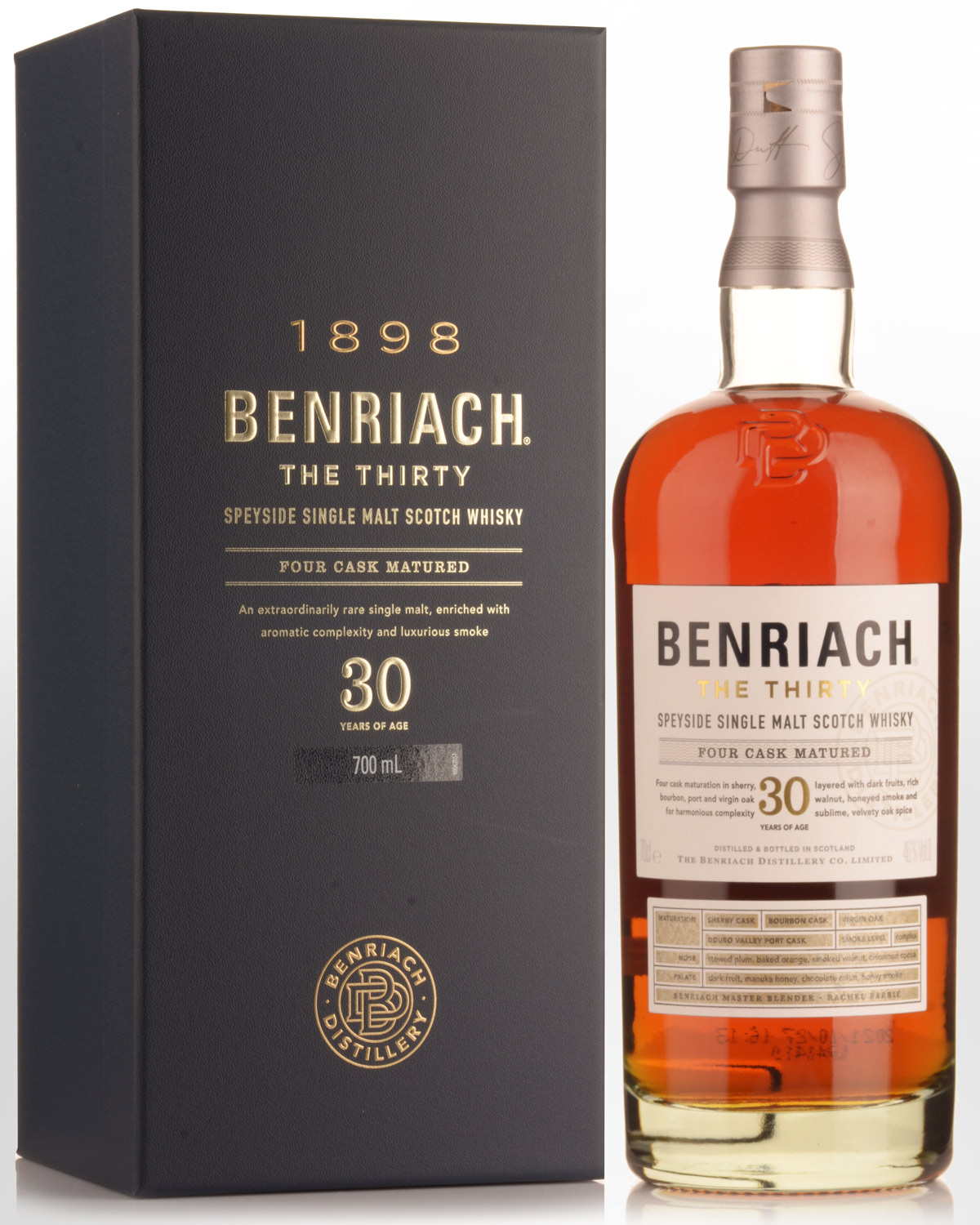 Benriach The Thirty 30 Year Old Single Malt Scotch Whisky (700ml)
Speyside, Highlands,
SCOTLAND
"A complete whisky." - whiskyadvocate.com
Along with its younger expressions, The Twenty One and The Twenty Five, The Thirty represents Benriach's "refreshed" core range. The acclaim for the new age statements has been undivided and consistently high, including some of the highest ratings in recent memory from whiskyadvocate.com. Though not always operational since its inception in 1898, the distillery has amassed a huge cask inventory meaning hundreds of distinct barrels can be blended into thousands of new whiskies. Currently, owners Brown-Forman have allocated this responsibility to Master Blender, Rachel Barrie. She's focused on maintaining an "orchard fruit-laden" profile, while also pushing to create more varied products, often with varying degrees of peat input. 'The Thirty' is her latest, and arguably greatest achievement to date. Like the rest of the new range, it comes matured in four cask types: x-Sherry, Bourbon, Virgin Oak and Port. The combination of Fortified wine and complexing smoke left one taster comparing it to "...mature port wine that's sat in a glass next to someone who was recently smoking a pipe." Extremely limited stocks.
Other reviews... Benriach digs into the vaults for this rare gem, and it's a tour de force. The maturity shows at once, with an antique note of well-aged peat char and dark sherried aromas of dried figs and raisins. The palate offers flavors of cooked berries and baked apple, along with candle wax, dark chocolate, and roasted espresso beans. It all finishes with rich chocolate, old spice rack, and a parting note of ashy peat. A complete whisky. 95 points - whiskyadvocate.com, reviewed by: David Fleming 2021
...This orange-gold 30 year old single malt explodes with an array of dried fruits, toasted nuts, and warm spices, while a present, but unobstructing, savory smoke maintains order and structure in this spirit that is still very much alive. 92 points - Excellent, Highly recommended - Ultimate Spirits Challenge 2021