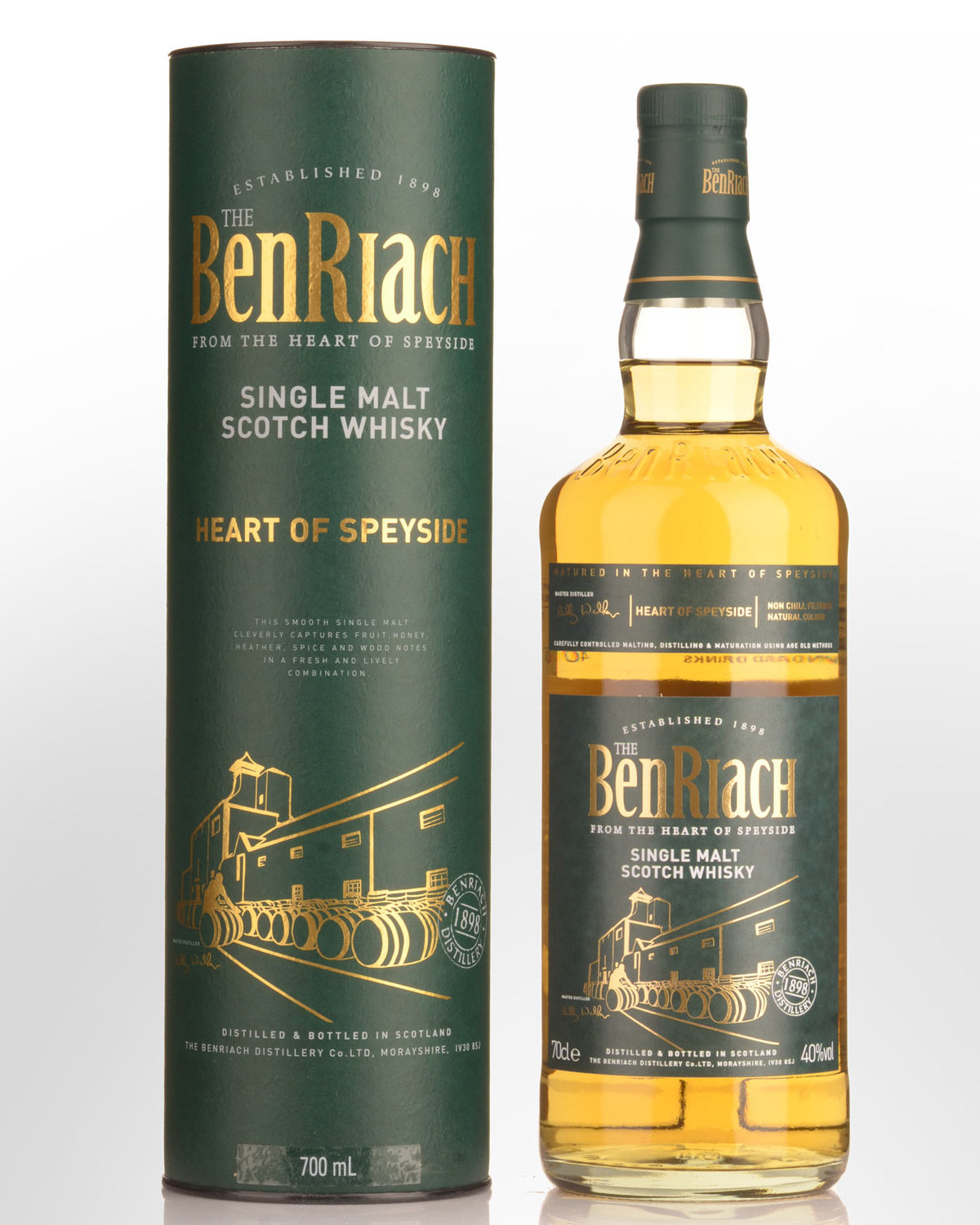 Benriach Heart of Speyside Single Malt Scotch Whisky (700ml)
Speyside, Highlands,
SCOTLAND
Retasted 2020... This is a 2017 batch of the distillery's NAS, entry-level release, so a Billy Walker Benriach. From a fresh bottle, you get more of the distillery's expected fruitiness - a touch of grassiness too, especially on the palate. It's brisk and mildly fruity, lightly honied and manages impressive weight and mouthfeel despite being bottled at 40%. The finish is fresh and spritely. Bourbon cask matured, it's pretty classic as far as Speysiders go. Zero chill filtration is a bonus. 40% Alc./Vol. First tasted 2016... [15ml sample] Brilliant gold. Pure, breakfast cereal lift to the nose with heavy vanilla and later, light cocoa entering the mix and a rich, round pepper/cereal profile. Uncomplicated and accessible. 90 points Other reviews... A decent, non-fussy malt where the emphasis is on biscuity barley.
85.5 points - Jim Murrays Whisky Bible 2019 The story of BenRiach – "the Hill of the Red Deer", is typical of the great Speyside distilleries. Built in 1898 by John Duff, the distillery is sited amongst the rolling barley fields that rise to the foothills of the Grampian mountains. The barley used in crafting the whisky is grown around the distillery and the water is drawn through the Burnside Spring that lies deep below the distillery. Only a handful of Scottish distilleries still make their own malt. One of them is Benriach. The maltings stand beside the distillery and twice a week the prize barley is delivered to be steeped, spread and raked until it begins to sprout. Gentle heat then works its magic and the raw grain becomes the essential ingredient of a Scotch Malt Whisky. The distillery manager oversees the slow and deliberate crafting process of BenRiach whisky – managing the transformation from malted barley to wash, to distilled spirit and into high quality oak casks, some sourced from the great sherry bodegas of Spain. Re opening in 1965 after a 65 year absence from the market, the Benriach distillery was virtually rebuilt by The Glenlivet Distillers Ltd. in 1985 and enlarged to four stills. Its product is highly regarded by blenders and has been available as an "official" single malt bottling only since 1994.