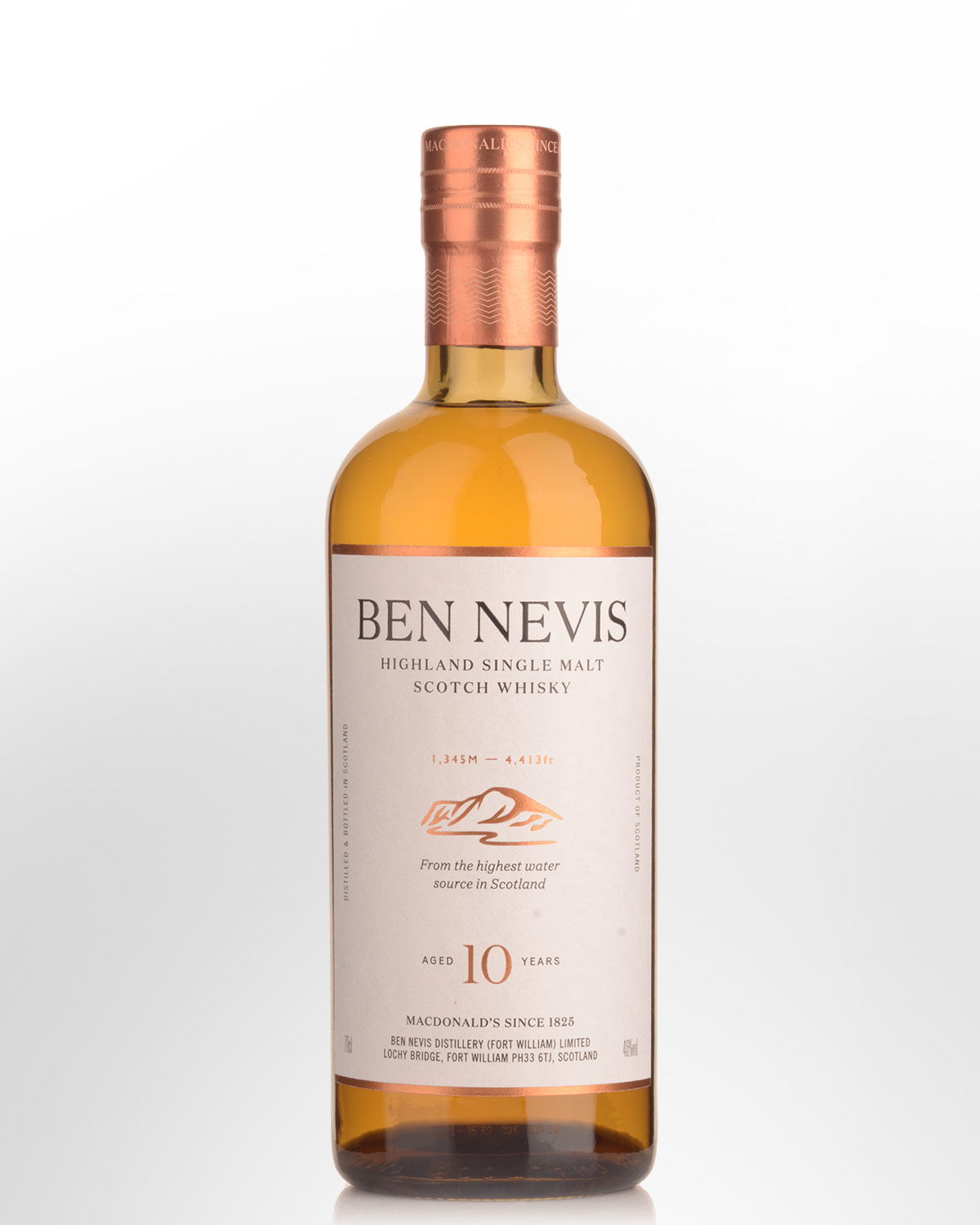 Ben Nevis 10 Year Old Single Malt Scotch Whisky (700ml)
"A massive malt that has steadied itself in recent bottlings, but keep those knives and forks to hand." - Jim Murray's Whisky Bible 2019
Ben Nevis distillery was established in 1825 by 'Long John' McDonald, a 6ft 4in descendant of a ruler of the western Scottish kingdom of Argyll. In 1878 a second distilling unit was built nearby as an extension to Ben Nevis itself. It was called Nevis and operated as a separate entity for 30 years before being absorbed into the Ben Nevis operation in 1908. A housing development occupies the site of Nevis distillery. In 1989 the distillery was sold by Whitbread to Mitsui, partner of the Japanese whisky-makers Nikka. The new owners restored production of malt but not grain whisky in 1990 under the name Ben Nevis Distillery Co Ltd.
Ben Nevis 10 Year Old was introduced to the market in 1996, the last year that Long John International oversaw production. After initially slow sales, the whisky was repackaged in a presentation box and increasing awareness of its quality soon saw it become the distillery's best seller.
Such was the success of the ten year old that it became difficult to obtain. Colin Ross, current Managing Director of the Distillery, even had to counter rumours that it was discontinued. Ross explains, " The unprecedented demand for this expression, combined with an instruction from our parent company to cut back on what spirit we were laying down in our own name caused this problem. In October of 2017 my son and I visited our parent company in Japan and informed them of the situation and advised that a major competitor had considerable stocks that they were prepared to sell but as we did not have the necessary funding we had hoped that we could borrow from them but to be told that they were not prepared to lend us the money. However, they were prepared to purchase these stocks to be held own their name. We expected this to be fine thinking that we could buy back from them as and when required. This proved not to be the case as when we ran out of stock in March or April of last year they did not offer to sell us any of their Ben Nevis stock., so we had no alternative but to promote our MacDonald's Traditional and 12 Years Old Nevis Dew instead." In other words, Ben Nevis 10 may (or may not) be readily available in the near future. Our bet is on the latter.
Retasted 2022... Chardonnay gold in colour. A few off notes before this settles into a dense, fruity bouquet including stewed pears, apples and plums followed by hints of oatmeal biscuit and a touch of beeswax. Surprisingly big - even at 46% - in fact it's the sheer weight of the malt that impresses most. There's also an oily quality that suggests light peating, yet it's not smokey. The finish is chewy, oily and highly textural, offering mildly fruity flavours (plum / raisin / dried fig) combining with bittersweet oak and pulsing spices. Uncomplicated, but one of the boldest, beefiest ten year olds you'll ever find - also rumoured to contain a significant injection of 18 year old (which would explain a lot). 46% Alc./Vol.
Other reviews... Nose: Much weightier and characterful than most 10 Years Olds. Toffee and fresh figs. Enticing. Palate: Glorious mouth feel: chewy and lush with cream toffee giving way to a sprinkling of demerara. Finish: Brilliant! Just a hint of fettered spice, and then waves of oak and malt with vanilla. Comment: This is a solid, gutsy whisky with wave-upon-wave of rich flavours and textures. A truly great malt. Older in style than the label suggests.
88 points - Jim Murray's Whisky Bible 2017
...Antique gold. Aromas of toffee, malty sweetness, fresh mint and subtle oak. Mouth coating, creamy texture-almost chewy-with flavors of toffee, almonds, dark chocolate, and subtle wood spices on the finish. This is a very pleasing, straightforward whisky that is quite mature for its age. 86 points
- whiskyadvocate.com, 1st Quarter 2001 Issue-Vol. 10#1)