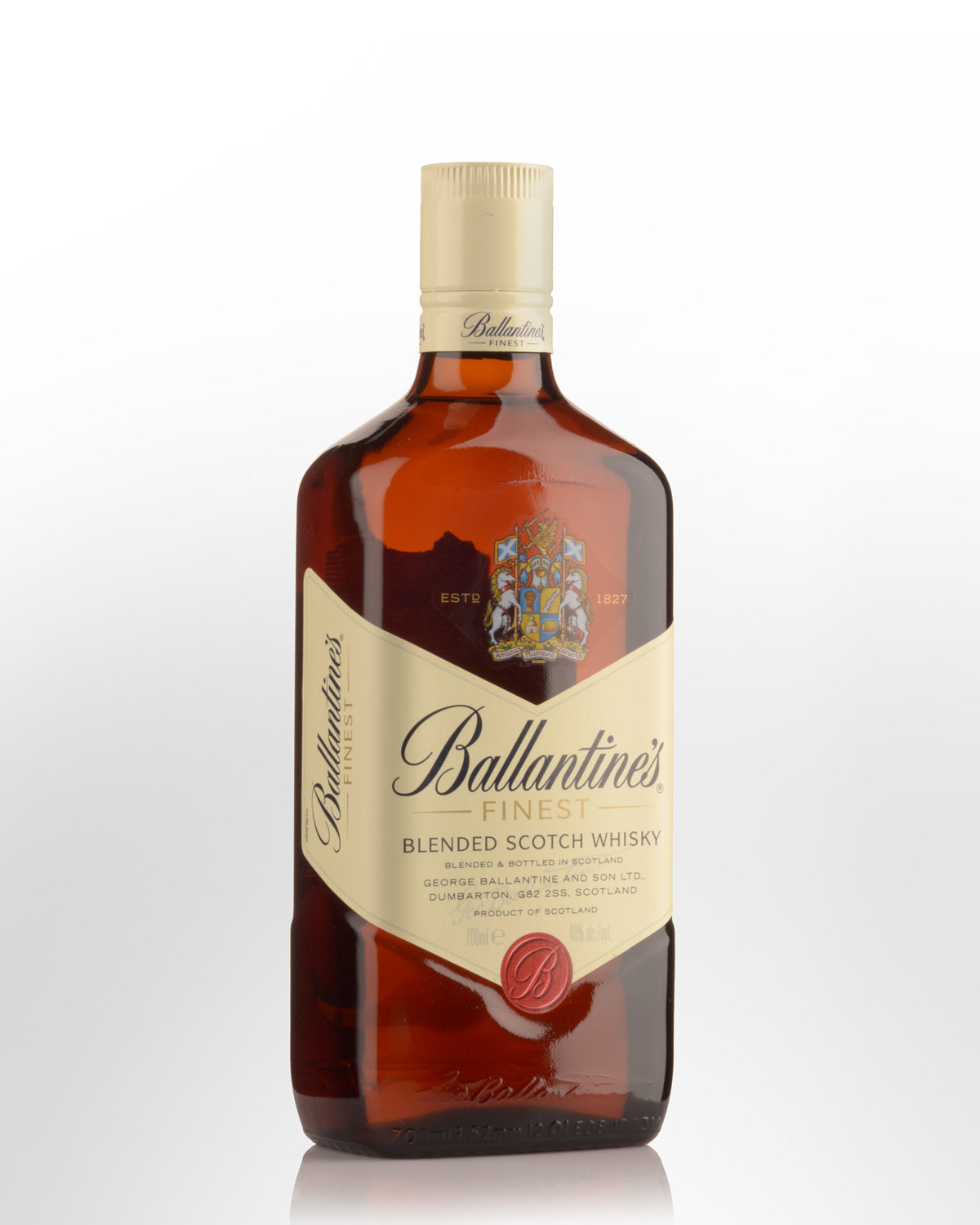 Ballantines Finest Blended Scotch Whisky (700ml)
George Ballantine, the founder of Ballantine's came from a farming family in the Scottish Borders. He established a grocers shop in Cowgate, Edinburgh in 1827, eventually extending his business into wines and spirits. The founders son, also named George, set up in Argyll Street, Glasgow, in 1872 as a whisky, wine and cigar merchant, with many export interests, especially the promotion of their Old Glenlivet and Talisker Fine Malt brands. In 1903 the family business was granted a Royal Warrant and was recorded as "transacting an immense trade in supplying wines and spirits to families of distinction all over Scotland and in many parts of England and Ireland." The company was subsequently sold, however the new owners had similar success, establishing solid markets in the United States and elsewhere. The rest is history...
The Malt and Grain whiskies used to produce Ballantine's Finest are all aged for more than three years. The original flavour, complexity and refinement comes from more than 50 single malt flavours. The unmistakable Ballantine's flavour is dependent on these 50 single malts, 4 single grains and in particular the fingerprint malts from Miltonduff and Glenburgie. No one single component dominates. The Ballantines range also includes: Ballantine's Gold Seal, a smooth and complex 12 years old whisky; Ballantine's 17 year old, a super premium brand with a deep complex flavour which is regarded as THE Scotch whisky by consumers in the Far East and Ballantine's 30 year old, a rare and exclusive blend of Scotland's finest malts.
Tasting note:
Bright gold. Attractive scents of breakfast cereals, husk and caramel. Super soft throughout, as grains and cocoa feature on the light to medium bodied palate, drying towards the finish which is clean, a little flabby and very gently warming. Although this latest bottling seems sweeter than previous batches, it's still one of the picks of current blends if you're looking for a lighter style at an entry level price point.
40% Alc./Vol.
Other reviews…
Nose: Perfumy. Very fragrant smokiness. Palate: Soft and light. Silky, oily peaty. A therapeutically medicinal relaxant. Finish: Lemon-honey. Some late sweeetness. Late surge of gentle warmth. Comment: Very gentle, but a precise clarity of flavours. Drink while listening to Vivaldi.
Rating: 85
- www.whiskymag.com
size>
Medium golden color. Caramel, roasted nuts and old rose aromas with a good dose of hot vapor. A brisk entry leads to a dryish somewhat bitter, light to medium-bodied palate with mild toffee, light peatiness, and a sharp turn of white pepper. Finishes quickly with a pepper and caramel fade. Thin and uninteresting. 40% Alc./Vol.
International Review of Spirits Award: Bronze Medal
RATED: 81 points (Recommended)- www.tastings.com