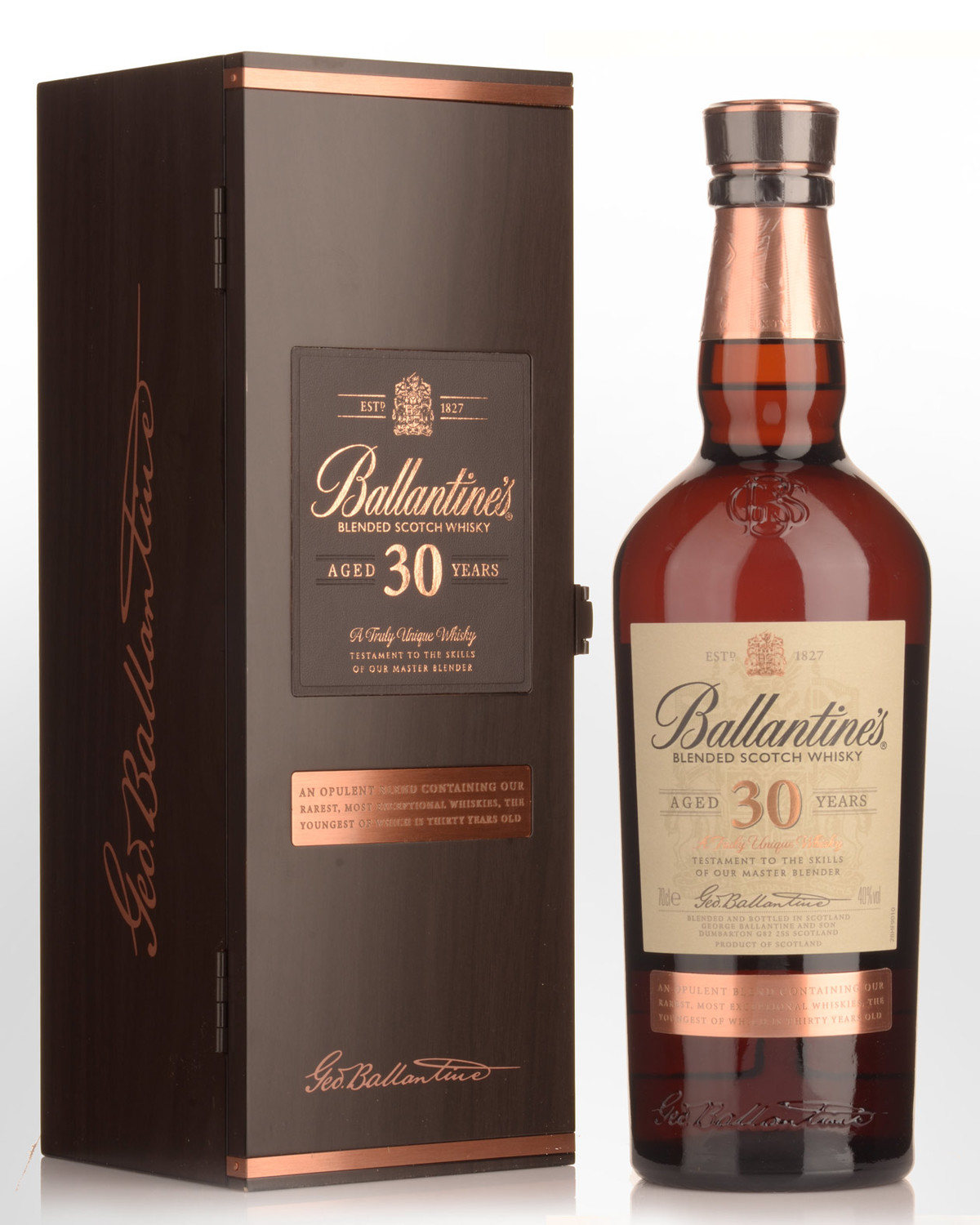 Limit Two per customer

Nick's Import

Reduced
Ballantines 30 Year Old Blended Scotch Whisky (700ml)
"Simply one of the world's most sensual drams." - Jim Murray.
George Ballantine, the founder of Ballantine's came from a farming family in the Scottish borders. He established a grocers shop in Cowgate, Edinburgh in 1827, eventually extending his business into wines and spirits. His son, also named George, set up in Argyll Street, Glasgow, in 1872 as a whisky, wine and cigar merchant with many export interests, especially the promotion of the Old Glenlivet and Talisker Fine Malt brands. In 1903 the family business was granted a Royal Warrant and was recorded as
"transacting an immense trade in supplying wines and spirits to families of distinction all over Scotland and in many parts of England and Ireland."
The company was subsequently sold, however the new owners had similar success, establishing solid markets in the United States and elsewhere. The rest is history...
Today Ballantine's is one of the largest spirits brands in the world. The flavour profile of all the Ballantine's bottlings is largely dependent on fingerprint malts from Miltonduff and Glenburgie.
Other reviews......Simply one of the world's most sensual drams...
96 points - Jim Murray's Whisky Bible 2017
...The nose unravels with milk chocolate, thick hazelnut spread, and a slender twist of orange peel, though that delectable goodness is evenly balanced with peppermint patties and detectable light, floral top notes. This has a lush softness, with a perceptibly slow crescendo of flavors incorporating caramel toffee, popcorn, and chocolate praline. It's beautifully integrated with a smooth, dense texture, and releases its grip reluctantly with just a whisper of a peppermint reprise.
43% Alc./Vol.
89 points
- www.maltadvocate.com, reviewed by: Jonny McCormick (Summer 2016) ....
Colour: full gold. Nose: this is different and, most amazingly, much closer to the old one, with these whiffs of old books, old herbs liqueurs and metal polish, then moss and mushrooms. There's also more oak, obviously, vanilla custard, cinnamon… And then mead, old roses and Turkish delights (very vivid). Rather beautiful! Mouth: bigger, richer, sweeter and fruitier than the 17. Starts with tinned pineapples and apricots and goes on with pomegranates and cinnamon from the oak. There's also a little honey, aniseed and touches of rancio (and sherry), then more oak. Just like the 17, it becomes a little dry after a while, a little light… but it remains pretty excellent. Finish: medium long, a notch smokier. Bitter oranges in the aftertaste. Comments: again, it's no big whisky but it's complex and beautifully balanced.
85 points
- Serge Valentin, www.whiskyfun.com