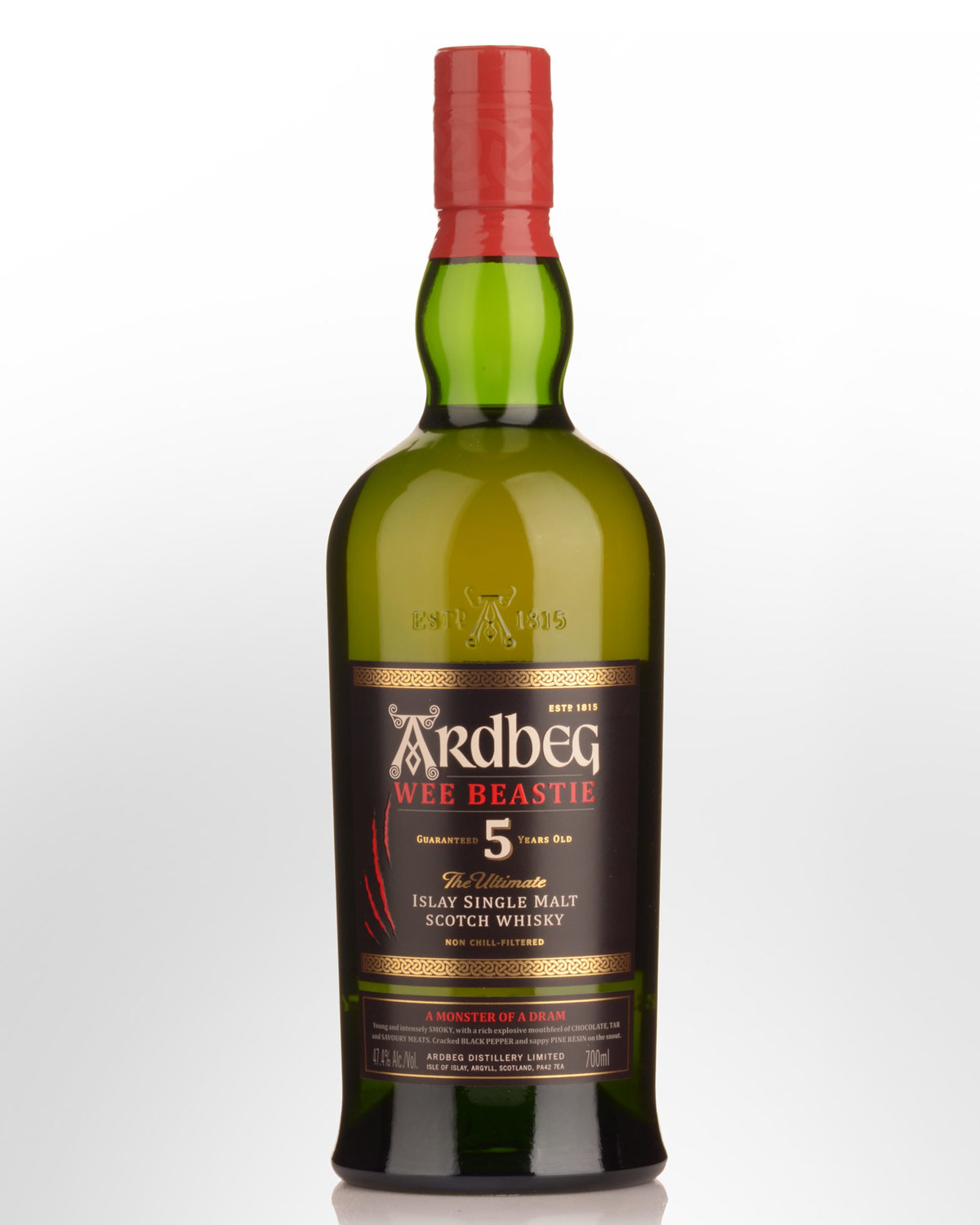 Ardbeg Wee Beastie 5 Year Old Single Malt Scotch Whisky (700ml)
Tasting note: Matured in ex-bourbon and Oloroso sherry casks, Wee Beastie is the latest permanent expression to join the Ardbeg family. Youthful, but with an enticingly fresh sea air quality on the nose, as well as hints of iodine, menthol, lanolin and pear, it carries the ABV effortlessly in a breezy, medium bodied delivery. The typically assertive Ardbeggian smoke is somewhat tamed. Instead, nuances of fruit'n'nut chocolate, menthol cigarettes, caraway and rye bread come through. The finish is gently peaty, with hints of fruit and a pleasant salt and pepper tang. An Ardbeg for all occasions. 47.4% Alc./Vol. Non chill filtered.
Other reviews... The bottle really reminds me of G&M's early Connoisseurs Choices, or Avonsides. Black, gold, red… Retro keeps striking in whisky. No need to add that we love it that they would have boldly displayed a young age statement, that's extremely smart, well done Ardbeg, s***w NAS! Colour: straw. Nose: but there, yes, aha, sure. It's a bit steely at first (grandma's old tin boxes), then goes onto agave, reaches brine-y aromas, gets to the citrus department, steals a few pears, and finally displays the right amount of tar and peat smoke. In the background, whiffs of raw wool and wet dogs. Dogs, I know we owe you one. Mouth: this feeling of smoked pears that we were expecting, then more sweetness and fruits (passion fruits, melons), then 'the ashtray' and notes of Corsican citron liqueur. And why not, Corsica's an island too! I find it rather sweeter and fruitier than expected, and frankly gentler, but that's an easier style that I enjoy mucho. It's just not 'a beast' at all if you ask me. Finish: long, clean, rather citrusy and sweet, with moderate smoke. Some eucalyptus in the aftertaste, that's always very good. Comments: I'm not disappointed at all. Sure they could have named it 'For the Bar in the Little House on the Prairie' instead, for it's rather gentle, but there, well done, it's one of my favourite recent official 'begs. 88 points - Serge Valentin, whiskyfun.com
...Starts off with a mesmerically youthful lustiness full of the sunny joys of a blossoming spring. Ends in the grey of a foggy autumnal evening.
91 points
- Jim Murrays Whisky Bible 2021