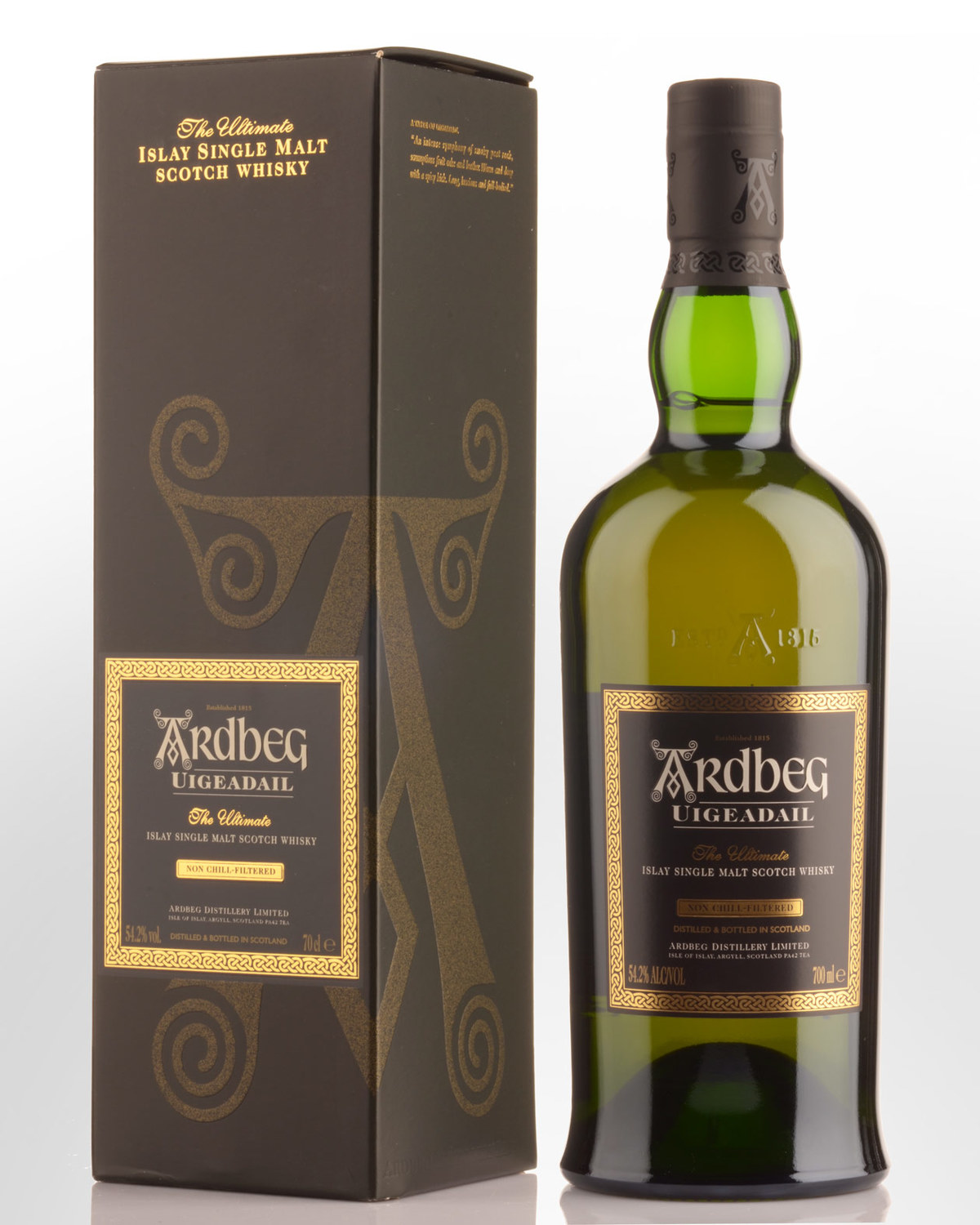 Ardbeg Uigeadail Single Malt Scotch Whisky (700ml)
"The elemental opposite of the sophisticated
Lord of the Isles."
Perched on a wave washed, rocky headland, the Ardbeg distillery was founded in 1815 by the MacDougalls of Ardbeg. The distilleries scattered white washed buildings are reminiscent of a Dutch settlement and add to the dramatic coastal landscape. Ardbeg has had a chequered history and in recent times had been closed down for many years. Glenmorangie acquired Ardbeg in 1997 and has set about restoring the distillery to its former glory.
First launched in 2003, "Uigeadail" (the loch from which all Ardbeg water flows) this cask strength, heavily peated Ardbeg is produced from a mix of bourbon casks and older sherry casks. The combination gives this whisky a velvety texture, with a sweet and smokey finish.
Tasting notes: Bright gold appearance. Big, sweet sherry influenced nose offers dried apricot and marmalade scents over menthol and sweet cedar smoke. Some ripe green apple notes emerge with time in the glass. The palate is off dry with a rich, dark chocolate entry becoming heavier and fudge-like with orange chocolate, sweet cereal and the peat continually reinventing itself - at once dry and sooty, then tarry and finally kippery on the finish. Excellent balance at cask strength. Boiled lolly and spice aftertaste with a subtle spearmint fade. Latest batch tasted October 2010.
Other reviews... Nose: Intensely smoky. Dry, clean, tangy smoke. Like standing downwind of the barbecue while steaks are char-grilled on the beach. Palate: Firm, very smooth, then explodes on the tongue. Finish: Hot. Alcoholic. A shock to the system. Comment: The elemental opposite of the sophisticated Lord of the Isles. 54.2% Alc./Vol. RATING: 9.25 - Michael Jackson, www.whiskmag.com
 Click here to learn more about Scotch Whisky