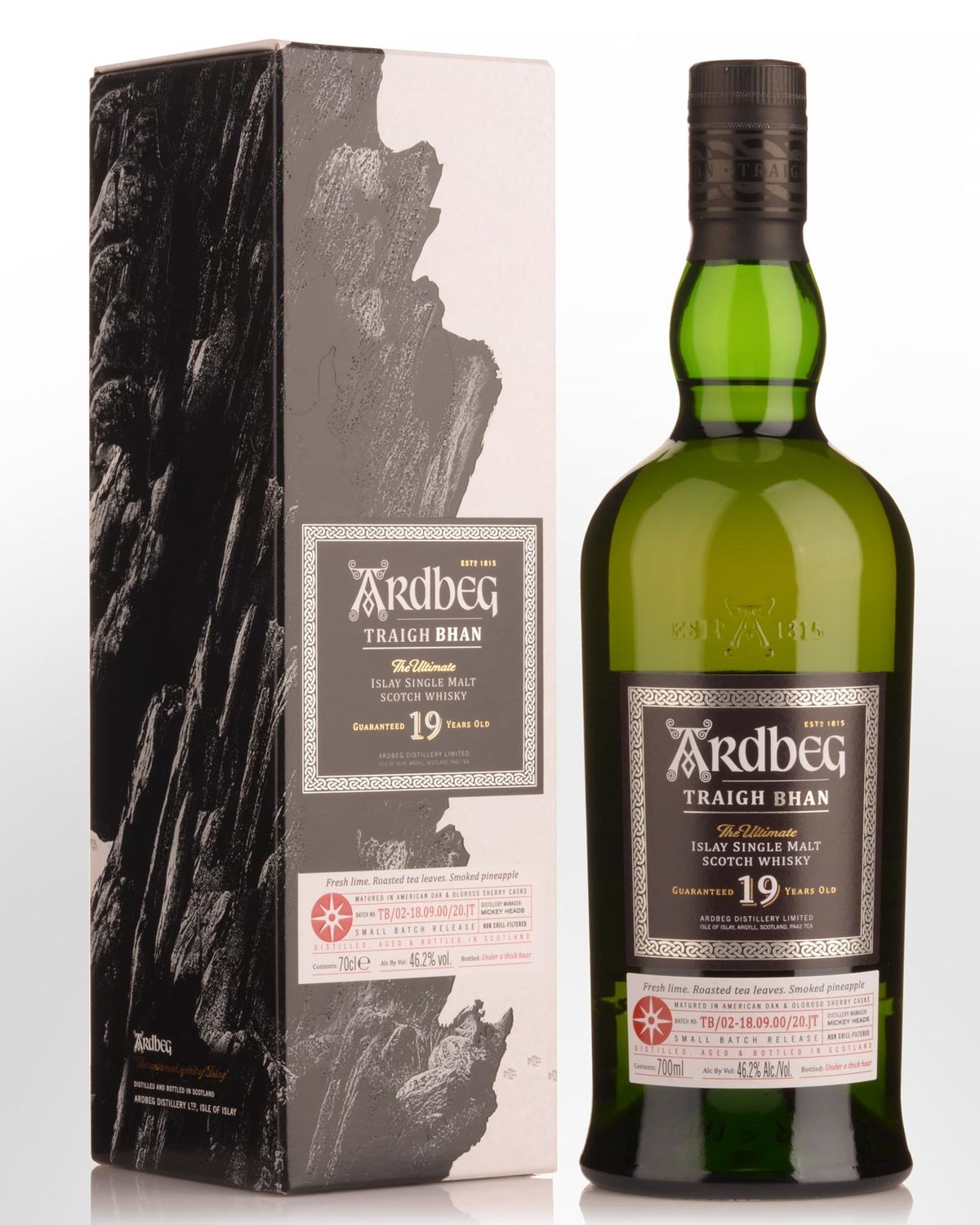 Ardbeg Traigh Bhan 19 Year Old Single Malt Scotch Whisky (700ml) - Batch 2
95 points - whiskyadvocate.com
"...the epitome of an aged Ardbeg". - Dr. Bill Lumsden.

'Traigh Ban' is a permanent addition to the Ardbeg stable, released in much smaller quantities than the rest of the core range. Each batch is intended to be slightly different from the last. The 2020 edition continues to focus on ex-bourbon and Oloroso sherry matured whiskies, offering notes of "fresh lime, roasted tea leaves and smoked pineapple". Jackie Thompson, the Distillery Visitor Center Manager adds, "Not only is the dram incredibly rare and mellow, but the small quirks and originalities on the bottle itself make it highly collectible – something we know our Ardbeg fans love."
Allocations are well down on Batch 1. Batch 2 is also destined for controversy, receiving massive praise from Whisky Advocate (95 points is about as good as it gets). Serge Valentin at whiskyfun was equally impressed, however Jim Murray thought it was "just ok" (all reviews below). No denying these annual Ardbegs are the latest must-haves that avid collectors are scrambling for. If you're looking to add to your collection or just want to find out what well-aged Ardbeg tastes like, don't hesitate on this offer.
Dr. Bill Lumsden, Director of Whisky Creation comments "… this whisky is the epitome of an aged Ardbeg. It somehow manages to balance the complex with the classic. It's a truly unique bottling and we hope Ardbeggians everywhere look forward to comparing notes with the previous batch. I know I did!"
Other reviews... The early nose offers hand-rolled tobacco, ginger, black pepper, and fragrant woodsmoke. Medicinal notes, brine, and lemon develop in time. Sweet peat smoke, tropical fruits, toffee, and aniseed on the palate, with smoked haddock and a suggestion of tar. Iodine, black pepper, and sea salt in the lengthy finish. 46.2% Alc./Vol. Non chill filtered. 95 points - whiskyadvocate.com, reviewed by: Gavin Smith (Winter 2020)
...So new Wellies or not new Wellies? Colour: white wine. Nose: new Wellies indeed, but small size. Other than that, fresh almonds and fresh putty, a dollop of liquid tar, then whiffs of old shed, garden pit, kelp and really quite a lot of marzipan. I find it pretty light and gentle for Ardbeg, but well-balanced and rather admirably fresh. Mouth: it's good that it wouldn't be too modern (a.k.a. oak-influenced) and that both tar and lemon would play first fiddles, while more salty and coastal elements would chime in after three seconds, such as salted fudge and whelks. Always loved the humble whelks. No huge smoke here, rather cigar ashes, and perhaps touches of peaches, ala Ardmore. Finish: this is where you're closest to 'old' Ardbeg – we're meaning early 1970s – with this natural rubber, tar, smoke and a feeling of old cough syrup. Awesome finish. Comments: superb post-reopening Ardbeg and proof that they hadn't changed much to the recipe. Thank you Stuart Thompson (and thanks anyone who's not decided to dump this superb juice into whacky woods). Now, here's that seminal question, was the purifier working or not? 91 points - Serge Valentin, whiskyfun.com
...A quite thick set smokiness drifts off towards the toasty sugars. For a moment, there is an air of Ardbeg normality as the light vanillas pulse; all understated and full of trickery. Vague minty notes blossom on the light heather-honey phenol. The oak sticks to that salty tang.... and tang is the right word. Pretty much ok and enjoyable despite the slight mess on the nose and mildly odd landing. But not sure when just ok was acceptable for Ardbeg. 89 points - Jim Murray's Whisky Bible 2021.