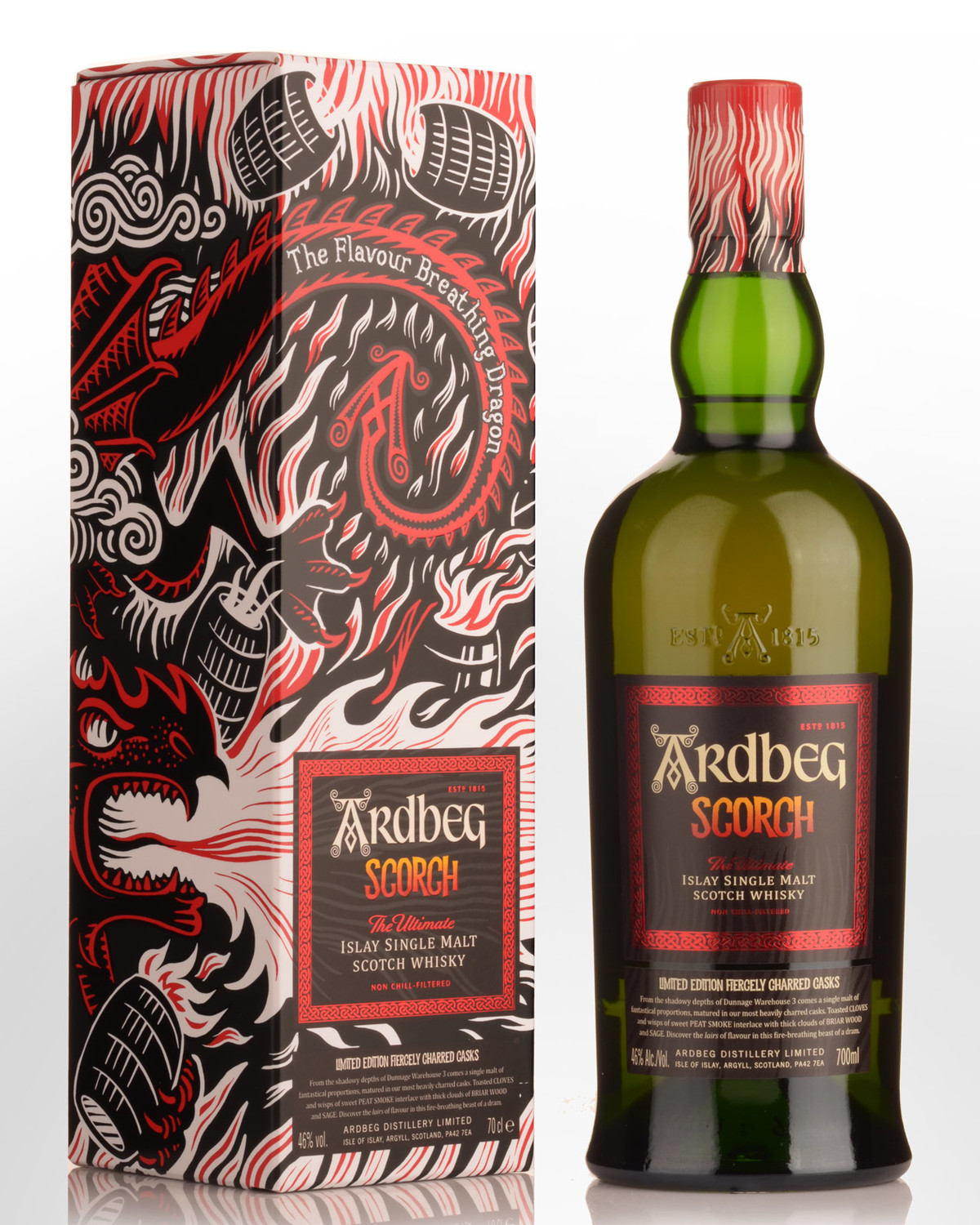 Ardbeg Scorch Single Malt Scotch Whisky (700ml)
To scorch is to burn something fiercely, to the point where its surface chars or otherwise changes colour - hence the title of the new Ardbeg Day release which comes matured in "heavily charred" ex-Bourbon casks. The concept draws comparisions with an earlier Ardbeg Day release - 'Ardbeg Alligator', although reports have it that the char time is longer with Scorch. The barrels are all x Bourbon too, rather than virgin American oak. Dr Bill Lumsden, Ardbeg's Director of Distilling and Whisky Creation, called the new release "a fire-breathing beast of a dram" describing a whisky with "aromas of soot, smoke, aniseed and patchouli, and a palate that marries smoky grilled notes with black liquorice and medicinal lozenges."
This year Ardbeg Day will be held on 5th June and will take place online due to the COVID-19 pandemic. This will be the second year the festival has been virtual.
Tasting note: Brilliant brass gold. Kicks off with a combination of cigar ash meets medicine chest that has Islay written all over it. Brief air contact adds traces of peppermint chocolate, char grill, lanolin... further sniffings mellow the bouquet accenting cough lozenges and a sweet, sooty note. Entry is dryish and concentrated. Mid palate expands with oily malt, sweet peat reek, tingling spices and maritime freshness. The finish is almost tranquil compared: Creamy, gently smoky/saline but lacking the energy and drive associated with Ardbeg at its most memorable. Falls away into an ashy oblivion, a fragile thread of sugars in tow. 46% Alc./Vol.