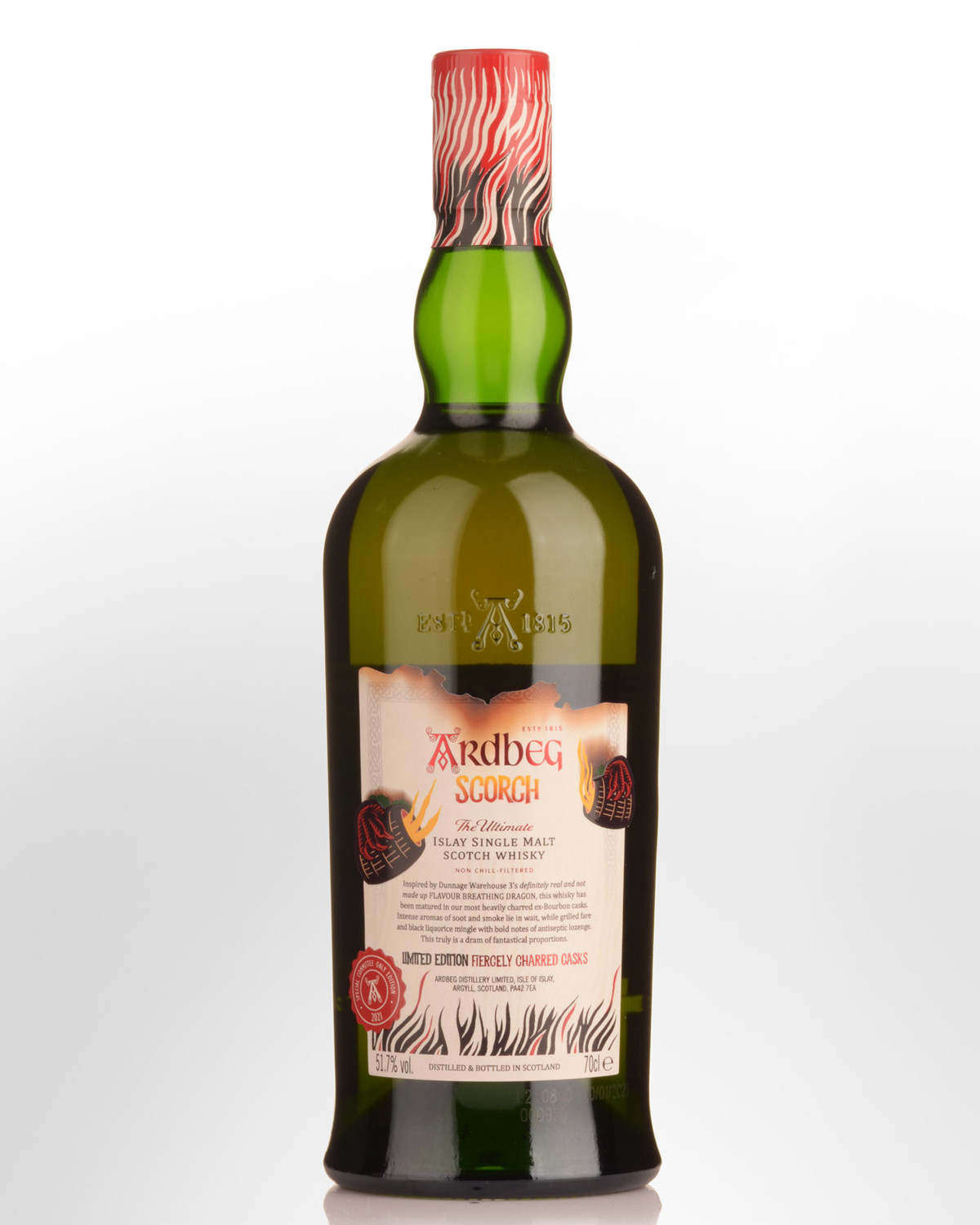 Ardbeg Scorch Committee Release Cask Strength Single Malt Scotch Whisky (700ml)
Limited to one bottle per customer.
Fans will already be aware that Ardbeg Day falls on the final Saturday of Islay's annual Festival of Music and Malt. As usual, there are two new releases to mark the event. The 'Committee Release' is offered in smaller quantities than the general Ardbeg Day release and is bottled at cask strength. In 2021, Ardbeg pays homage to the myth of a dragon said to inhabit Islay. Labeled 'Ardbeg Scorch', it comes matured in heavily charred ex-bourbon American oak casks for an unspecified amount of time. Consensus amongst bloggers who received forward samples is that this is "one of the best special editions from Ardbeg in recent years."
Tasting note: Deep brass gold. Drier and more reticent on the nose than the general release, offering less overt smokiness but more maritime / seaweed / ocean breeze character. Additional time in the glass adds peppercorns, liquorice bullets, pine sap and mezcal-like aromas rather than extreme peat. Beautifully rounded and balanced. A lushly Islay-esque delivery where the alcohol barely nips the sides of the tongue. Only marginally more intense than the 46% bottling and with a similar flavour range, but this maintains momentum and mouthfeel all the way; the final stages are almost honeyed while being briney / peaty / oily and invigoratingly fresh at the same time. Ends elegantly, with medicinal lozenges, fresh-cut pine and a satisfying spirit heat. 51.7% Alc./Vol. Non chill filtered.
Other reviews... "A gently smoking barbeque on the nose, with cooked bacon, rubber, toasted wood and chewy tannins. There is a nice smokiness on the palate that gets nice and fruity, before becoming quite dry and bitter on the finish." Bronze Medal - World Whisky Awards 2021
Notes from Ardbeg... On the nose, frighteningly intense aromas of soot and smoke lie in wait. Hints of aniseed and fragrant patchouli interlace with bold notes of quenched steel and saddle soap. With a drop of water, herbal top notes of briarwood, sage and pine wisp their way to the fore. Take a sip and experience lair upon lair of flavour. An oily mouthfeel grips the senses. Billowy clouds of sweet smoke and dragon charred oak permeate the palate, while grilled fare and black liquorice weave between notes of medicinal lozenge. A long and heroic finale, with a subtle tarry aftertaste. A finish that will drag on, well into its happily ever after.