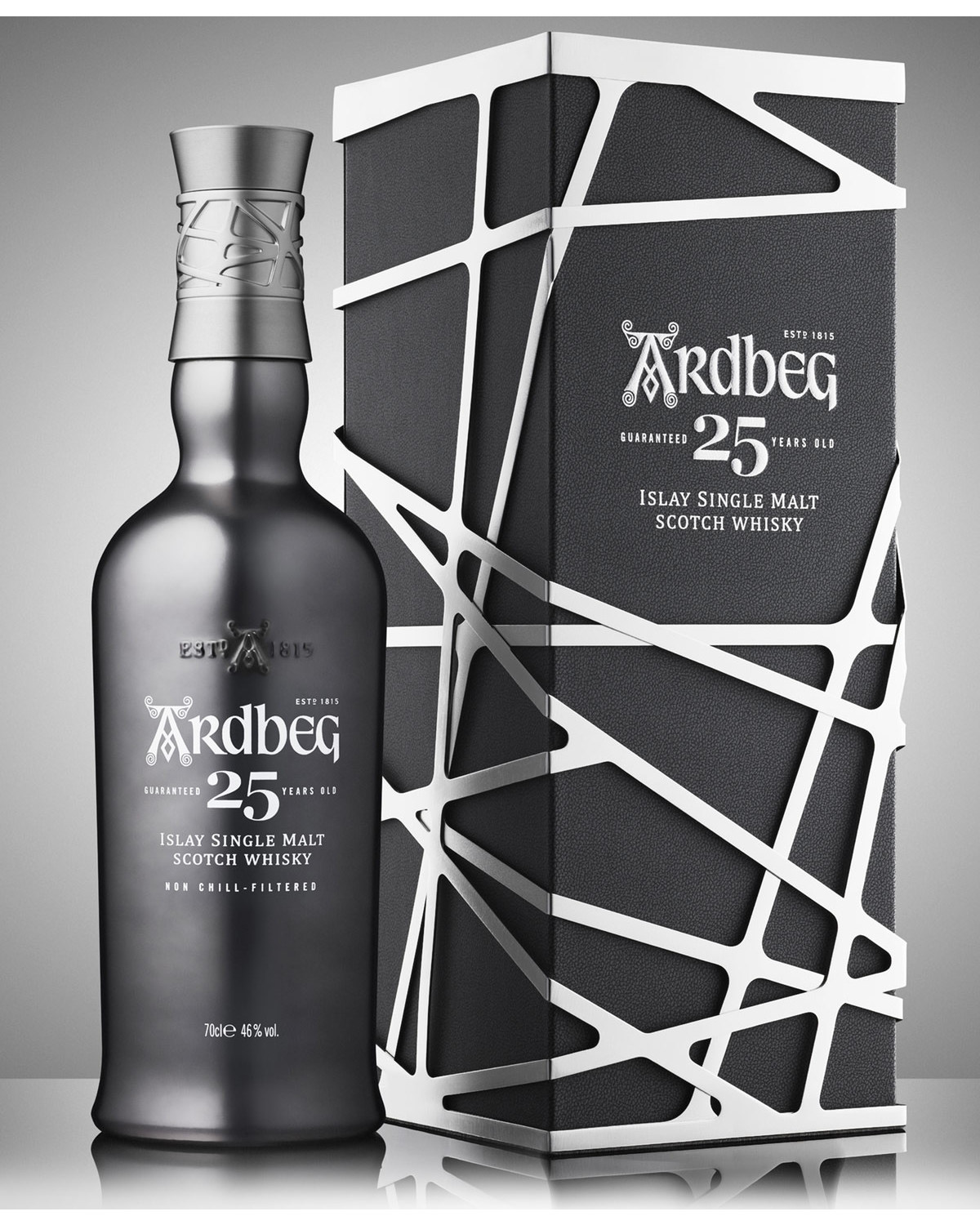 Ardbeg 25 Year Old Single Malt Scotch Whisky (700ml)
The newest, oldest whisky to join Ardbeg's core range is an impressively packaged 25 year old, an age statement not seen since the 'Lord of the Isles' bottlings over a decade ago. It's also the oldest permanent addition to the brand, distilled in the 1990s, and available in limited quantities due to its age and rarity. Readers should note that very little whisky was produced at the distillery in the middle '90s. Ardbeg's production halted in 1981, then resumed in 1989 under Hiram Walker but remained at a low level until late 1996. Most Ardbeg enthusiasts will have tasted little from this distillery's 'quiet period'. Hence, this first edition represents a genuine slice of Islay history.
Dr Bill Lumsden, Ardbeg's chief whisky creator, comments: "After a quarter of a century in the cask, you'd be forgiven for imagining that Ardbeg 25 Years Old would have lost some of the hallmark smoky punch. I can assure you it hasn't.... And yet there's also a remarkable complexity and elegance to this whisky that I find utterly captivating. It's unmistakably Ardbeg, but unlike any Ardbeg you've tasted before."
Strikingly presented in a gun metal coloured bottle, Ardbeg 25 comes housed in a case featuring a modern metallic take on the classic Ardbeg knotwork, symbolic of the untamed complexity of this extraordinary whisky. Already selling at auction for over $2K, a collector rush in the UK has seen this quickly disappear. We have a tiny allocation.
Notes from Ardbeg... smoked cream, peppermint, toffee, fennel and pine resin on the nose, leading to a 'vibrant, hot peppery mouthfeel' with flavours of sherbet lemon, carbolic soap and tar, creamy toffee, aniseed and chilli pepper. The finish is said to be long, mellow and lingering, with cream, fudge and antiseptic notes. Non chill filtered. 46% Alc./Vol.