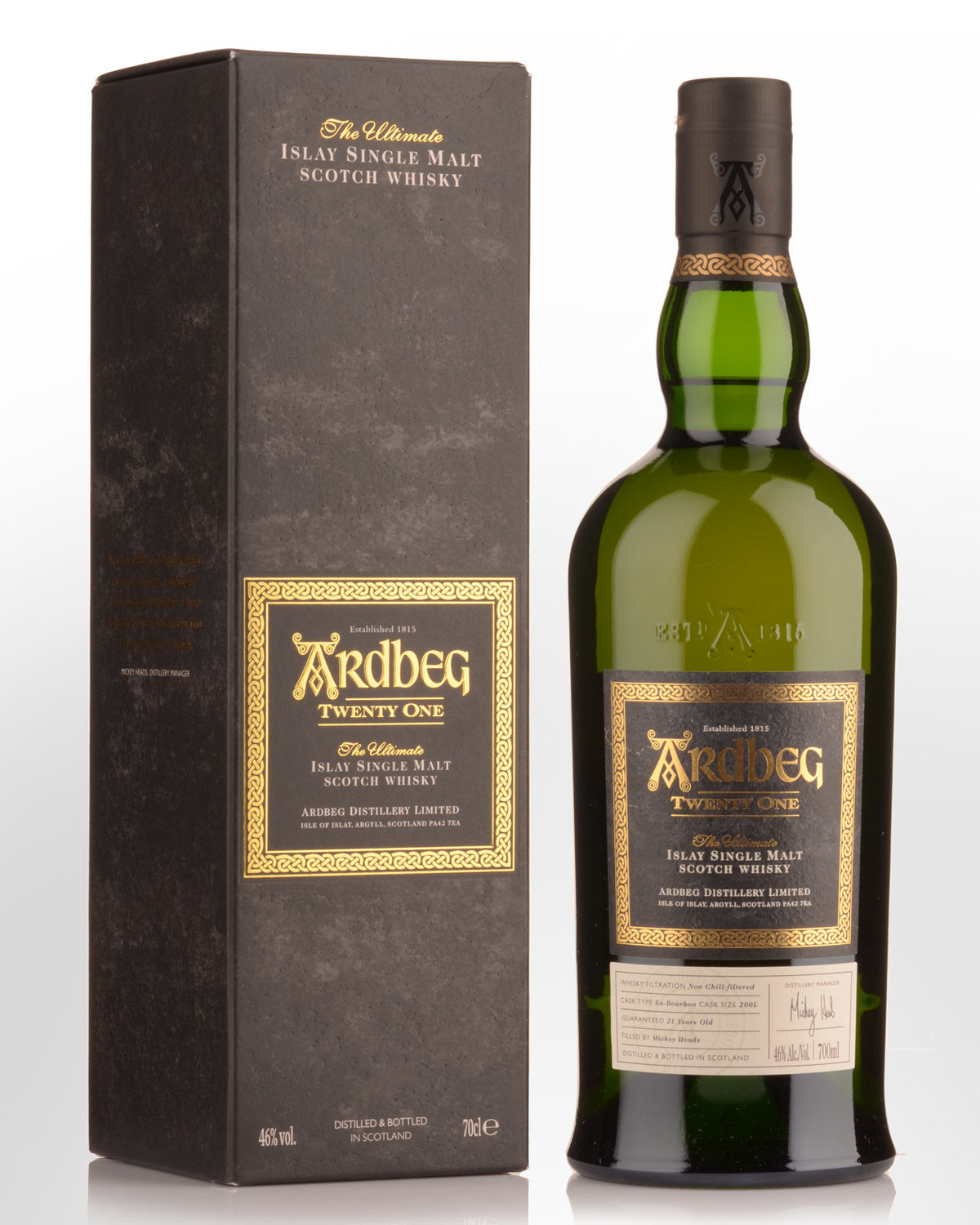 Ardbeg 21 Year Old Single Malt Scotch Whisky (700ml)
Note: Presentation boxes are not in perfect condition. Imperfections range from mild to heavy creasing (mostly on the top panel and around the bottom) and some scuffing on the corners.

If you thought Ardbeg would never release another age statement, you've just being proved wrong.
In a surprising move, Ardbeg has skipped the 17-18 year bracket, instead opting for an unusual 21 year old expression. Importantly for drinkers and collectors, the distillery switched from its original decision to make this a Committee exclusive (that's the 120,000+ strong fan base that helps to ensure Ardbeg stays afloat) offerring this as a general release (albeit as a limited edition). Bill Lumsden, head of whisky production at Ardbeg, says "the whisky for this expression was distilled in 1993 and 1994 when Ardbeg was owned by Allied Domecq and only operated for a few weeks each year to produce peated malt whisky primarily for blending use."The owners of the casks (Chivas Regal) agreed to sell them back to Moet Hennessey - Ardbeg's parent company.
In an interview with Mark Gillespie from www.whiskycast.com, Lumsden elaborated: "They very kindly agreed to sell us that stock back…now, when you buy stock back from someone which has been destined for blends, you're never certain as to the quality of the wood that it's been filled into. Prior to the purchase, I was sent samples from six or so casks out of the 270 or so we bought, so obviously when the deal went through and I had the stock moved to Ardbeg Distillery on Islay (it had been matured in Chivas Brothers warehouses on the mainland), I sampled every single cask, and I have to say I was very pleasantly surprised at how good the stock was."
Ardbeg's production was halted in 1981, resumed in 1989 by Hiram Walker but continued at a low level until late 1996. Most Ardbeg enthusiasts will have tasted little from this distillery's 1994-1995 quiet period so this represents a genuine slice of Islay history.
Other reviews... tap into Ardbeg with great care, like someone has done here, and there is no describing what beauty can be unleashed. For much of the time the smoke performs in brilliant fashion, somewhere between the ethereal and the profound. 46% Alc./Vol.
96.5 points - Jim Murray's Whisky Bible 2017