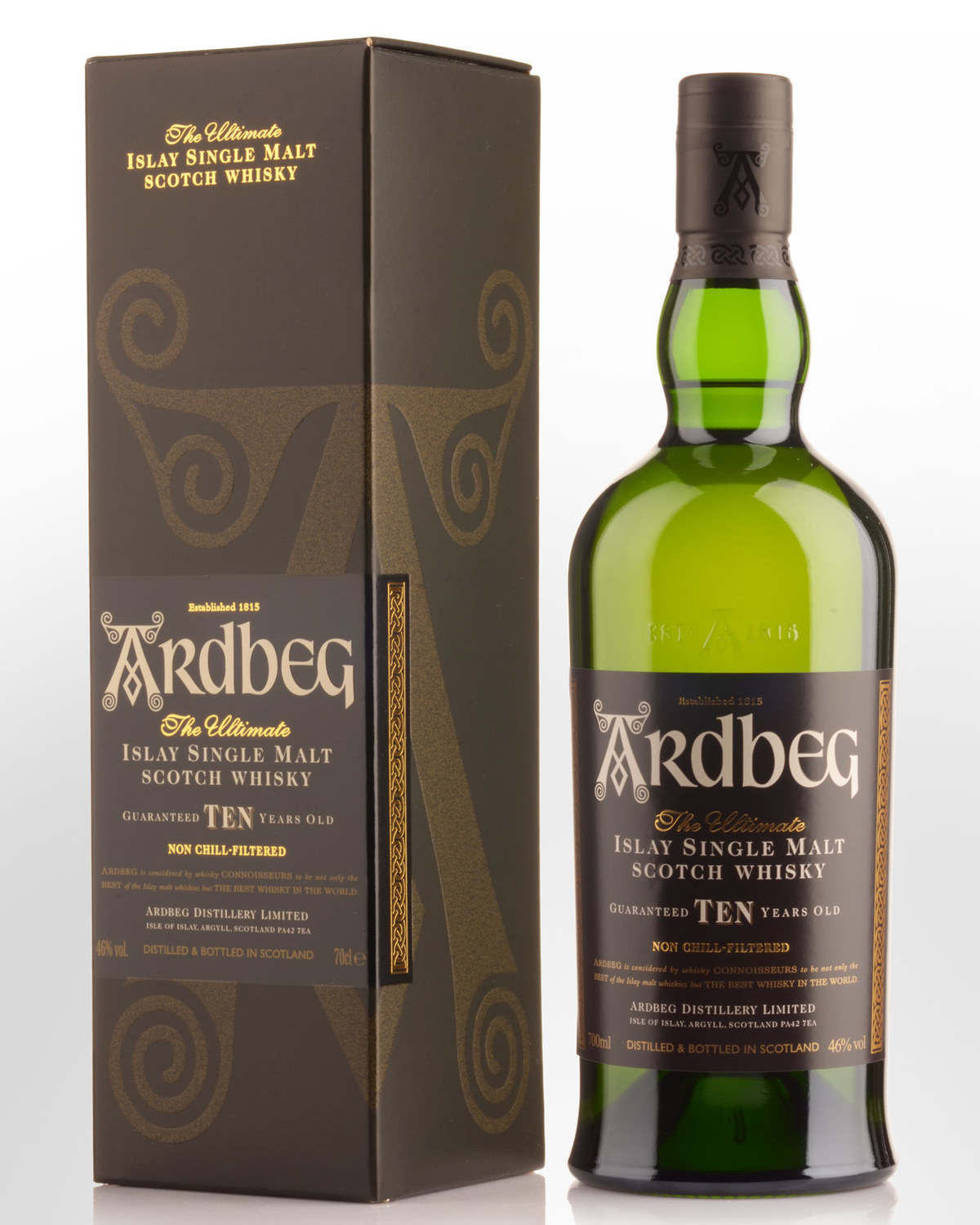 Ardbeg 10 Year Old Single Malt Scotch Whisky (700ml)
Perched on a wave washed, rocky headland, the Ardbeg distillery was founded in 1815 by the MacDougalls of Ardbeg. The distilleries scattered white washed buildings are reminiscent of a Dutch settlement and add to the dramatic coastal landscape. Ardbeg has had a chequered history and in recent times had been closed down for many years. Glenmorangie acquired Ardbeg in 1997 and has set about restoring the distillery to its former glory. Despite the turbulence of its past, none of Ardbeg's qualities have been diminished. All of the time worn traditions have been carefully preserved and passed on to today's craftsmen. The Ardbeg 10 Year Old is clear testimony to this. In his 'Complete Book of Whisky' Jim Murray said of it: 'If perfection on the palate exists, this is it.'

Other reviews… Ardbeg 10 - (97)
n24 more complex, citrus-led and sophisticated than recent bottlings, though the peat is no less but now simply displayed in an even greater elegance; a beautiful sea salt strain to this;
t24 gentle oils carry on them a lemon-lime edge, sweetened by barley and a weak solution of golden syrup; the peat is omnipotent, turning up in every crevice and wave, yet never once over-stepping its boundary;
f24 stuuningly clean, the oak offers not a bitter trace but rather a vanilla and butterscotch edge to the barley. Again the smoke wafts around in a manner unique in the world of whisky when it comes to sheer elan and adroitness;
b25 like when you usually come accross something that goes down so beautifully and with such a nimble touch and disallarming allure, just close your eyes and enjoy... 46% -Jim Murray's Whisky Bible 2013
...Nose: Astoundingly smoky, yet delicate with subtle tarry notes behind. With water the smoke dies a little and raisin and caramelised apple notes emerge. Palate: An immediate waft of peat smoke. Full, robustly flavoured with turf and lapsang souchong tea. Finish: Salty, long and filled with fragrant peat reek. Comment: A punch in the chops from a stroppy Islay middleweight. Flavour-packed yet delicate.
Rated: 9/10 - www.whiskymag.com
Cocktail: The Smoky Martini

This is an unusual combination that works surprisingly well. Some people use less peaty whiskies, however the true Smoky Martini requires the likes of Ardbeg or Laphroaig – Single Malts which lend their peaty, textured flavour to the creamy character of a good vodka.
Method:
Rinse a chilled martini glass with Ardbeg Malt Whisky and pour out any extra. Shake 60ml of Premium Vodka in a shaker filled with large ice cubes and strain into a Martini glass. Garnish with a lemon and orange twist.