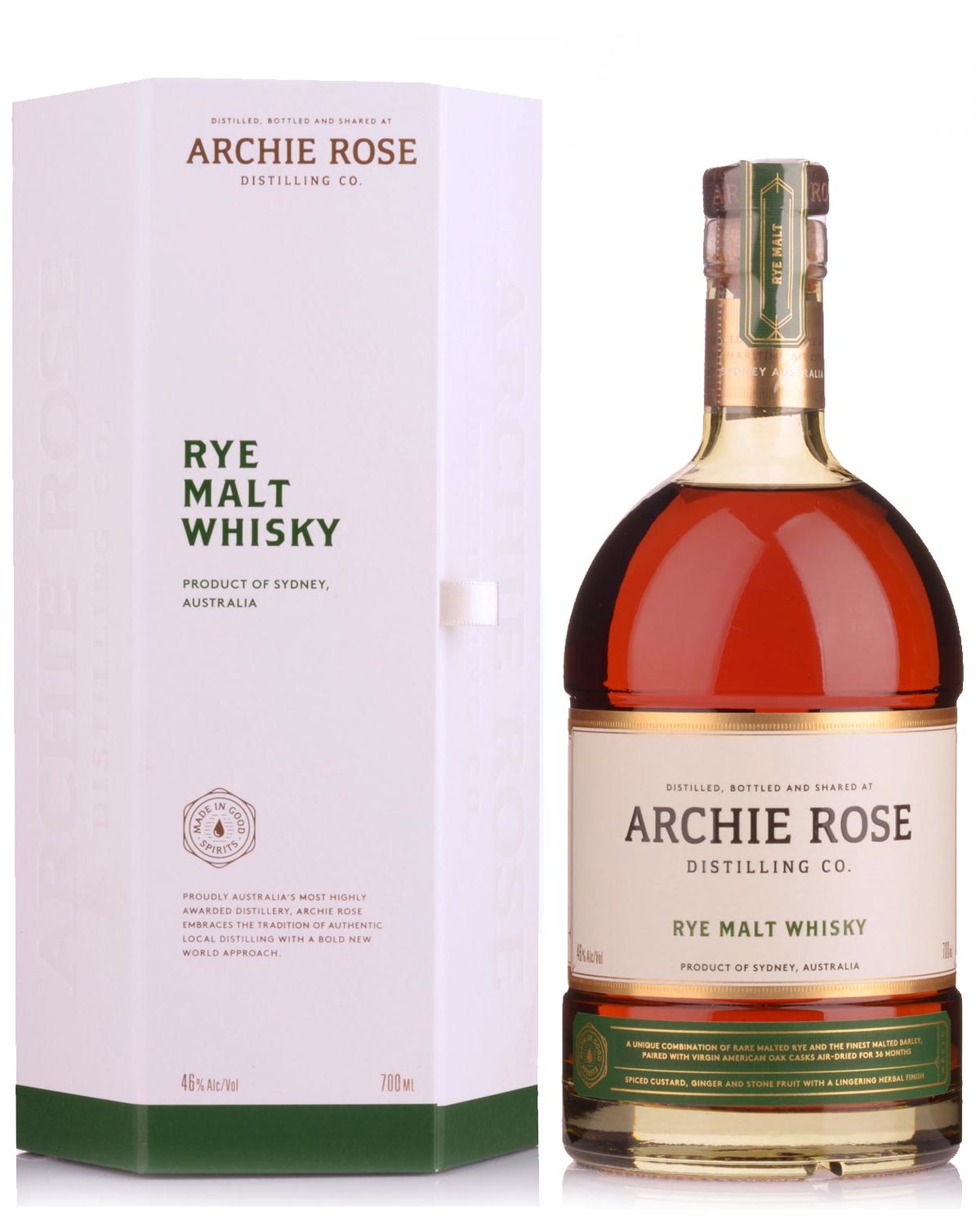 Archie Rose Rye Malt Australian Whisky (700ml)
Sydney, New South Wales,
AUSTRALIA
This is the World's Best Rye.

Dave Withers has preferenced malted rye (and malted barley) over the far more commonly used unmalted rye to create a 'halfway' style. Why? "Using malted rye creates a more mellow rye flavour." explains Withers. "Some American rye whiskies [which use unmalted rye] are really big spice bombs. We wanted to bring that back a little bit and make something that sat between a single malt and something with that big, spicy intensity. We call this a 'rye-malt whisky' because it's halfway between the two."
Matured in custom-made, virgin American oak casks, the wood used here is air dried, meaning the cut timber is left in the open for three years in order to break down some of the harshness. "It gives this really lovely, integrated oak flavour" says Withers. Sydney's wide diurnal temperature range works the casks hard, so the whisky achieves near perfect balance at a relatively young age - around 2.5 years.
While Wither's admits rye is a pain in the neck to work with - difficult to mash and difficult to distil - he's adament there's something special about it. Instant success has encouraged further batches, so expect this to be an ongoing series.
Franz Scheurer, of Australian Gourmet Pages and Gourmet Traveller Wine magazine describes the new whisky as "Layered and complex and a pure joy to drink. The best bloody rye whisky in today's world." It's already won a host of awards, not least, World's Best Rye at the World Whisky Awards in London 2020.
Tasting note: [Batch 6] Pronounced aromas of Castlemaine Rock (peppermint & honeycomb), vanillan oak and honey cornflake crackles. Has the mouthfeel of a single malt, but with a Bourbonesque profile. Lots of wood pick up. Normally aggressive rye spices are tamed, so this is softer and sweeter than traditional styles. Finishes buttery, long, perfectly balanced. Whisps of toasty oak and oily grains through the aftertaste. Mouth coating and moreish. 46% Alc./Vol.
Other reviews...
An apple-led nose with dried apples and dry cider, some anise, caraway and toasted bread crust. Palate has a thick, almost creamy texture. Spiced sponge, light ginger and star anise. Initial sweetness dries out with a medium, nutty, dry fruit finish.
- World Whisky Awards London 2020
World's Best Rye Whisky - World Whisky Masters (London)
Australia's Best Rye Whisky - San Francisco World Spirits Competition (USA)
Australia's Best Rye Whisky - International Wine & Spirits Competition (London)
Australia's Best Rye Whisky - Los Angeles International Spirits Competition (USA)
Australia's Best Rye Whisky - SIP Awards (USA)
Best Rye Whisky - International Review of Spirits