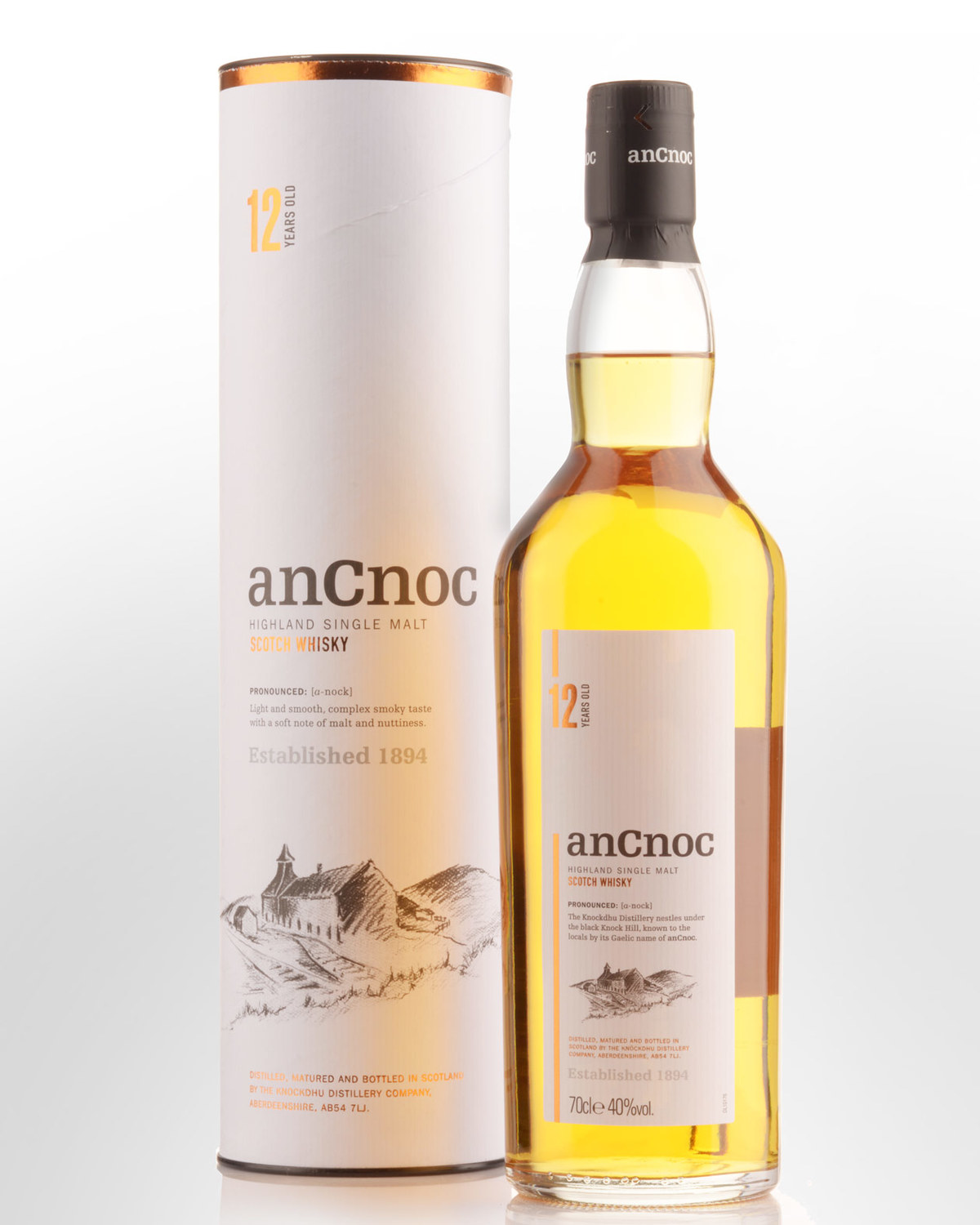 AnCnoc 12 Year Old Single Malt Scotch Whisky (700ml)
Speyside, Highlands,
SCOTLAND
"...so complex it is frightening…a more complete and confident Speyside malt you are unlikely to find." - Jim Murray
The AnCnoc label entered the scene in 1993 and is now flourishing with a range of expressions and age statements. The 'flagship' 12-year-old is a sweet, floral, Summery whisky that's all about easy drinking. Made at the Knockdhu distillery (a major contributor to the Haig blends), five years after DCL closed the operation, it was acquired by Inver House Distillers Ltd who reopened it and created the AnCnoc brand to avoid confusion with fellow Speysider, 'Knockando'. Knockdhu was founded in 1894 following the discovery of several springs of particularly pure water on the southern slopes of Knock Hill. When production first started, the distillery was a showpiece. Two pot stills could turn out 2500 gallons of spirit per week, motive power being supplied by a 16 horsepower steam engine. Cottages were built for the workers and their families, creating a new community around the distillery. Much has been done to modernise the buildings and machinery since, but very little has changed in the production process. Two originally designed pot stills remain, giving Knockdhu the same
"fruity, citric and honeyed flavour"
as was first described almost a century ago. Maturation includes both x Bourbon and sherry casks.
Tasting note: Pale gold. Caresses the nose with the softest of whisky scents... Almost floral, less the intensity; honey and toasty grains, some fruitiness emerging (baked apple?) Is there a whisper of peat too? Good palate concentration with spices adding presence to the vanillas and grassy malt. Late juicy burst, fading dry and light with cocoa, gentle spices and an understated fruitiness. Very pretty. At the elegant end of the Speyside spectrum. 40% Alc./Vol.
Other reviews… so complex it is frightening…a more complete and confident Speyside malt you are unlikely to find. Shimmers with everything that is great about Scotch Whisky… always a reliable dram, but this is stupendous. 94.5 points - Jim Murrays Whisky Bible 2012
Colour: straw. Nose: I like this kind of fruitiness quite a lot. Imagine a good dose of stewed apples, topped with a honey and caramel sauce and touches of liquorice. Then it becomes more floral (dandelions) as well as obviously malty. A rather perfect all-rounder, as they say. Mouth: pretty much in line with the nose, with the same notes of apple pie, malt, barley sugar, light honey and liquorice (that gives it a faintly smoky/bitter profile). Caramel. Finish: medium, with more liquorice. Comments: it makes me think of some high-range blend. Easy and very good in my opinion.
84 points - Serge Valentin, whiskyfun.com