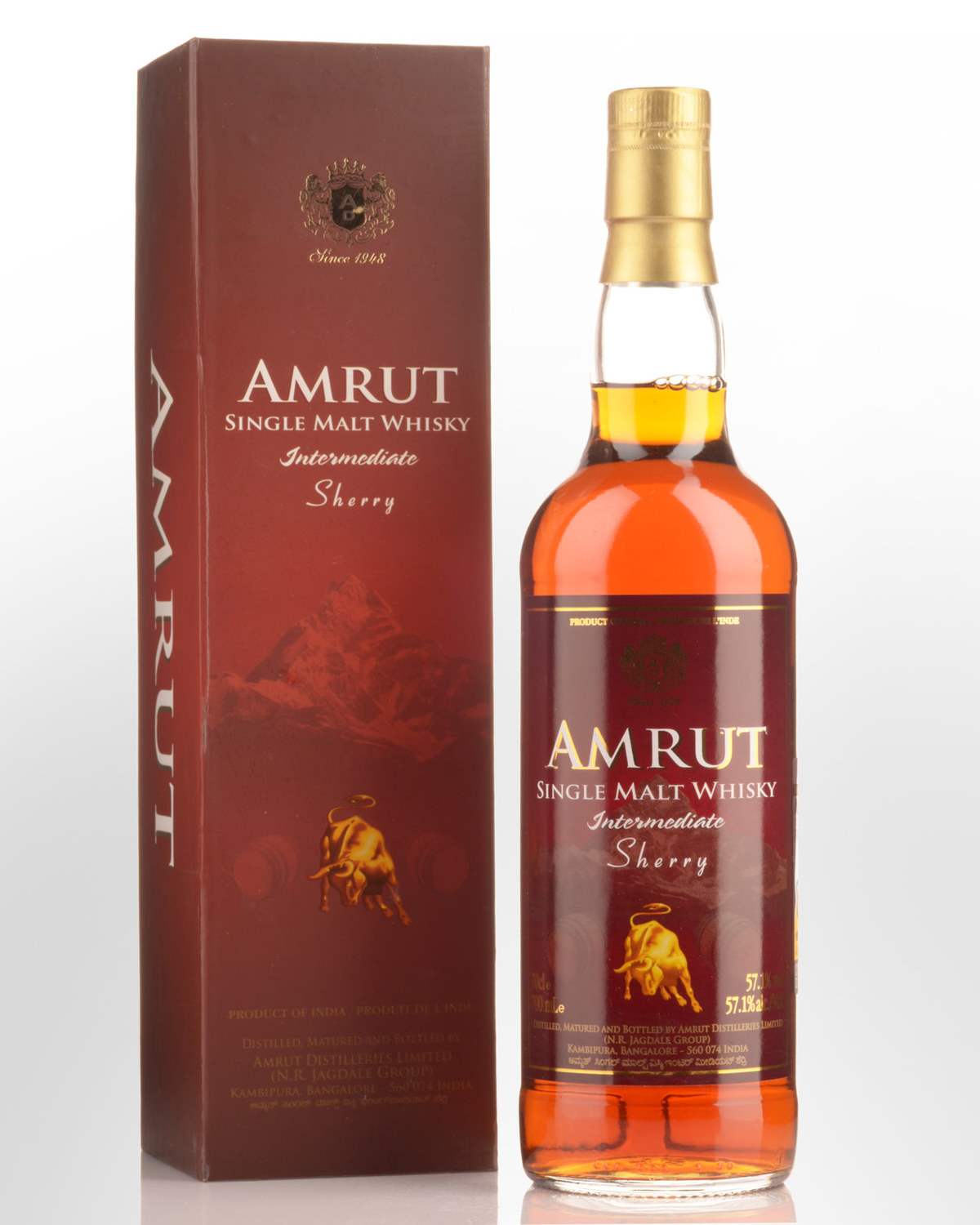 Amrut Intermediate Sherry Matured Cask Strength Single Malt Indian Whisky (700ml)
Note: Slight bruising to the top of the gift box.
Prejudice usually breeds ignorance, and admittedly, there was a time when even we found the idea of a distillery in India entering the domain of luxury spirits implausible. Now seven years on, perhaps more than any other world whisky, Amrut has changed the way people think about this category - mostly because the quality is simply impossible to ignore. The best examples from this distillery surpass your expectations at every level.
We'd been following the development of Amrut through the tasting notes of Jim Murray for some time, as the 2007 bottling earned 89 points with the closing statement "as 40% abv malts go - from any country - this is pretty spot on." In 2008 Amrut increased the ABV to 46% and much to Murray's delight ceased the use of caramel colouring, subsequently the whisky earned 91.5 points to cap off a salivating review. Amrut had our attention.
A selection of cask strength expressions have recently become available for Australian whisky enthusiasts, and the quality is first rate, to the extent that these stand out as bargains on the world whisky stage. They are a revelation to almost anyone who tastes them.
The present situation we're witnessing in India is in some ways akin to the early Japanese whisky industry. It remains a work in progress, and there are good reasons why it's taken decades to get this far.
"You have seen and understand India," a local observed to one visitor who recently toured Amrut. "We need grain to feed people. Whisky is not important and rightly it's not a priority. We use what we have."
He was indirectly referring to the vague and permissive laws which historically, saw almost 90% of Indian spirit produced from molasses. Blended malt styles often contained as little as 4% actual malt whisky. When Amrut was originally established in 1948 under the name of "Amrut Laboratories", it produced "rum" & "brandy" during the 50's and 60's. India was a huge market, but primarily at the lower end. Post-independence and with the liberalisation of licensing laws, Amrut's founder, Radhakrishna N. Jagdale, sensed an opportunity. "This is when he diversified into Amrut Distilleries, while also continuing with a division in the pharma industry,"recollects son, Jagdale who initiated the production of malt whisky during the 1980s.
Amrut turned the traditional Indian approach on its head. "We understood the importance and complex chemistry of [barrel] maturation, thanks to our chemists' background," adds Jagdale. They near perfected the production process, ironically, with guidance from the Scots.
But the company faced difficulties convincing consumers to try the product. Most believed that a good single malt could not be produced in India. To deal with the understandable prejudice, the company's early strategy targeted international markets, that would then, in theory, go on to ignite local demand given positive feedback. "We were confident of our single malt. From a marketing perspective, we thought if our product had to pass the test, why not do so in the toughest location. Scotland is the home of Scotch. If they acknowledge our single malt, then that's good enough for me"said Jagdale. The group debuted its piece de resistance, Amrut Indian Single Malt, in Glasgow in 2004.
"It was all worth it", recalls executive director of the company, Jagdale Junior, "... We had our jaw-dropping moment when the host at Glasgow's famous Pot Still whisky pub served Amrut to a group of connoisseurs, without telling them where it was from. Each person named a different region of Scotland as the likely place of origin, but they were unanimous in their appreciation."
By the time Amrut launched in India in 2010, they were already selling fifteen variants of single malt to leading world retailers (Harrods, Selfridges across the UK,and Park Avenue Liquor Shop in New York, to name a few). It was risk that paid dividends on the brand's home ground.
Amrut is situated in Bangalore, India, 3000 ft above sea level with the water and barley being sourced from Punjab and Pajasthan. Though the maturation takes place high up above the city, hot weather makes whisky mature faster in India than it does in Europe or the United States. The fraction lost to evaporation during ageing, known as the angels' share, is also higher in India, at 11–12%, as opposed to Scotland, where the annual evaporative loss is about 2%. Most Amrut whiskies are reportedly less than 6 years old, yet a steady stream of awards have been left in their wake. The company is now in the envious position of keeping up with demand, without compromising their down to earth philosophy of always exceeding customer expectations. (Is their any other formula to successfully break into new markets?)
Fusion and Portonova remain the most popular whiskies in the portfolio. But at around 10,000 cases of malt whisky per year, Amrut is a relatively minor player. Demand from over 22 countries means allocations remain small. That may change. Let's hope the staggering quality currently on offer does not.
"Intermediate" is created by initially maturing Amrut spirit in a combination of ex-bourbon and new American oak casks, followed by a brief maturation in sherry casks before returning to ex-bourbon casks for its final stint - hence the name 'Intermediate Sherry'. No shortage of rave reviews, including a whopping 96.5 point score from Jim Murray. We have to agree on this one.
A full throttle, sherry-bourbon extravaganza!

Tasting note: Deep copper. Is this Sherry or Whisky?! Stunning purity in the complex, wound up layers of orange rind and fruit cake - even nutty, rancio like qualities - as close as you can get to an old-style Sherry bomb sans sulphur. Sensory magic as this continues to unravel a dense sweet core and the subtle spices add further complexity (cardomom / wasabi?) Creamy satiny entry introduces a barely bittersweet mid palate with a superbly balanced amalgam of dried fruit; Juicy raisin cake enters late followed by a drying, spicy finale that goes on and on...Fig cake and walnut laced vanilla carry the fade. A triumph. If you buy top shelf Sherried malt at two or three times the price but ignore this we don't know what to say. Undeniably a bargain on the world whisky stage.57.1% Alc./Vol.
Other reviews...96.5 Points - (n24.5); (t24); (f23.5); (b24.5) how do you get three freshly emptied oloroso butts from Jerez to Bangalore without the casks spoiling, and not use sulphur? Answer: empty two cases of Amrut cask strength whisky into each of the butts before shipping them. Not a single off note. No bitterness whatsoever. And the fruit is left to impart its extraordinary riches on a malt matured also in American Oak. Amrut is spoiling us again. - Jim Murray's Whisky Bible 2013