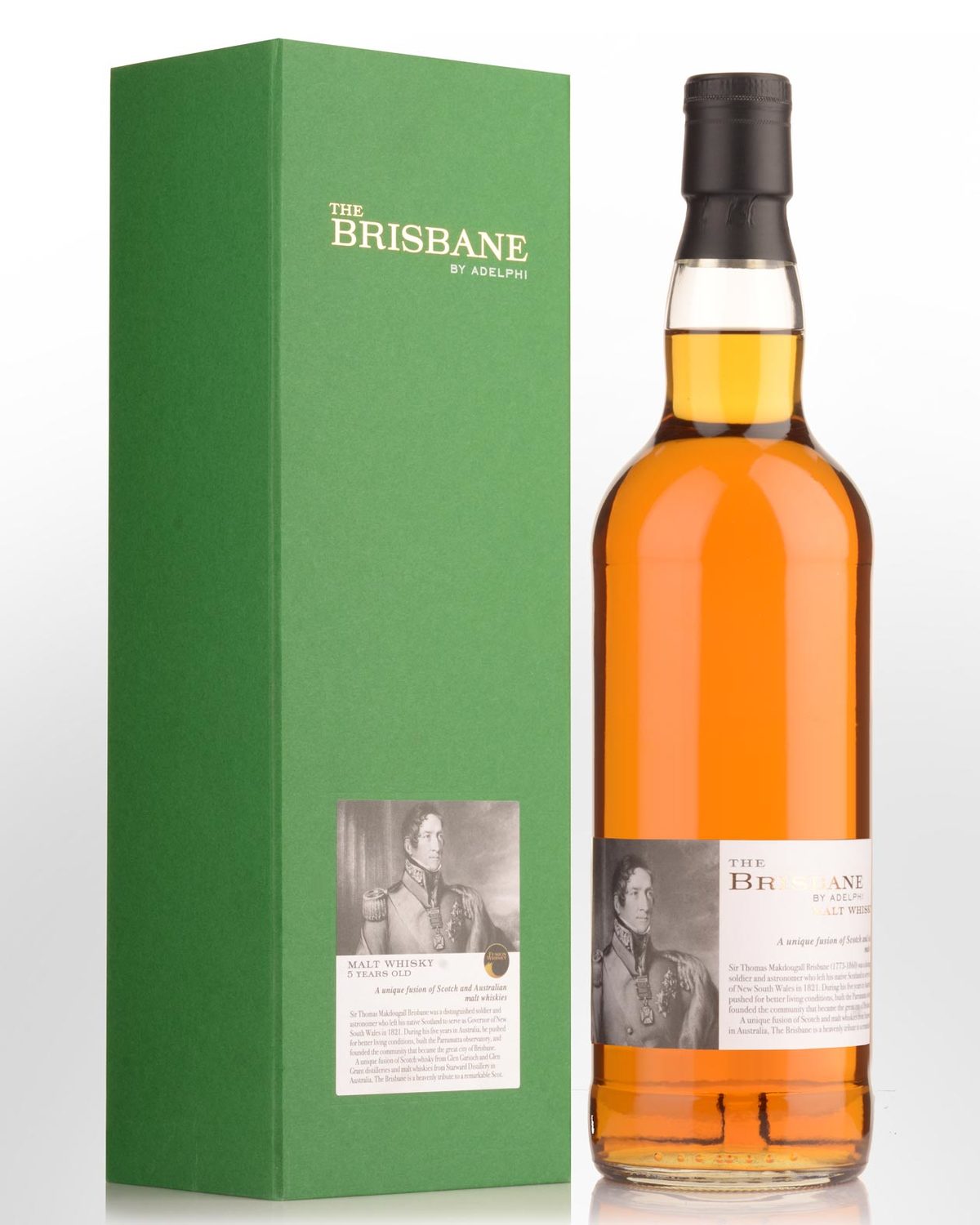 Adelphi The Brisbane 5 Year Old Fusion Cask Strength Whisky (700ml)
A collector's Adelphi and an Australian first.
Continuing a theme of contemporary collaborations, beginning with last year's 'Glover' (an uber expensive Japanese-Scotch blend), and a Scotch-Indian hybrid, here's another ambitious cross-country exercise: This time Adelphi looked south, sourcing three Apera (sherry) casks from Starward in Melbourne, fusing them with two Spanish oak ex-Sherry hogsheads from Glen Garioch (Highlands, Scotland) and part of one ex-Sherry butt from Glen Grant.
To our knowledge, this is the first time Australian whisky has been used in a hybrid malt - so it's something of a landmark bottling.
Due to Scotch Whisky Association laws (SWA), Adelphi are unable to declare the ages of both the Glen Garioch & Glen Grant. The overall depth of this whisky suggests more maturity than the label. The Scottish malts were vatted in England prior to the final composition (consistent with previous Adelphi fusions). Again, this is reportedly due to SWA laws relating to Single Malt Whisky crossing borders in any vessel larger than a one litre. These costly blending achievements are never easy to execute, so one can appreciate the vision involved in engineering the Brisbane; you've got to source high quality, ship it, then understand how to assemble diverse elements, and be pretty damn sure they're going to work. Risky business, but in the hands of Adelphi's A-team, two of the industry's best noses have created something akin to a contemporary sherried style: the Aussie influence makes an indelible mark. Named after Sir Thomas Makdougall Brisbane, an enterprising soldier and astronomer who left his native Scotland to serve as Governor of New South Wales in 1821, this once-off release is limited to 932 bottles worldwide.
Tasting note:
Bright topaz. Sherry sweetness on the nose with mild alcohol prickle. Spiced raisins and hints of banana cake? 3-4 minutes accents dark chocolate and stewed orchard fruits (pears?). Intense, warming, oily whisky. Sweet, spicy fruit cake and bitter chocolate build with a flare of heat and pepper. More dried apricot?...The aftertaste evokes Speyside with muted stone fruits, brandy cream and faint beeswax. A brawny, vibrant blend that easily handles a dash of water, so don't be afraid to experiment.
57.5% Alc./Vol.