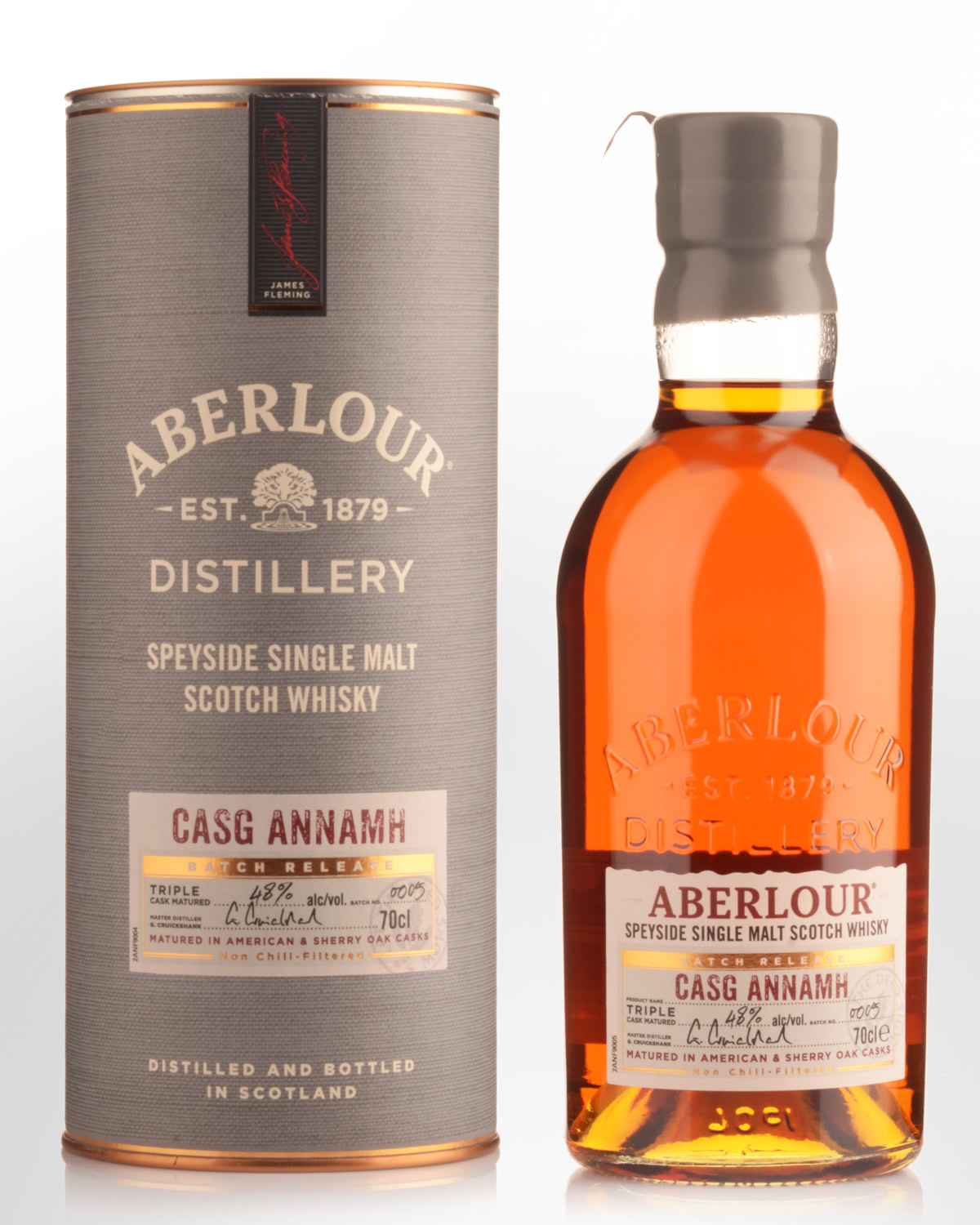 Limit Three per customer

Nick's Import

Reduced
Aberlour Casg Annamh Single Malt Scotch Whisky (700ml) - Batch 5
Speyside, Highlands,
SCOTLAND
On a par with some of the better A'bunadh releases? Not quite, but not far off either. At this price, don't think twice.
Sheer approachability has helped Aberlour become the most consumed whisky in France, where more single malt is consumed than any other country. At around 40%, it's a polite, relaxed and sometimes, slightly wanting tasting experience. As an alternative for those who prefer sherry with a kick, owners Pernod-Ricard introduced the natural strength A'bunadh around 2000. Eighteen years later, Casg Annamh was launched as a French Exclusive in a similar vein (the name translates from the Gaelic as "rare cask"). Also influenced by Oloroso, it's matured in three types of casks: European oak Sherry casks and two different types of American oak . Like A'bunadh, Casg Annamh is batch specific, with five iterations to date, some better than others. Satisfyingly complete, Batch #5 gets it right, being neither too dry and reserved as Aberlour can be (almost like an overaged Armagnac) nor does it quite enter into the territory of over-the-top sherried styles. Given 5-10 minutes, the aromas juxtapose bitter orange peel, dark chocolate and cinnamon warmth with sweeter notes of prunes, fruit cake and vanilla. The palate has enough depth and attack to satisfy those who enjoy cask strength malts while being balanced enough to drink uncut. A moderate sweetness akin to dates and figs gives way to drier Oloroso; Brazil nuts, hints of fruit cake, cocoa and vibrant festive spices add interest. It's one of those appetising sherried styles that draws you back again and again. Of course it's less intense than A'bunadh, but it's neither better or worse. If anything the oloroso is more obvious and it's not as clunky (we tasted it side by side A'bunadh Batch #71). Handsomely packaged with a wax seal stopper, the extra ABV and zero chill filtration makes a world of difference. It's also worth noting that Batch #5 is sold out in the UK, casting doubt on future shipments. While the price is right, grab a few before we move on to Batch 6 or 7 - which may, or may not be as good. 48% Alc./Vol.