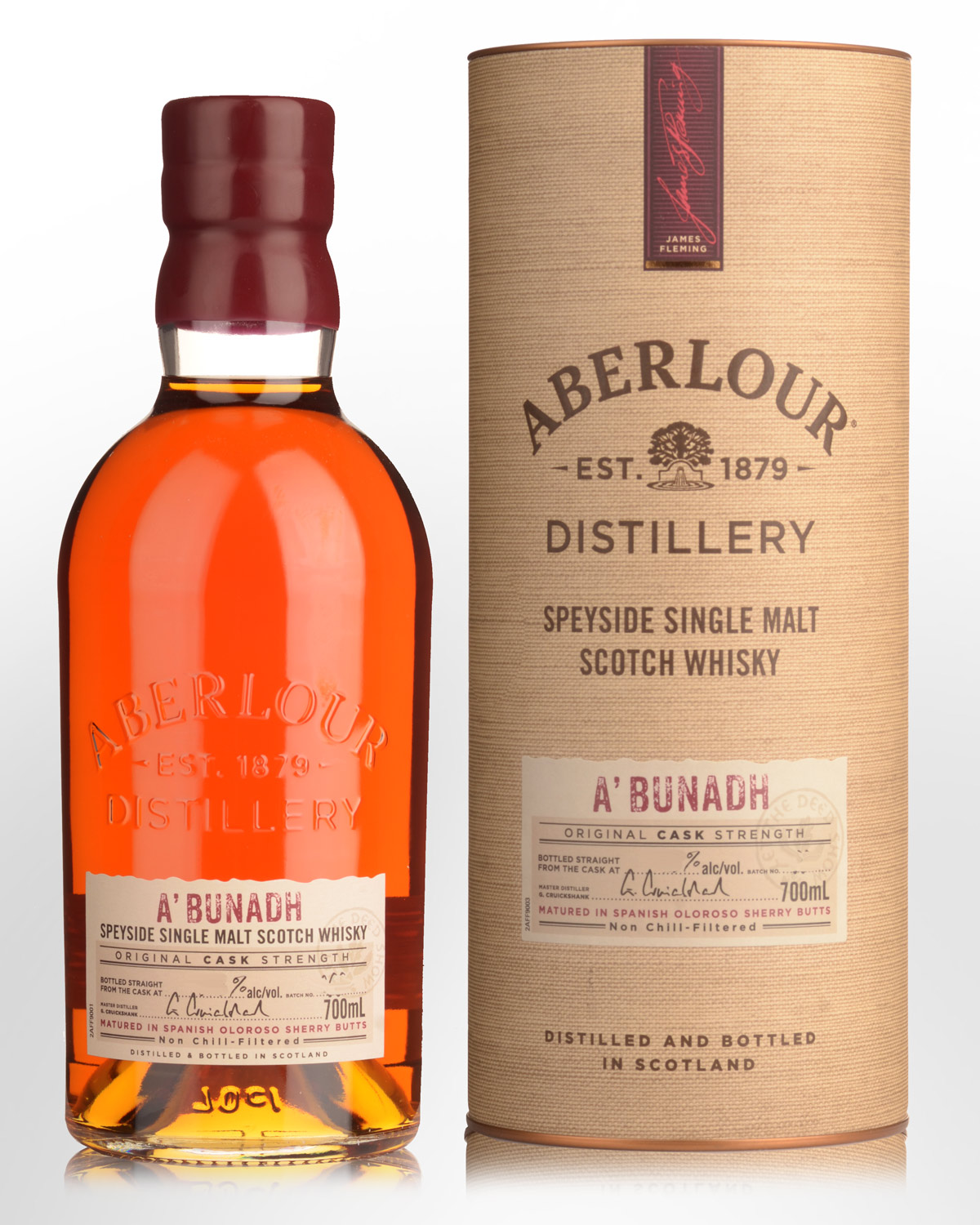 Aberlour A'bunadh Cask Strength Single Malt Scotch Whisky (700ml) - Batch 073
Speyside, Highlands,
SCOTLAND
Another explosive addition to the series, Batch 073 of Aberlour's ever popular 'A'bunadh' continues a tradition of being matured in Spanish Oloroso sherry casks. Compared to some recent releases, the colour is marginally lighter and the aroma and palate deliver more heat and astringency. Its fiery, Armagnac-like personality reveals flavours of walnut slice, dried fruits and dark chocolate alongside richer vanillas, suggesting a good measure of American oak, however multiple tastings are required to acclimatise to the high ABV. Water softens the blow, fluffing up the texture, allowing you to experiment with a wide ratio of dilution to find your preferred sweet spot. 61.2% Alc./Vol. Non chill filtered.
Launched in 2007, A'bunadh (pronounced a-boon-arh), literally meaning 'the origin' in gaelic is a toast to the forefathers of today's whisky makers, and particularly James Fleming who founded the Aberlour distillery in 1879. It's produced in the tradition of 19th century malts, an era when villagers would come to the distillery to collect their dram straight from the cask, often in apothecary bottles obtained from the village chemist - the inspiration for the contemporary Aberlour bottle shape. As a NAS release, A'bunadh demonstrates what's possible when restrictions on age statements are removed and skilled blenders are engaged. Bought to market in numbered batches, various tasters have claimed significant differences between the releases; others note the consistency. More recent batches do seem to be slightly darker in colour, suggesting the inventory Aberlour has been using is getting older, or more active sherry casks are in the mix.