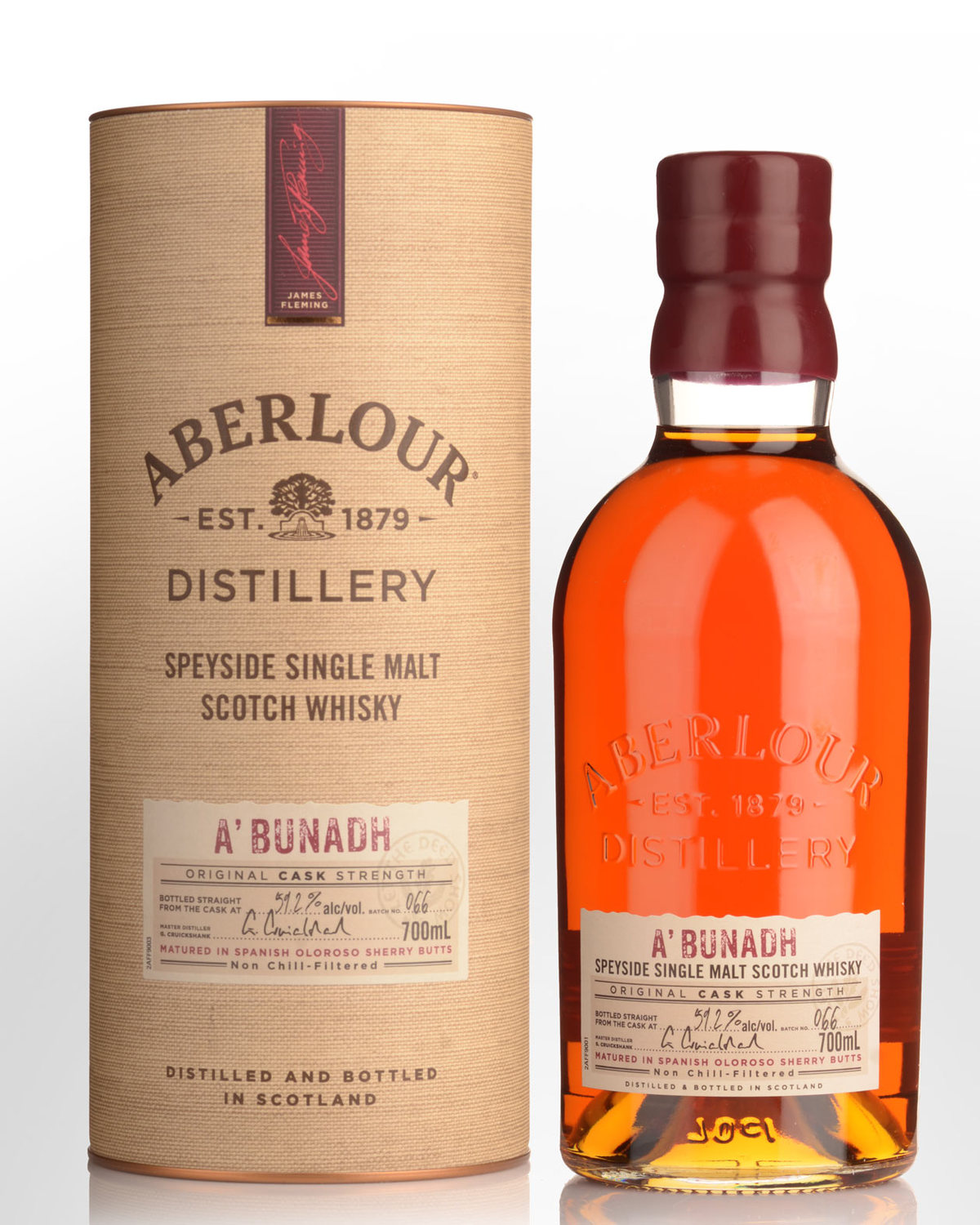 Aberlour A'bunadh Cask Strength Single Malt Scotch Whisky (700ml)
Speyside, Highlands,
SCOTLAND
A'bunadh (pronounced a-boon-arh), literally meaning 'the origin' in gaelic is a toast to the forefathers of today's whisky makers, and particularly James Fleming who founded the Aberlour distillery in 1879. It's produced in the tradition of 19th century single malts, an era when villagers would come to the distillery to collect their dram straight from the cask, often in apothecary bottles obtained from the village chemist - the inspiration for the a'bunadh bottle shape today.
There is no age statement on this malt. Instead it comprises Aberlours from less than 10 to more than 15 years vatted together, matured exclusively in Spanish oak Oloroso Sherry butts and bottled at cask strength.
*Please note: Due to the varying nature of this product, batch numbers cannot be guaranteed. Please contact FREECALL 1800 069 295 should you wish to confirm which current batch is available.
Tasting notes: [BATCH 45 tasted] Impressive deep bronze / burnished copper appearance. Nosing reveals cocoa, sweet cereals, vanilla, hints of honey and a mild nose prickle. A medley of dried fruits is introduced at subsequent stages, as well as hints of apple. The palate delivers a thick, full bodied, concentrated dram that expands throughout the mouth as the mildly prickly, warming spirit releases brown sugar, liquorice bullets, vanilla and waves of pulsing spices. Finish is momentarily plush and juicy as hints of dried fruit evaporate. It concludes long with suggestions of roasted nuts, cocoa and drying oak. A typically full throttle A'bunadh. Balances out beautifully with a splash of water. 60.2% Alc./Vol. Non chill-filtered.
Notes on previous bottlings... Nose: slightly earthy but the grape is genuinely clean, intense and spicy; Taste: truly glorious, actually quite perfect, delivery of balance between the unimpeachable grape and malt concentrate that gathers on the palate and bores into the taste buds like a tornado into a midwest town. One of the great moments of Speyside drinking. Finish: relatively short, but the shockwaves continue amid some toffee. 59.5% alc.vol. Rating: 94 - Jim Murray's Whisky Bible 2006.
Aberlour a'bunadh Batch No. 6.
Rich amber. Powerful, estery nose. An oily textured, medium-to full-bodied palate with intense burnt caramel, peat and salty,vinous elements. Aggressively spicy yet surprisingly approachable given its size. A big warming finish at the end. A touch of water calms the beast and brings out the mellow sherried oak and dry caramel nuance. A gentle giant. 95 points (Exceptional) - www.tastings.com
NB: Alc % will vary from batch to batch