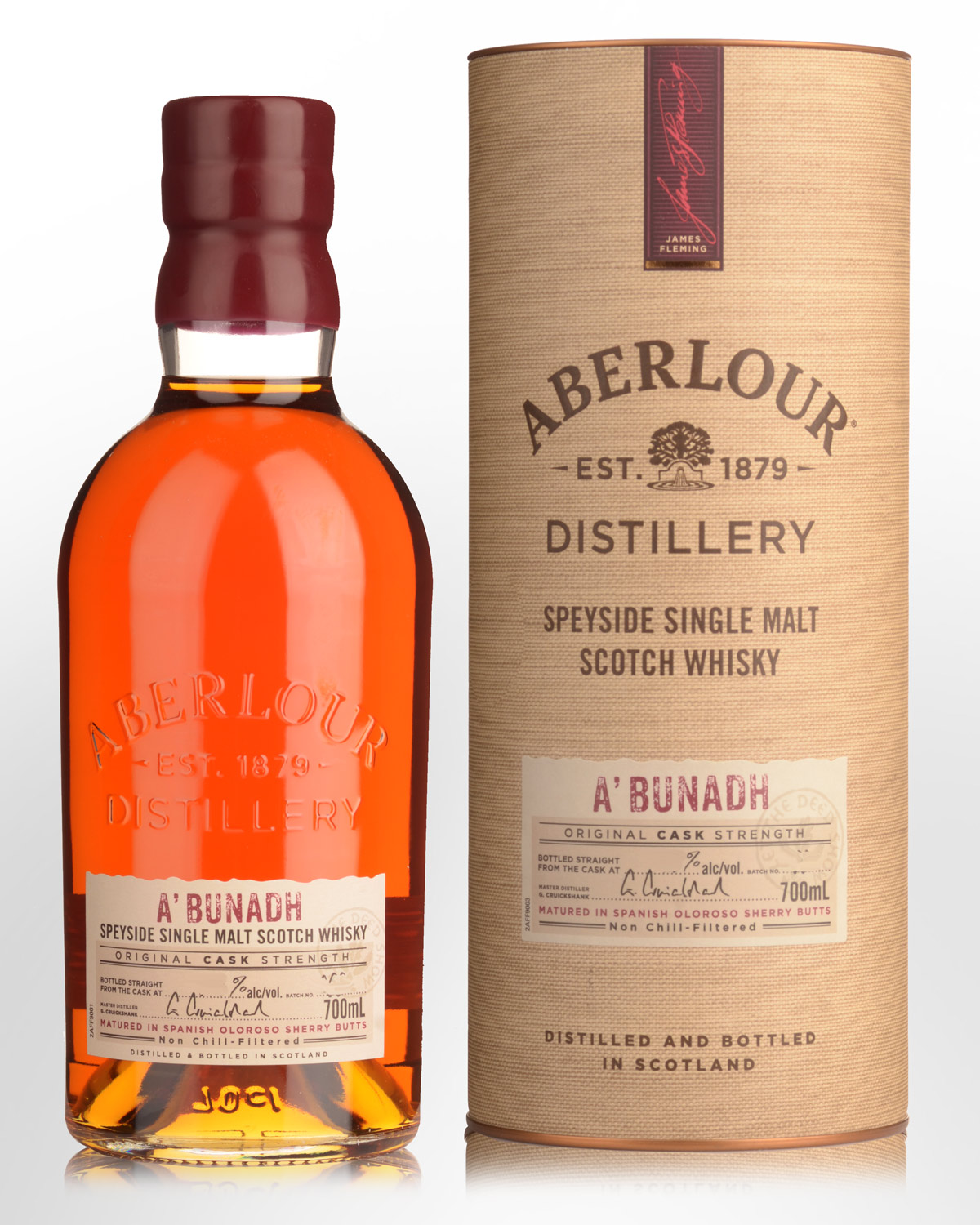 Aberlour A'bunadh Cask Strength Single Malt Scotch Whisky (700ml) - Batch 071
Speyside, Highlands,
SCOTLAND
Next to Glenfarclas 105 (and a handful of others), this sassy, oily and spirity A'bunadh is one of the last stand outs in the super-value cask strength category. Our recommendation is a strong buy.
Batch 071 is an Aberlour classic. With no sulphur or extreme heat, it avoids the pitfalls of some earlier editions, combining oloroso sherry butts ranging from five to twenty five years of age in a Speyside tour de force. Auburn-mahogany coloured, the aromas of oak shavings, walnut slice and dried orange peel are enriched by raisin cake and dark chocolate. Fans of natural strength malts will adore the bracing attack that's combustible, feisty yet surprisingly approachable. The mid palate creams-up the mouthfeel injecting a juicy, moist fruit cake character that is simply salivating. The aftertaste unfolds with leather, vanilla malt, allspice and nutty oloroso and concludes as sizeable as it began. 100% sherry matured and bottled non chill filtered, this remarkable heavyweight blending effort hits all the right notes and continues to build with air contact. Buy as many as you can afford before the price goes up. 61.5% Alc./Vol.
Launched in 2007, A'bunadh (pronounced a-boon-arh), literally meaning 'the origin' in gaelic is a toast to the forefathers of today's whisky makers, and particularly James Fleming who founded the Aberlour distillery in 1879. It's produced in the tradition of 19th century malts, an era when villagers would come to the distillery to collect their dram straight from the cask, often in apothecary bottles obtained from the village chemist - the inspiration for the contemporary Aberlour bottle shape. As a NAS release, A'bunadh demonstrates what's possible when restrictions on age statements are removed and skilled blenders are engaged. Bought to market in numbered batches, various tasters have claimed significant differences between the releases; others note the consistency. More recent batches do seem to be slightly darker in colour, suggesting the inventory Aberlour has been using is getting older, or more active sherry casks are in the mix.