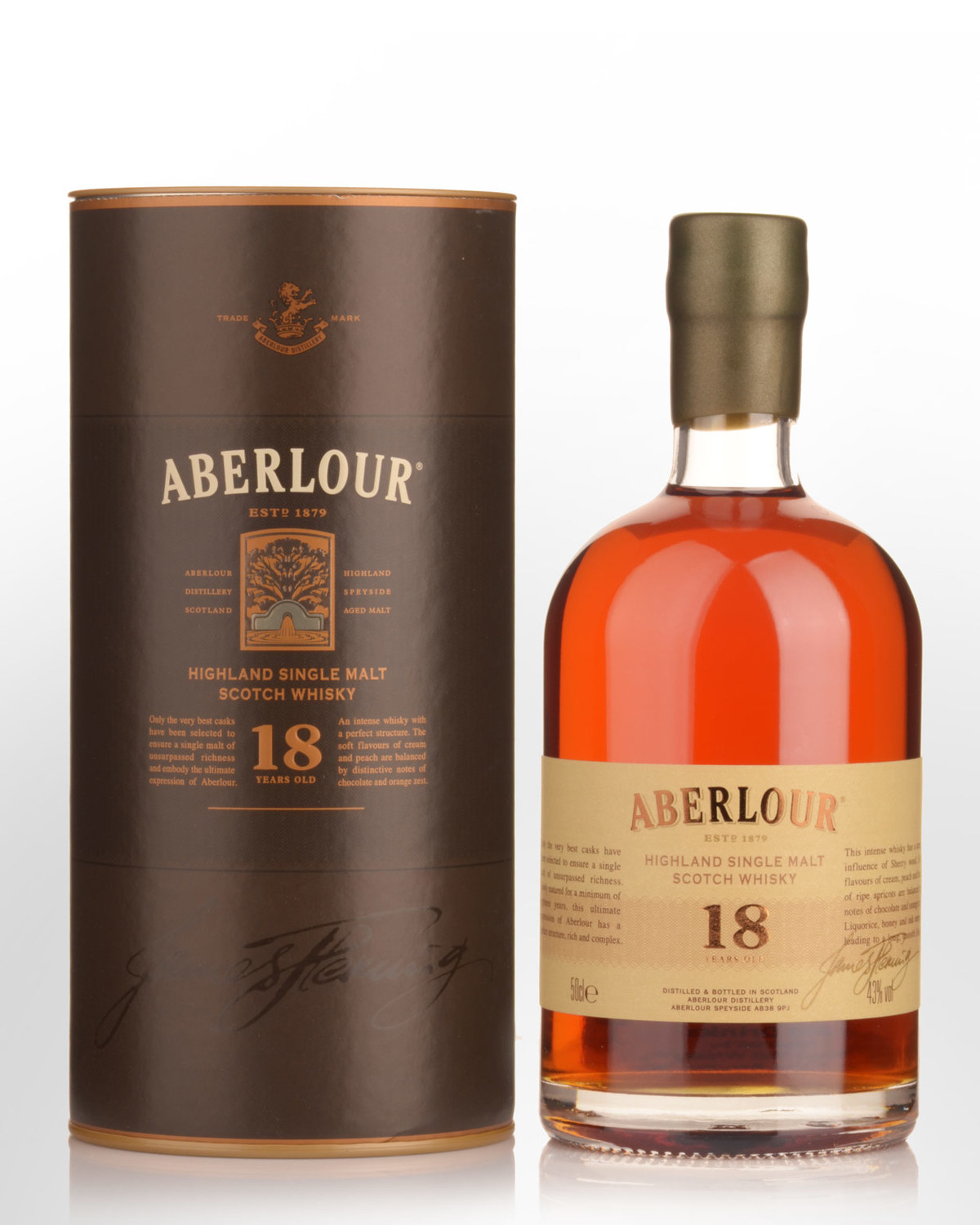 Limit Six per customer

Nick's Import

Reduced
Aberlour 18 Year Old Single Malt Scotch Whisky (500ml)
Speyside, Highlands,
SCOTLAND
A whisky many consider to be the ultimate expression from this distillery. Quintessentially Speyside, the self-proclaimed flagship was (until relatively recently) reserved exclusively for the French market (the French drink more single malt than the Scots, hence, the best stocks were selected.) Described as "the richest and most indulgent Aberlour", it is invariably a house favourite for both beginners and seasoned malt lovers. No surprise that it was runner up for Best Single Malt Scotch (18 Years) at the 2015 International Whisky Competition.
One of the more impressive age-statement buys in Sherried malt to come our way in years.
Tasting note: Deep copper to amber-gold. Very classy on the nose, and finely harmonsied; orange zest and raisins juxtaposed with sweeter depths - in particular, vanilla cream and some lovely fruit'n'nut chocolate sherried threads. Likewise the honeyed-malt delivery; light and graceful on entry but building with dried fruits, tea biscuits, cocoa and hints of orange peel. Oily, warming and long through the aftertaste. Once again, very classy, even approaching Macallan 18 in terms of texture and style (the 100% Sherry bottling). This is slightly firmer and drier, but nearly as polished, and with a finish that just feels 'expensive'. 43% Alc./Vol.
Other reviews... thick milkshake with various fruits and vanilla.... wonderful fruit chocolate fudge development; long and guided by a gentle oiliness. Another high performance distillery age-stated bottling. 91 points - Jim Murrays Whisky Bible 2020
...There was an Aberlour 18 on the market for a spell several years ago, aged in sherry casks, that I really enjoyed. Now we have this new 18 year old expression. There are big shoes to fill, and this whisky fills them quite nicely. Once again, the sherry is prominent throughout, with its lush fruit, velvety texture, and sweet demeanor. But it's not cloying or sappy — the sherry blends in nicely with the rest of the flavors. Ripe orange, apricot preserve, peach cobbler, chocolate-covered caramel, and toffee, with a sprinkling of cinnamon and cocoa. Rich, silky smooth, satisfying finish. Very impressive. The Aberlour 18 year old's reputation remains intact! 91 points-
www.maltadvocate.com (Vol. 20, #1) Reviewed by: John Hansell
... Always a favourite in the house, it's a malt that just pleases everyone, from die-hard freaks to inattentive diners. Colour: deep gold. Nose: very typical, classic fudgy Speyside with much elegance and plenty of herbal teas that keep it complex. Earl grey tea plus fudge and buttered caramel, plus quite some malt, Ovaltine-style, as well as orange zests dipped into milk chocolate. The whole works in sync, which is very pleasing in this context. Mouth: only the lightish strength makes it a notch less satisfying than it could be, but these oranges, chocolate, orange blossom plus all the toffee do work in sync again. Perhaps a tiny touch of rubber in the background, but nothing embarrassing, that just makes it a tad drier, and less syrupy. Finish: medium, even more on toffee and (rather grassy) tea. Comments: very classy, as I remembered it, and a little cognacqy.
86 points - Serge Valentin, whiskyfun.com