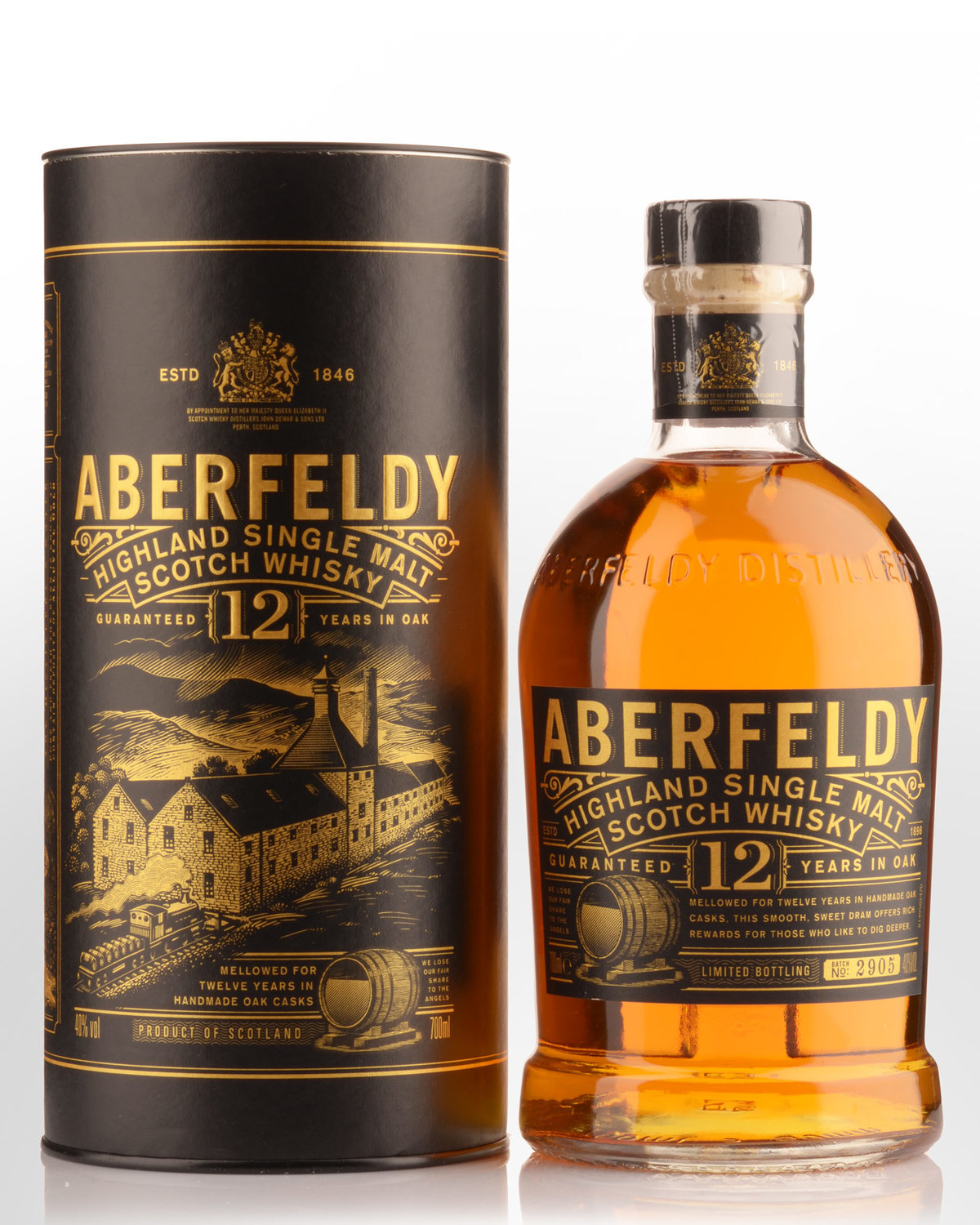 Aberfeldy 12 Year Old Single Malt Scotch Whisky (700ml)
Reserved for decades as the heart of the Dewars family of blended whiskies, Aberfeldy is now being released in limited quantities in 12 and 21 year old expressions. Recent awards for the 12 year old include:

- Grand Gold Medal – Monde Selection, Belgium
- Gold Medal – Concours Mondial, Belgium
- Silver Medal – International Wine and Spirits Competition
Tasting note: Bright gold. Initially impressions are of a fruit salad with striking scents of unripe canteloupe most salient along side dustings of dried coconut. Five minutes sees the fruity edge only slightly diminished. Light,silky entry builds into a soft, medium bodied, elegant and delicate malt. The fruity / vanilla combination repeats at mid palate, followed by hints of oatmeal and moderate length. A delightfully fruity Speysider. 40% Alc./Vol.
Other reviews... Fresh and floral, with lively tropical fruit, honey, and vanilla. Gentle on the palate, with a slight syrupy texture to its malty foundation. Youthful, orange marmalade finish with a hint of spice. A pleasant, easy-going whisky.82 points
- maltadvocate.com, 4th Quarter 2006 Issue-Vol. 15#4
... Nose: Beautifully intense malt with a cidery-apple fruitiness. Gentle oak and honey round off superbly. Palate: Fresh, almost crisp mouthfeel with outstanding sweet maltiness and an almost Irish pot-still firm fruitiness. Mouthwatering. Finish: Softly spiced with a long, rich malt follow-through. Comment: Really outstanding example of massively complex, classy but undiscovered malt. 85 points
- Jim Murray, www.whiskymag.com