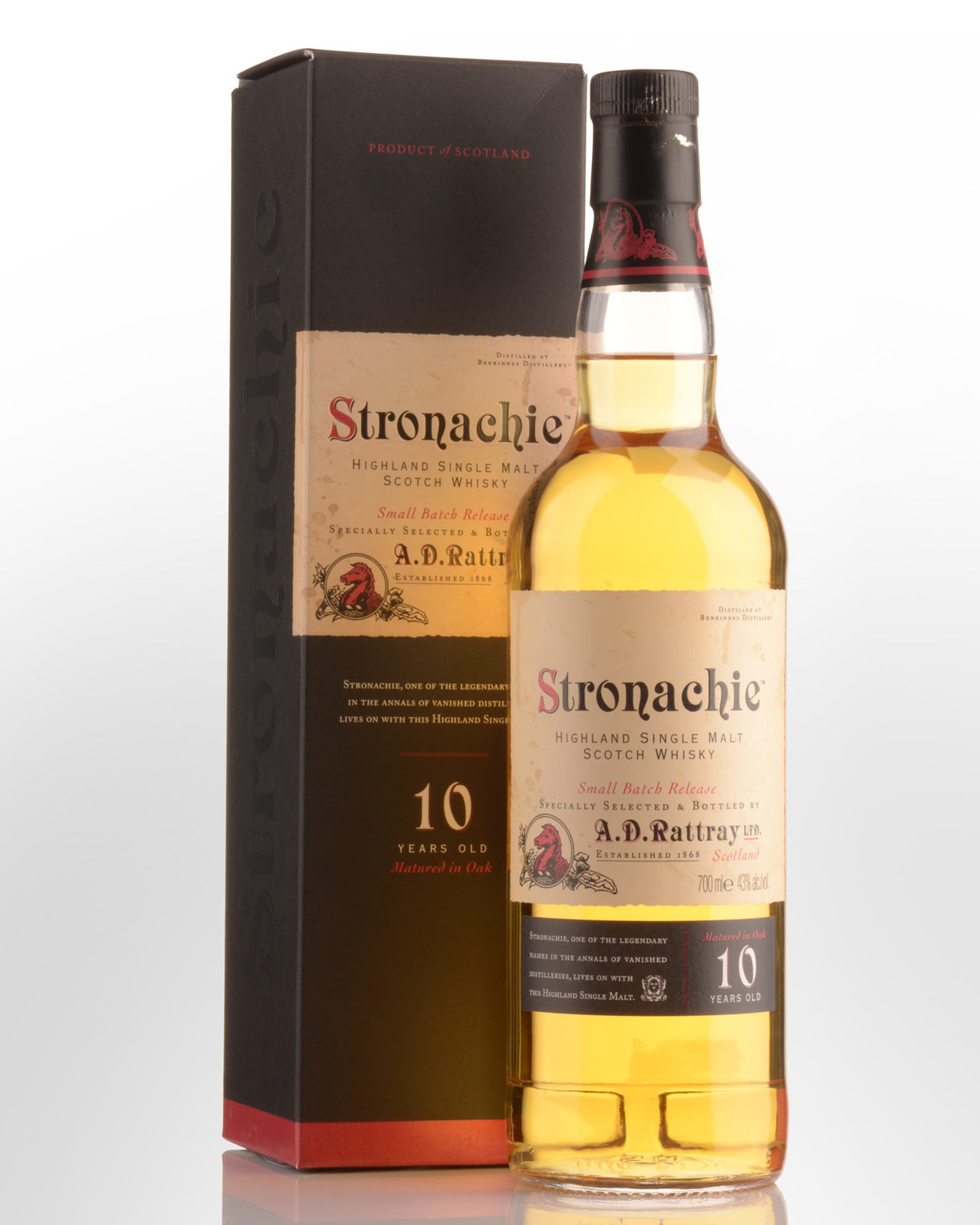 A.D. Rattray Stronachie Small Batch Release (Benrinnes) 10 Year Old Single Malt Scotch Whisky (700ml)
"The obliteration is total. Only the name remains." So ends the story of Stronachie, a distillery which rose out of the wilderness in the 1890s. Set in a desolate glen on the Perth-Kinross border it stood between bleak hills on an isolated road that toiled its way through the Ochill mountains. Stronachie Distillery produced a traditional Highland-style whisky until 1928 and during its four decades of production A.D. Rattray Ltd represented the brand in Scotland. Rattray is proud to revive the Stronachie name and reproduce this spirit of another time. To replicate the whisky, a bottle of original Stronachie 1904 was purchased at auction - one of only four bottles left in existence. A small sample was drawn, then samples of many Highland malt whiskies were compared to the original Stronachie. Finally, the remote and high altitude Benrinnes was chosen.
Tasting note: Many, many very positive user reviews on the web for this pale gold, Bourbon cask matured dram. The nose is pristinely clean with malt and vanilla opening sniffs followed by oatmeal biscuit, cocoa and dried fruits. Light and easy on entry, building concentration and balance through the mid palate with lovely vanilla malt and honeyed notes framed by spicy oak. Ends dry, mildly fruity and soft. Eminently drinkable. You can understand why this has developed such a loyal following. 43% Alc./Vol.
A.D. Rattray customer review... A quite outstanding 10 y.o. Speyside. I don't remember how I 'found ' Stronachie but boy am I glad I did. For it is simply the best 10 y.o. I have ever tasted, and is in my top five whiskies of all time. I am a tour guide for the American market and visit a lot of distilleries all over Scotland, so although not 'an expert' I have learnt a lot in the last six years. I have repeat ordered this whisky more times than any other and all friends and others who have tasted it agree with my praise of it. I am just going to order another couple of bottles (one as a thank you present).
Finally thank you to A D Rattray for your unstinting quest for perfection (someone has to do it after all!) and thank you to Benrinnes Distillery for producing (and of course all the other distilleries in Scotland) such a wonderful nectar.
 My observation on Stronachie: Light , sweet, malty, amazingly smooth with a finish that lingers gently and helps to set you up for the next one.