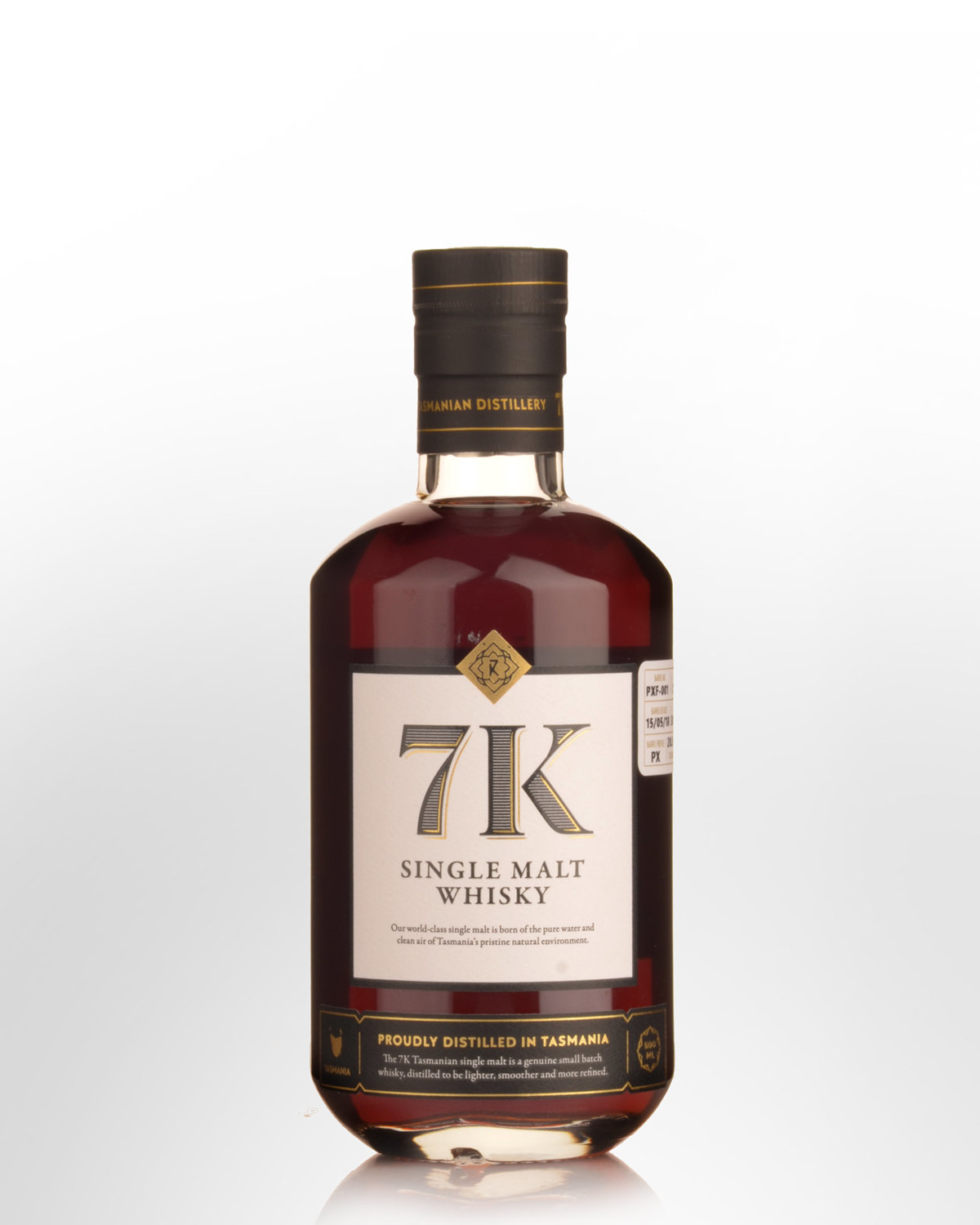 7K Distillery PX Finish Cask Single Malt Australian Whisky (500ml)
7K produces whisky using a custom made copper still built by proprietor, Tyler Clark. The still itself was designed with another of his passions in mind—that of process automation, which for 7K means the integrated use of technology to automate certain production features. Matured on site ten minutes from Hobart CBD, this whisky started life as two 20 litre casks (dry Australian sherry and an ex-bourbon). Two years, three months & seven days later they were combined in a 30 litre x-Pedro Ximenez cask from Tasmanian Tiger Cooperage for a further two months and fourteen days. We received a 30ml sample of PXF-001, and it tastes every bit as good as it looks. The aromas are unexpectedly fresh for a sweet sherry finish, suggesting crushed pine buds, sour cherries and rolling tobacco; Air contact draws out cinnamon, vanilla and dense fruit cake. There's a flood of sherry-enriched malt in the mouth - yet it's not overly sweet. Prunes and dates dominate, followed by flashes of coffee cake, well-aged Demerara rum and bitter dark chocolate. Fine astringency maintains near perfect sweet/dry balance, while the aftertaste is remarkably long. PX influenced malts rarely get much better than this. 52.7% Alc./Vol. ABV may vary from batch to batch.
Notes from the producer... Nose: Green oak & maple, intense soaked raisins & an almost floral herbaceous quality to it. Body: Sweetness, pine needles, a little cupboard spices (like clove, cinnamon, a touch of dried orange & dried figs, stewing plums, & a slight bitterness that cuts through the sweetness nicely. Finish: Long sweetness & warming spice, finishes with a touch of molasses almost like a warming fruit mince pie.