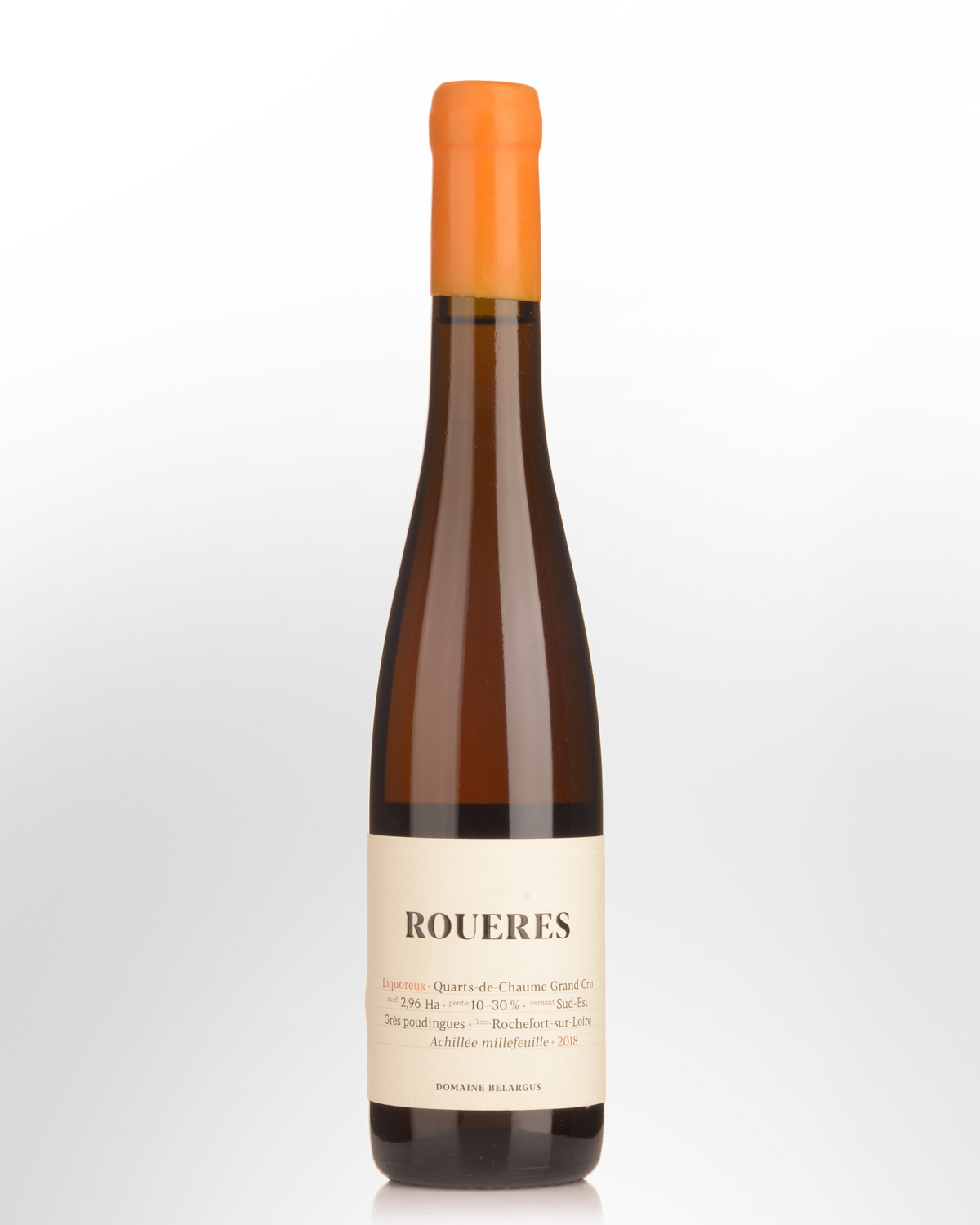 2018 Domaine Belargus Roueres Quarts de Chaumes Grand Cru (375ml)
Domaine Belargus is the realisation of a dream by former Parisian investor Ivan Massonnat. While it was his love and respect for Burgundy that ignited his passion for wine, his family connection to Chinon opened his eyes to the potential of Chenin Blanc from the great terroirs of the Loire Valley. A chance encounter with retiring vigneron Jo Pithon lead the pair to meet at the foot of the legendary Coteau des Treilles vineyard one frosty morning, and the fate of each was sealed. Further acquisitions followed, including one quarter of Les Quarts in the historic heart of the Quarts-de-Chaume appellation, along with sites across the river in Savennières. This new estate is 100% dedicated to Chenin Blanc and celebrates the grape's versatility regarding terroirs and wine style. Ivan has installed a young team, and together they are currently converting to biodynamics, with a single-plot approach inspired by Ivan's first love: Burgundy.
Adapting their approach each vintage, the various plots are harvested at their optimum maturity at incredibly low yields of around 25 hectolitres per hectare. Fermentation occurs in barrel using indigenous yeasts, and can last from less than a month to more than a year, depending on each plot and the vintage characteristics. This is one of the most exciting new ventures in France today, and should appease lovers of high quality, terroir specific wines.
"Les Rouères" is one of the three plots listed in the original decree creating the Quarts-de-Chaume appellation, exposed on the eastern side. The pudding stones in the basement give a spherical and solar character to this cuvée.
Other Reviews....
From a southeast-facing 2.96-hectare vineyard on sandstone puddings, "Les Rouères" is one of the three plots listed in the original decree creating the Quarts-de-Chaume appellation. The 2018 Quarts-de-Chaume Grand Cru Rouères displays an amber-apricot color and opens with a highly intense and concentrated yet refined, elegant and slightly flinty stone fruit (apricot) and stewed strawberry aroma on the nose. Sweet, round and intense on the palate, with fine acidity, delicate botrytis and wholemeal bread notes on the palate, this is a rich yet finessed and elegant QDC with fine bitters and tannins on the tight yet pleasant finish. 10.5% alcohol. Natural cork. Drink 2021 - 2070.
96 points
Stephan Reinhardt - Wine Advocate (Oct 2021)
South-east facing plot on pudding-stone with 200g/l of residual sugar. Another wine produced from a special type of soil with pudding-stones that tends to result in powerful but not heavy wines. Aromas of quince, candied pineapple, apricot leap from the glass while maintaining remarkable precision. Density and balance. Sugars present but not overwhelming. Great ageing potential. Drinking Window 2030 - 2050.
97 points
Yohan Castaing - Decanter
This cuvées comes from the parcel Les Rouères in Quarts de Chaume, which has an incline of 10% to 30% and a terroir of puddingstone and sandstone. I find less oaky influence here, the aromatic profile rich in desiccated fruits, with raisin, toast, fig and date, with a fine mineral backbone for support in place of the oak seen in Les Quarts, despite the fact this sample was drawn from a new 400-litre barrel. The palate comes across as considerably more expressive, rich and characterful, displaying a broad sweetness with grip and substance and a dried fruit concentration, all wrapped up in a fine-boned mineral substance and fresh acidity. Very convincing, bold and broad, but poised and energetic, with great balance. This has the makings of a truly great Quarts de Chaume. On this tasting I prefer this to the cuvée Quarts, the opposite of my original findings, but final judgement will of course be reserved until the wines are in bottle.
96-98 points
Chris Kissack - Winedoctor