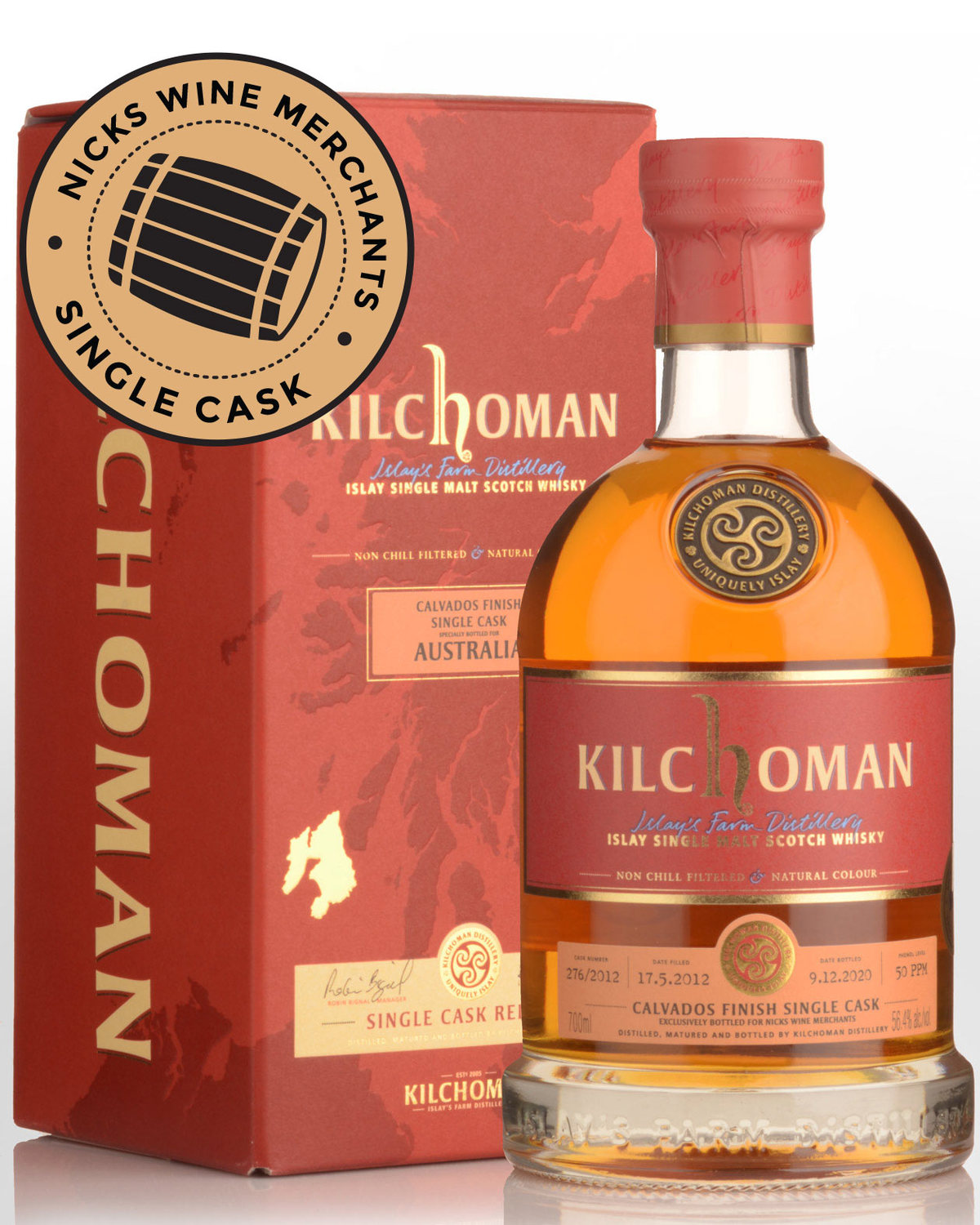 2012 Kilchoman Single Cask #276 Nicks Wine Merchants Exclusive Calvados Finish 8 Year Old Cask Strength Single Malt Scotch Whisky (700ml)
An Australian exclusive with just over 240 bottles available.
Limited to two bottles per customer.
For many distilleries, single cask private bottlings are where you get to the really interesting stuff.
It's been nearly eight months since we last offered a Nick's exclusive barrel. That's not for lack of invitations and searching. The issue has been the quality of what's on offer. Our criteria are for something out of the ordinary that's also reasonably priced (not as easy as you might think). Kilchoman is one of a growing number of distilleries who don't sell casks to independent bottlers. Nevertheless, they're happy to do private bottlings, so long as they're bottled by them. Happily, with Kilchoman the quality is invariably good - often great. Reference almost any major reviewer (Whisky advocate / Jim Murray) and Kilchoman is one the few to routinely breach the 93+ point barrier. Private single cask bottlings often do considerably better, honing in on the best of the best.
Our selection this time round was matured in a fresh bourbon barrel for over seven years before being finished in a Calvados hogshead for ten months (French Apple Brandy). You could imagine it being like drinking a cider after smoking a cigar and you wouldn't be too far off. Inside the distillery, fermentations are long, helping to create fruitiness to balance the shoreline/shellfish-like phenolics. The wood policy is strict and pricey with a high percentage of first-fill ex-Bourbon and ex-Sherry casks employed. Like Caol Ila, for example, Kilchoman finds a sweet spot in its youth. This is a prime example: An effortless, sweep-you-off-your-feet Islay experience that only this distillery and (maybe) one other routinely pull off.
Tasting note: Deep honey gold. Opening scents are rife with sweet pipe tobacco and coastal peat; hints of green apple and citrus add lift and vigour to an already effervescent bouquet. Further air contact runs the gamut of peat as the nose takes on salted crackers, seaweed, rock pools, elastoplast, lanolin and smokey oatmeal. 3-4 minutes shifts to a farmy, barnyard aspect. A wave of flavour in every sense: Hits the tongue with mini explosions of sweet oily peat, citrus and ash in equal measure, then dials up the zip and vibrancy in a maritime rush. Switches to a drier, fresher, more astringent mode in a finish that recalls Lagavulin at natural strength. Beautiful length to the savoury aftertaste. Minimal water heightens the fruity notes on the palate. This is Kilchoman at its precocious best! 56.4% Alc./Vol. Non chill filtered. 241 bottles on offer. Distilled in 2012 and bottled in December 2020 at 50ppm.