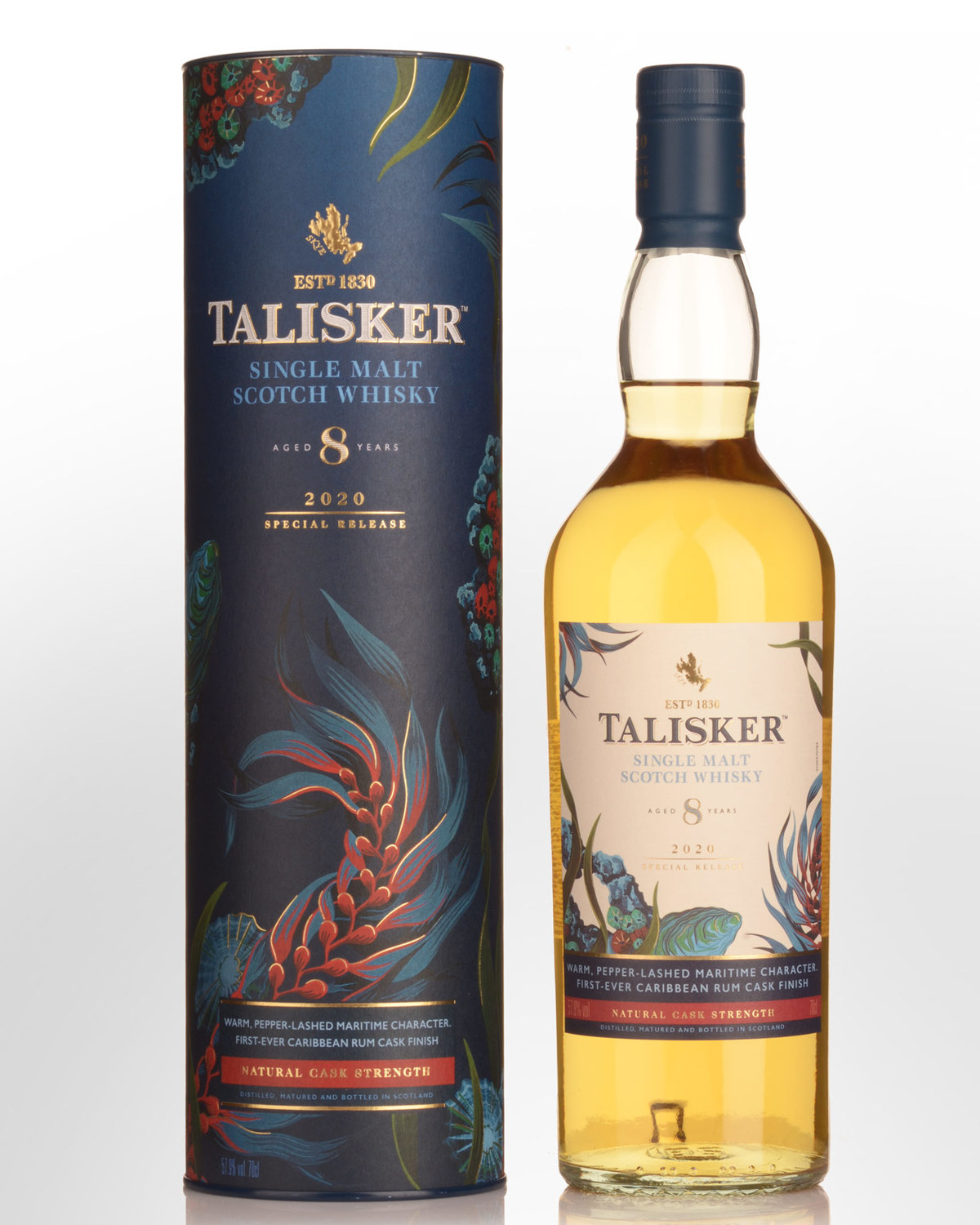 2011 Talisker 8 Year Old (Special Release 2020) Cask Strength Single Malt Scotch Whisky (700ml)
The stand-out bargain of the 2020 collection.
Tasting note: [15ml sample] These island whiskies are invariably the treats in the series and always sell fast. First introduced in 2018, this year's Talisker offers powerful aromas of salted caramel chocolate, baked citrus, white pepper, building with maritime / medicinal / farmyard notes of sea spray, iodine and lanolin. The classic peppery attack is also surprisingly accessible (perhaps the rum cask has had a rounding effect?) The finish offers a superb flavour wave of idiosyncratic island pleasure. Talisker at its virile best. 57.9% Alc./Vol. Non chill filtered.
Other reviews... The youngest of the 2020 Special Releases. Warm tar, farmyard, charcuterie, and faint iodine on the fruity nose. Peppery stewed fruits and gentle woodsmoke on the voluptuous palate. Very prickly in the long finish, with fruit-and-nut dark chocolate and chile paste. An intriguing and attractive take on Talisker. 93 points - whiskyadvocate.com
...Absolutely love it that they would confirm, in the lovely brochure, that Talisker 'remains the island's oldest working distillery'. It goes much better if it is said. As for the unusual Rum finish, in my experience they often go relatively unnoticed when the distillate's as big as Talisker's. Colour: white wine. Nose: oh, eau-de-vie de smoked barley, mercurochrome, kiwi juice, paint thinner, lime juice, broken olives and the trademark seawater. Young and very race-y, in truth I find it perfect and brilliantly distillate-driven (which is more or less the same thing in my book). Perhaps a touch of vanilla. With water: smokier now, rather on an old stove, graphite, those tarry ropes, coal tar, and just a tiny drop of acetone – that's the youth speaking out. I find the rum's discreet. Either it is some very light juice – but they say it's post-still rum, or it's a rum that's very close to Talisker 'in spirit'. Jamaica springs to mind. Mouth (neat): take mortar and pestle, crush chalk, add lemon pips, crush, pour lemon juice and seawater, add two green olives, crush, add a tiny pinhead of wasabi, a drop of Worcester sauce, the flesh of three small oysters, a hint of Himalaya salt (just joking), crush, shake, put into blender (what?), strain, enjoy… Not sure I've got the recipe right but you've got the idea. With water: same as what happened on the nose, it gets less 'nervous' and rather smokier, perhaps a tiny wee tad simpler despite a lovely camphor. Do not add too much water. Finish: perfect when with just a drop of H2O, tense and pretty sharp, with a bit of that side of Talisker that reminds us of Brora (and conversely, I mean, you see what I mean). A lot of pepper in the aftertaste. Comments: these bottles should come with a free small pipette. Superb young Talisker, given that the 10 is always a killer. To be honest, I wouldn't have detected any 'rum' as such, even by contrast after the 10, had I tried this one without being in the know. Huge, huge quality/age ratio, but the Lagavulin to come isn't half bad either. But shh... 90 points - whiskyfun.com