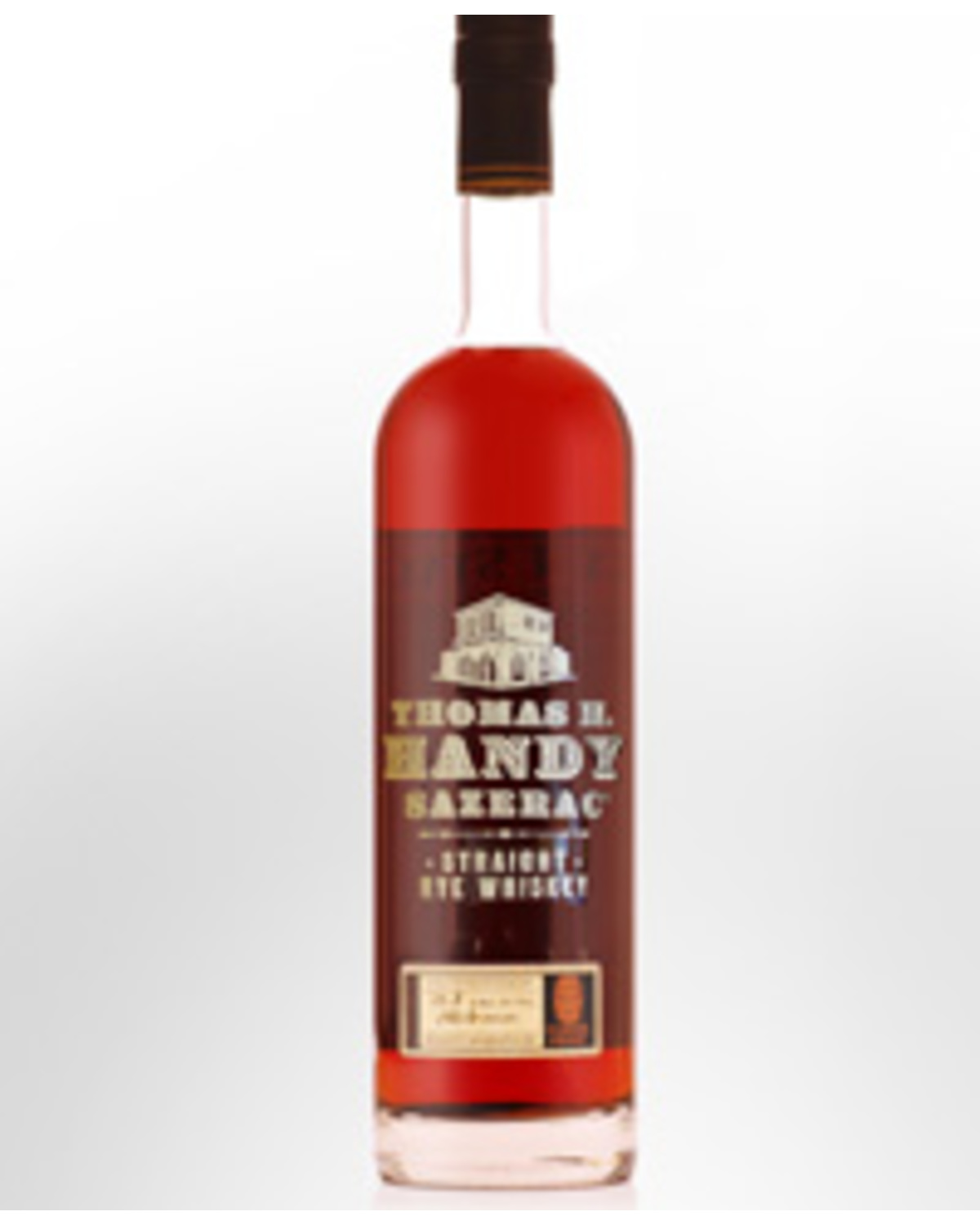 2009 Thomas H.Handy Sazerac Barrel Proof Release 129 Proof (64.5%) Straight Rye Whiskey (750ml)
Awarded Rye Whiskey of the Year - Jim Murray Whisky Bible 2011
Buffalo Trace Distillery is a family-owned company based in Franklin County, Kentucky. The distillery's rich distilling tradition dates back to 1787 and has included such legends as E.H. Taylor, Jr., George T. Stagg, Albert B. Blanton, Orville Schupp, and Elmer T. Lee. The distillery is also part of the Sazerac family of companies, which has operations in New Orleans, Louisiana; Franklin County, Kentucky; Fredericksburg, Virginia and Loomis, California.
Thomas H. Handy is an uncut straight rye whiskey. The whiskey is named after the New Orleans bartender who first used rye whiskey to make the Sazerac Cocktail.
Thomas Handy is double distilled from Minnesota Rye, Kentucky Corn and North Dakota Malted Barley with the final result bottled directly from the barrel without filtration.
Other reviews... Thomas H Handy - (97)
n24 seriously heavy duty: thick enough to use for armour plating. Takes time, but slowly the notes become identifiable, the dence, obvious rye apart. On hand warming, concentrated cocoa notes emerge, as well as spiced kumquat. But that is only the beginning: light cloves and molasses confirm the oak's impact.
t25.0 massively thick with the oils of rye and corn forming a suprisingly lush field. The cocao on the nose is re-introduced, this time as molten chocolate as the fruity rye fizzes and forms mini lakes as the salivation factor goes through the roof (of the mouth); massive infusion of Demerara sigar, but these do no more than balance the gathering spice intensity: perfection...;
f24.0 calms down quite dramatically as the natural caramels and vanillas begin to impact. But still those heady chocolate-rye notes continue their delicious seduction of the taste buds;
b24 it has taken me over three hours to taste this. Were all whiskies like this and whiskeys like this, the bible, quite simply, never see the light of day. Beyond enourmous. A whisky which located taste buds i had no idea i actually possess...Just like he's near namesake, Thomas Hardy, Thomas Handy has come up with a rambling, immortal classic.
64.5% (129.0 proof)- Jim Murray's Whisky Bible 2011
Very slight damage on rear label.
Click here to read more about Bourbon.