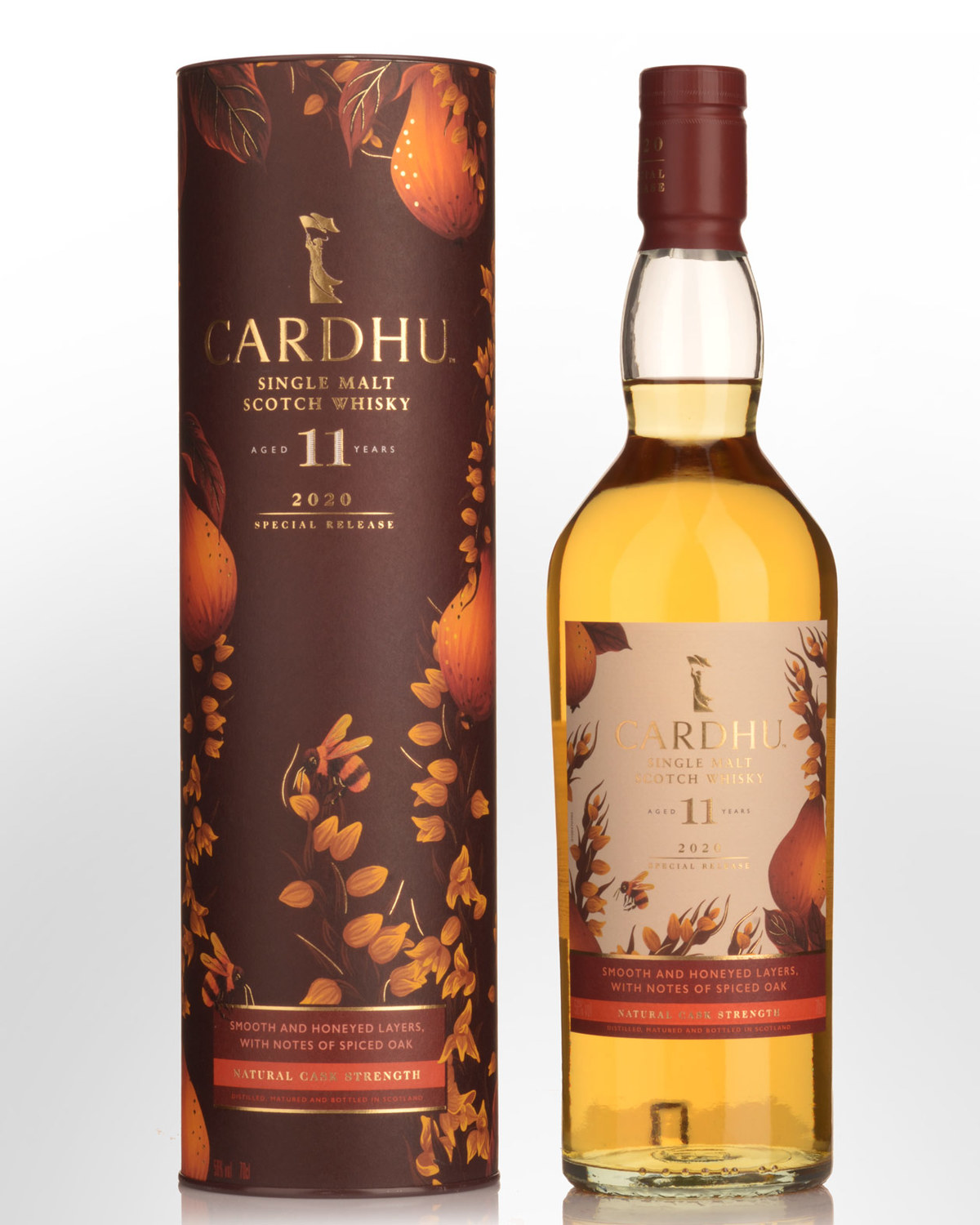 2008 Cardhu 11 Year Old (Special Release 2020) Cask Strength Single Malt Scotch Whisky (700ml)
Speyside, Highlands,
SCOTLAND
Tasting note: [15ml sample] This pale straw coloured Cardhu offers malt-forward aromas framed by baking spices, vanilla and milk chocolate, with air contact adding citrus zest. Intense, crisp and biscuity with an attractive, medium-bodied malty middle and tongue nipping spices through the finish. A touch of salt? While not especially complex, overall, a fine, drier aperitif style. Think Fino Sherry, but you'd be wrong. It's refill, new and ex-Bourbon American oak. 56% Alc./Vol. Non chill filtered.
Other reviews... The nose is lightly floral, with pears and ripe peaches, followed by red apple with a light sprinkling of white pepper. The palate is creamy and very sweet, with more orchard fruits and a little spice. The medium-length finish is slightly drying, with some lightly spiced oak. 88 points - whiskyadvocate.com
... This will probably be the opposite of the 18. As I may have said earlier, and even if they do some odd (light) finishings here and there from time to time, I have the impression that Diageo are willing to let their distillates shine, rather than push 'wood' as others have been doing for at least ten years. After all, they're distillers, not cabinetmakers. Loud applause at Château Whiskyfun, of course. Colour: light gold. Nose: very citric, slightly acid (remember acid drops?), and pretty terrific, I think. I'm reminded of those pale Rosebanks 'Rare Malts' that were so superb, and just love this nervous, tart, restless profile. Limoncello, hops, sourdough, there. With water: malt, cake, croissants, scones, lemon marmalade. Good continental breakfast. Mouth (neat): anybody who would have said this is Cardhu should be knighted in the Order of the Garter. Pure, luminous, citrusy, tense arrival, with a sweeter, rounder development on acacia honey. It's not complex, but it's perfect. With water: back on Rosebank, really. Life without sherry is a good life too. Finish: medium, pure, simple and superb, on more limoncello and some good beer. Comments: have to check the prices. This year's line-up with the SRs is maybe not spectacular 'on the paper', but the cask selection is top-notch in my opinion. 89 points - whiskyfun.com