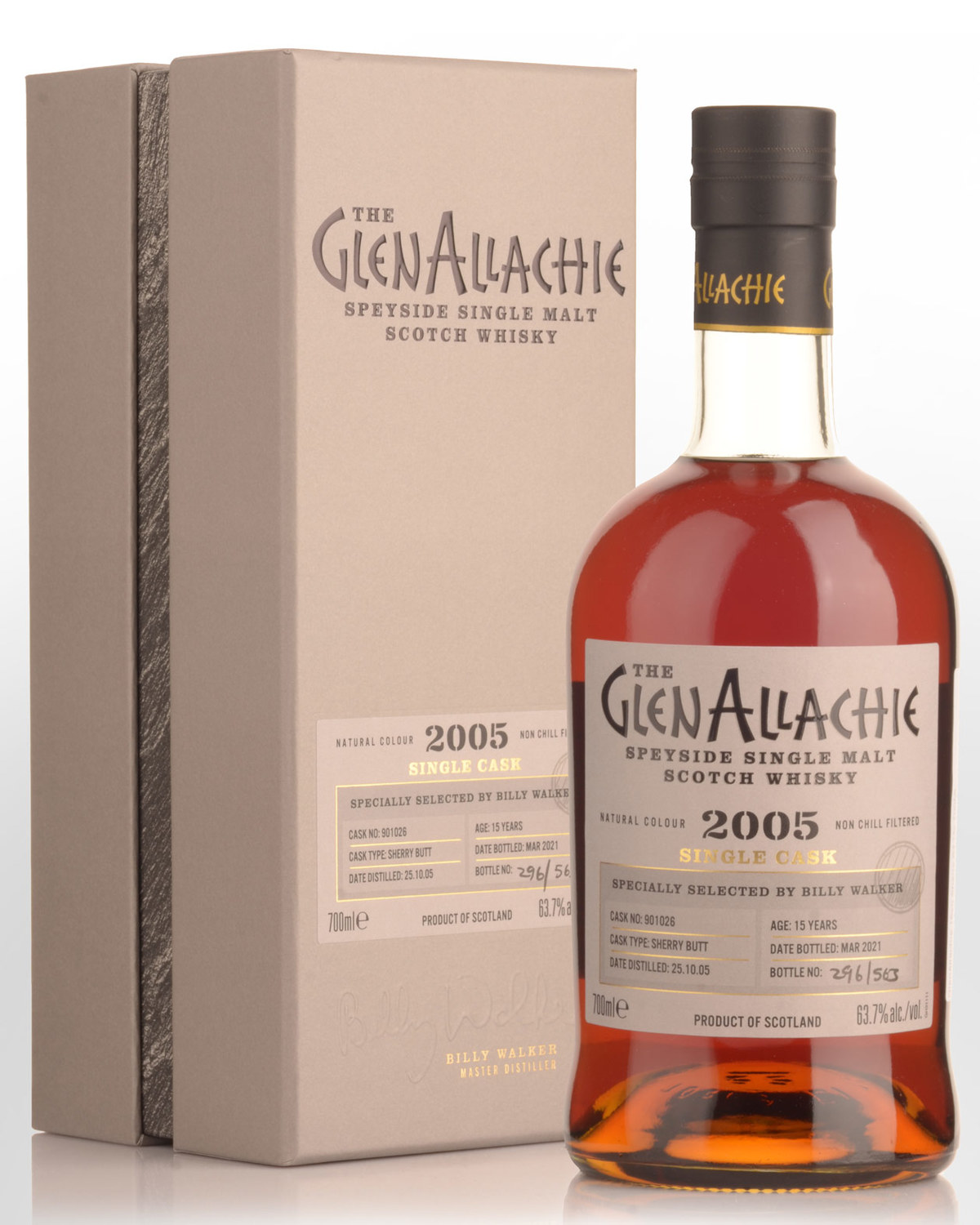 2005 Glenallachie Single Cask #901026 Sherry Butt 15 Year Old Cask Strength Single Malt Scotch Whisky (700ml)
Speyside, Highlands,
SCOTLAND
Although there were just 566 bottles produced, the Australian allocation of cask #901026 is (slightly) more generous than expected. Happily, it's also the most affordable offering in the current collection. Billy Walker comments, this particular butt has bestowed notes of indulgent mocha, tangy orange, gingerbread and glazed figs. Beyond being a sherried malt, the exact cask type is not specified, however, the offical tasting notes suggest Oloroso. 63.7% Alc./Vol. Non chill filtered.
Notes from the producers... COLOUR: Light Mahogany. NOSE: Waves of vanilla, molasses and mocha, with almonds, nutmeg and cinnamon in the background. TASTE: Dark chocolate, treacle and figs with nutmeg and ginger, fusing with heather honey and orange zest.
Following their World's Best Single Malt award at the World Whiskies Awards earlier in 2021, Glenallachie are offering a new batch of single casks. Each instalment highlights the skills of industry veteran, Billy Walker, in particular, his distinguished expertise in wood management, using only the finest quality casks expertly sourced from across the globe. Having been inducted into Whisky Magazine's prestigious Hall of Fame in February 2021, Walker holds widespread acclaim within the whisky industry for his considered, hands-on approach, and innovative philosophy. This latest tranche consists of six all-natural single malts carefully selected from amongst the distillery's extensive stocks within their 16 on-site warehouses, spanning more than 50,000 casks. Considered highly collectible, each expression arrives at natural strength, without chill-filtration. All bottlings are strictly limited to one bottle per customer.