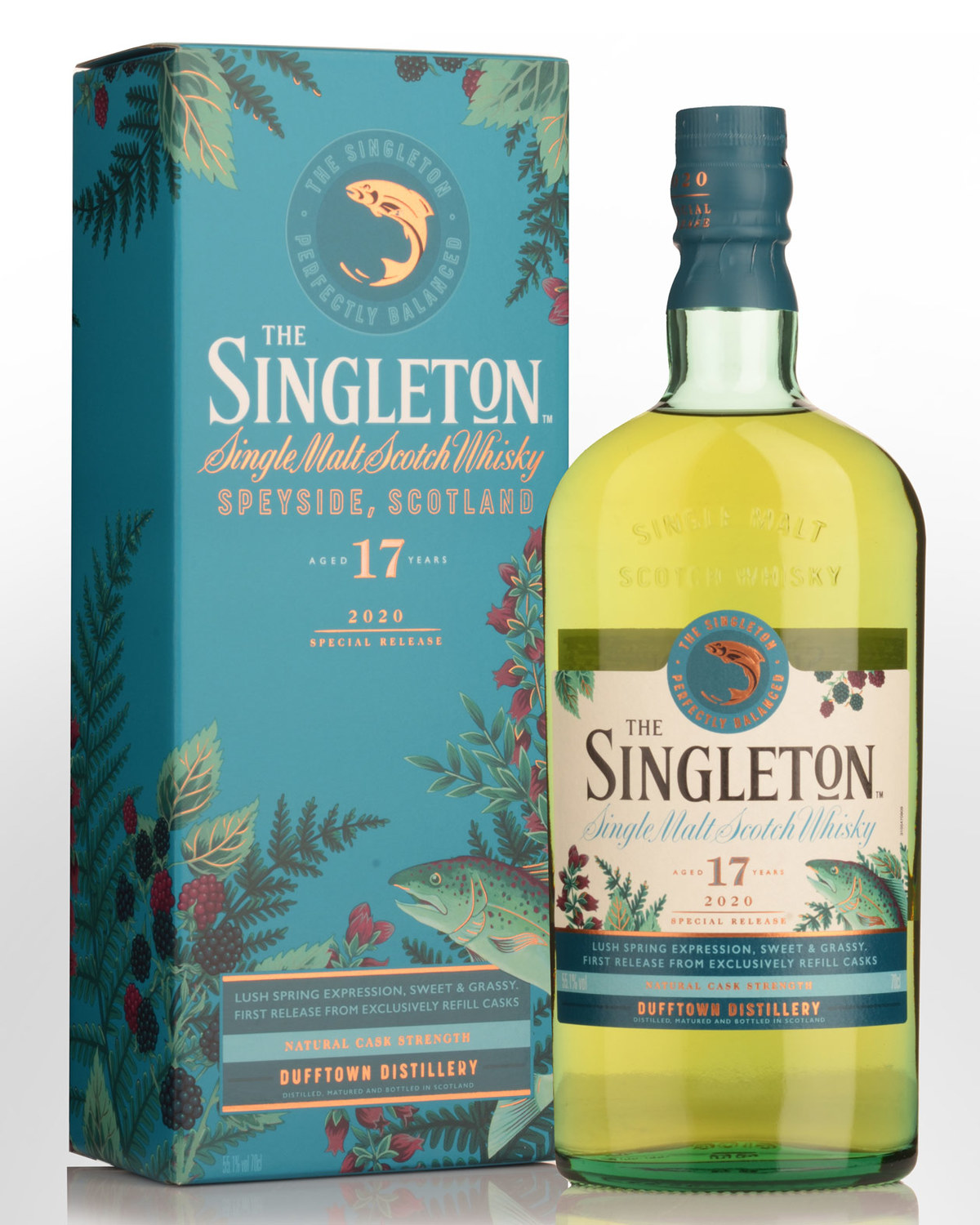 2002 Singleton 17 Year Old (Special Release 2020) Cask Strength Single Malt Scotch Whisky (700ml)
Speyside, Highlands,
SCOTLAND
Tasting note: [15ml sample] This is one of Diageo's biggest distilleries and historically a major contributor to the Bells blends. At first sniff, it's not too dissimilar to the Cardhu, only the aromas are broader and richer, more fruit-cakey than merely malt-driven and the delivery reflects that. Hints of fruit chocolate too. It's also relatively laid back considering the ABV. Lovely rich mouthfeel through the finish. Like a well composed blend - not outstanding, rather what you get is a satisfying balance of everything. Refill American oak hogshead. 55.1% Alc./Vol. Non chill filtered.
Other reviews... This is the first release of Singleton of Dufftown to be matured solely in refill American oak hogsheads. The nose is slightly earthy, with developing barley sugar and green fruits. The supple palate offers honey, sweet orange, walnuts, and soft spice. The finish is peppery, with crystallized ginger and a hint of dark chocolate. 88 points - whiskyadvocate.com
I'm not sure I'll ever fully understand the whole concept behind those 'Singletons', a problem that already started with the early Auchroisks, it's almost as if an Ottoman scientist was in charge of the marketing at the very beginning. Must be me, now I hope we'll find some good quality Turkish delights in this one, which I love. Ha-ha. Colour: straw. Nose: not dissimilar, but it's got less oak, and consequently, more garden fruits, gooseberries, kiwis, some rhubarb, certainly some very lime-y IPA beer, hops, touches of fresh ginger, bamboo shoots, white currants… It's pretty sauvignony. With water: gentle and very brioche-y. Chardonnay this time, twenty-year-old Champagne, biscuits, pear cake… Any citrus is gone for good, but more grass is appearing. Mouth (neat): well, it's very good, even tarter than expected, fresher, pretty much on grapefruits and lemon marmalade, lemongrass – and isn't it funny that I'm finding bamboo shoots on the palate too? (no it isn't, S.) With water: williams pears, cider, quince jelly… Citrus gone again. That's really intriguing that water would erase any citrus. Any chemists in the room? Ale. Finish: medium, maltier, hoppy and cake-y. Comments: this one wasn't too easy to grasp, but that was part of its charms. 85 points - whiskyfun.com