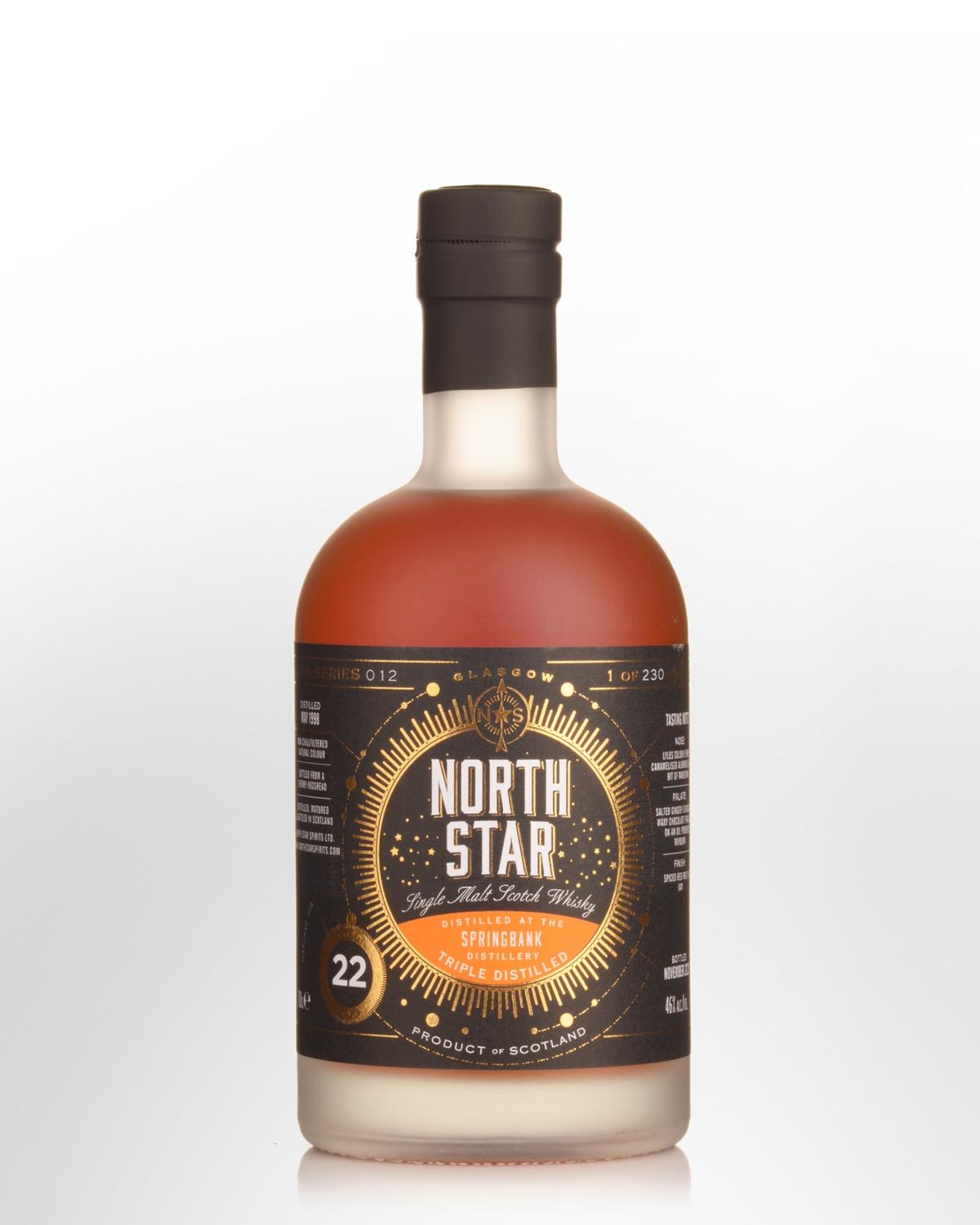 1998 North Star Springbank (Triple Distilled) 22 Year Old Single Malt Scotch Whisky (700ml)
A triple distilled Springbank left to mature for an impressive 22 years in a sherry hogshead (let's call it Hazelburn). Notes from the bottlers say,
"Lyles golden syrup, caramelised almonds and a wee bit of marzipan. Salted ginger flapjacks and waxy chocolate pralines... spiced red fruit in jam."
230 bottles. 46% Alc./Vol. Non chill filtered.
Extremely limited.
Other reviews... Springbank that has been triple distilled. So, Hazelburn then. Colour: amber. Nose: wooft! Beautiful sherry, the very best of the 'Springbank' style of sherry cask. That is, rather than veering too much off towards rubber, we're instead more on gun oils, bouillon stocks, game meats, old pinot noir, leather and old tweeds and hessians. Behind that I also find sticky dark fruits, candied citrus peels, golden sultanas and some wonderful wee touches of camphors, vapour rubs and medicines. These early vintages of Hazelburn now really start to just resemble lighter batches of Springbank. But what's so great is that they still reek of Campbeltown - in a good way. Mouth: extremely sharp and almost like walnut stain with this very precise mix of rancio, ancient balsamic, cured game meats, hessian and dunnage earthiness. Walnut oils, green walnut liqueur, herbal wines and cough medicines. Unusual and with the sherry starting to 'lean in' more assertively now but it remains clean, lean, earthy and with this wonderfully sinewed meatiness. Finish: long with bitter herbs, some ancient Fernet Branca, verbena, lemon cough drops, cloves, shoe polish and walnuts once again. Comments: Amazing that a wee triple distilled spirit like Hazelburn could navigate such a boisterous sherry cask, but then again this is Campbeltown, where not all is as it seems… Anyway, an excellent, extremely old school Hazelburn. 90 points - Serge Valentin, whiskyfun.com