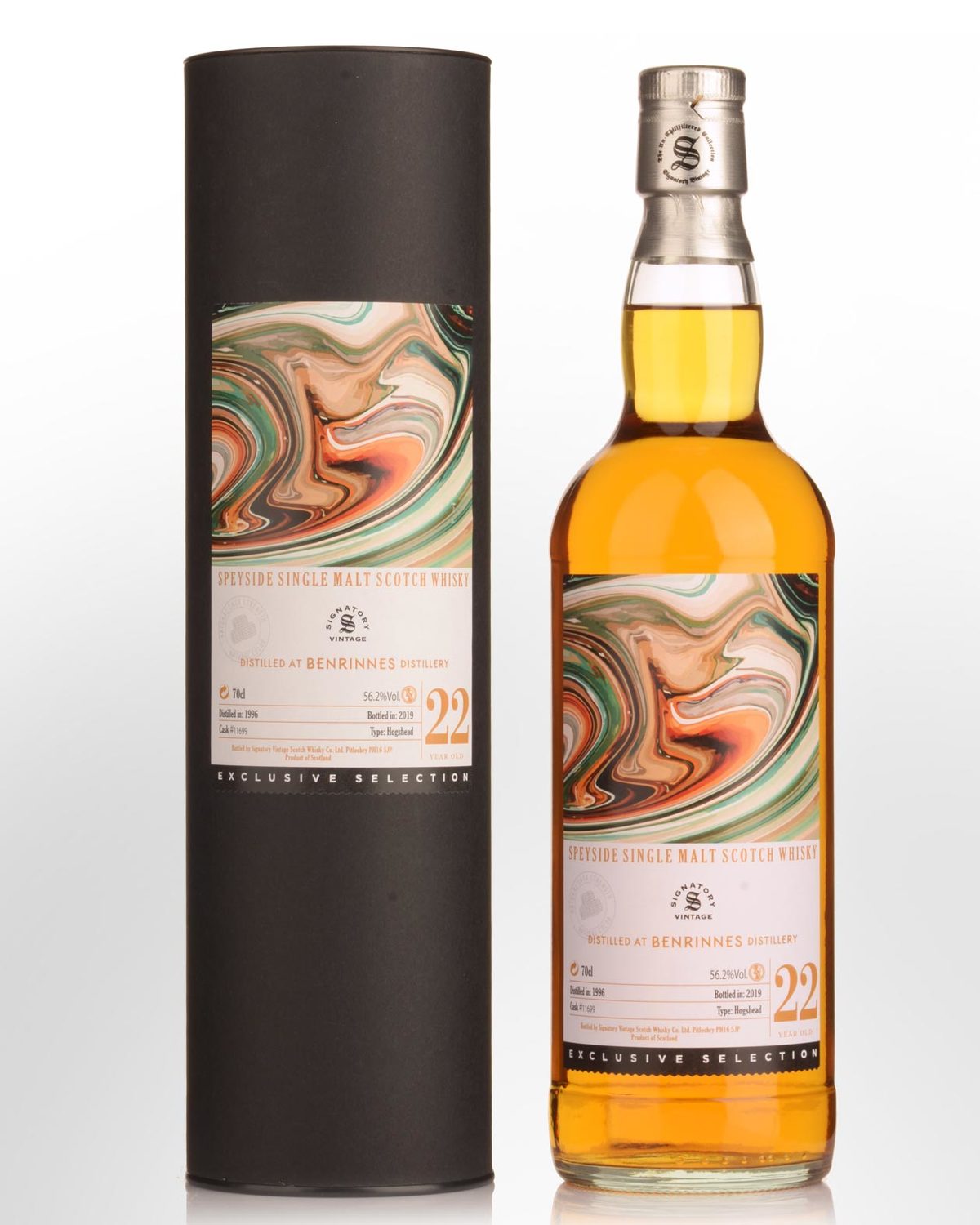 1996 Signatory Vintage Exclusive Selection Single Cask #11699 Benrinnes 22 Year Old Cask Strength Single Malt Scotch Whisky (700ml)
Speyside, Highlands,
SCOTLAND
A super single cask demonstrating why this distillery is unquestionably one of Diageo's unsung heroes.

Here's another consistently 'Top Class' malt according to Adelphi's prolific whisky taster, Charles McLean. Benrinnes is a famously robust Speysider sought out by serious malt hunters - partly because there aren't a lot of bottlings, most of it going into Diageo's blends. Signatory deliver one of the oldest we've stocked. It's also pre 2007 distillate. Followers of this distillery may remember Benrinnes started a two-and-a-half distillation from 1974 (similar to Springbank), producing what's been described as "a rather-Mortlach-like meaty spirit" that's also been compared with Clynelish. In 2007 they changed back to a double distillation, however the set up maintains a few production quirks like Mortlach. In addition, Benrinnes is one of the last to use traditional worm tubs for condensation. Signatory's 1996 distillate must be getting close to some of the last casks from the era, with most new releases just breaching the single decade mark.
Tasting note: Deep brass gold. Fumey alcohol contends with a cereal / fruity middle note. Extended air contact reduces the prickle, adding a generous sprinkling of cocoa, vanilla bean and sponge cake as well as hints of dried fig, candle wax and pepper. Around two decades seems to be the perfect age for this wonderfully weighty spirit. What's on offer here is a massive, malt-fest of a dram (you'll need ample water to tame this behemoth!) Uncut, it's beefy and chewy with a juicy vitality - just enough to counter the feisty spices. Beeswax, poached pear and creamy vanilla follow with sustained length. Extra complexity would have propelled this even higher. A fabulous Benrinnes, regardless, ranking among those rare 'end of the night' whiskies that have the ability to jolt your senses and bring you back to life. Once sold we cannot secure more. 56.2% Alc./Vol. Non chill filtered.