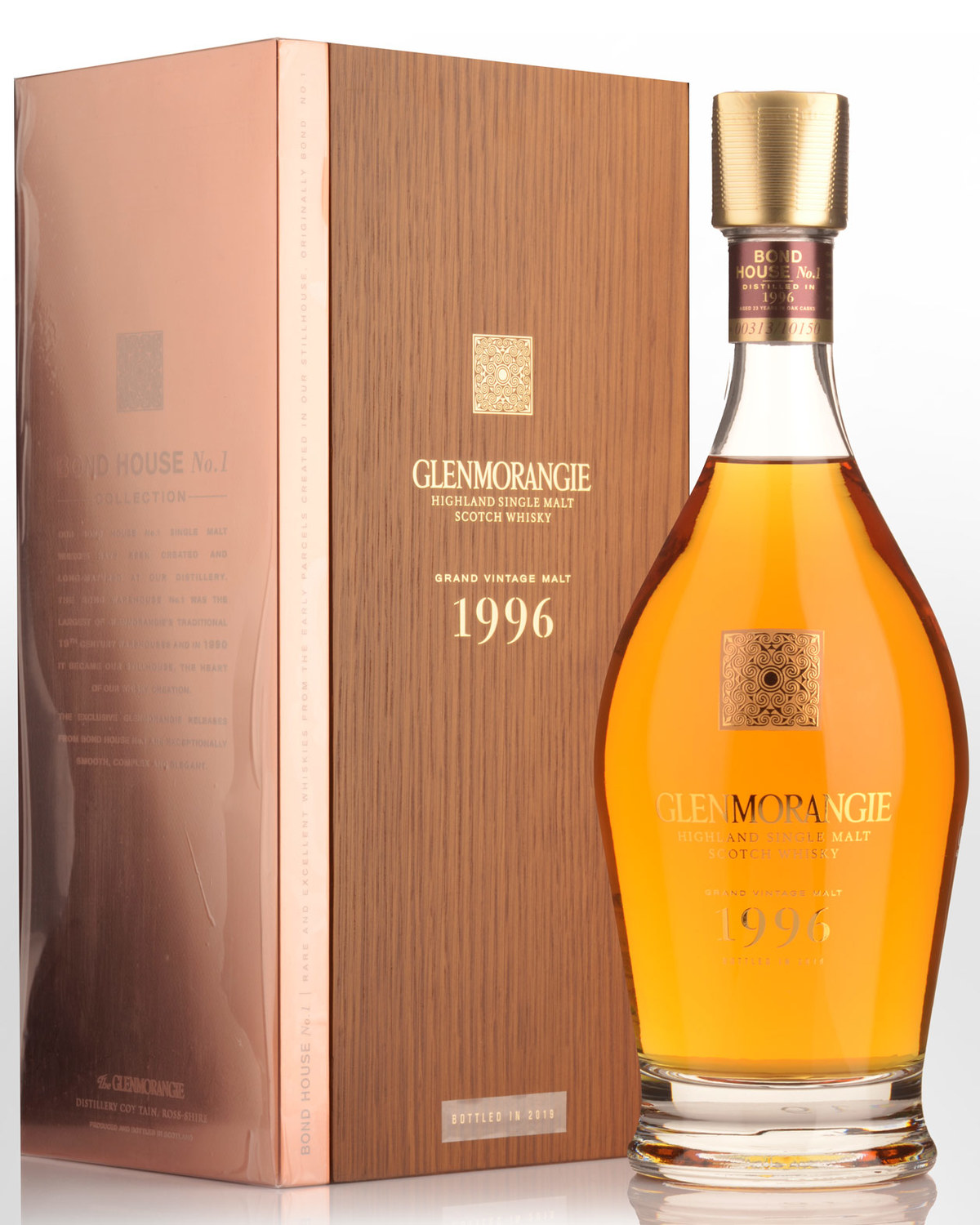 1996 Glenmorangie Grand Vintage 23 Year Old Single Malt Scotch Whisky (700ml)
Note: Bottle comes as pictured, no outer cardboard box.
The sixth release in Glenmorangie's Bond House No. 1 collection was distilled in 1996 and aged in first-fill bourbon casks. Made from oak handpicked from Missouri's Ozark Mountains, these casks aren't just any old barrels. Rather, they were created to Glenmorangie's exacting specifications and filled with Bourbon on Glenmorangie's instructions. The general flavour profile is reportedly similar to Glenmorangie Astar (also matured exclusively in these casks). The wood adds extra creaminess to the malt, only this is much, much older whisky than Astar.
In fact, as Dr. Bill Lumsden, Glenmorangie's Director of Distilling & Whisky Creation explains, " This is the oldest whisky we have ever aged in our bespoke casks... Its fresh, floral aromas and luxuriously creamy tastes are gloriously enhanced by age."
The Bond House No.1 series consistently rate highly, with the 1991 Awarded Whisky of the Year at the 2019 International Whisky Competition. They're already considered good acquisitions for collectors. If you are looking to add this one to your set, be quick. Very limited stocks.
Notes from Glenmorangie: Color: Bright sunburst gold. Nose: Fresh, floral and perfumed, with hints of roses, carnations, jasmine and a curious herbal note like coriander. Luscious mandarin orange and pear follow, with a beautiful candy sweetness, reminiscent of mixed fruit jellies. A splash of water releases even more floral notes of carnation and geranium, along with some soft, buttery vanilla. Taste: A zesty, citrus mouthfeel leads into a powerful burst of citrus fruits like oranges and lemons, kept under control by the thread of soft, sweet vanilla and fudge. The finesse for a whisky of this age is quite remarkable, with gentle spices, such as ginger and sweet chilli and subtle oaky notes. Finish: Delicate and dancing with almonds, pear and cake mix. 43% Alc./Vol.