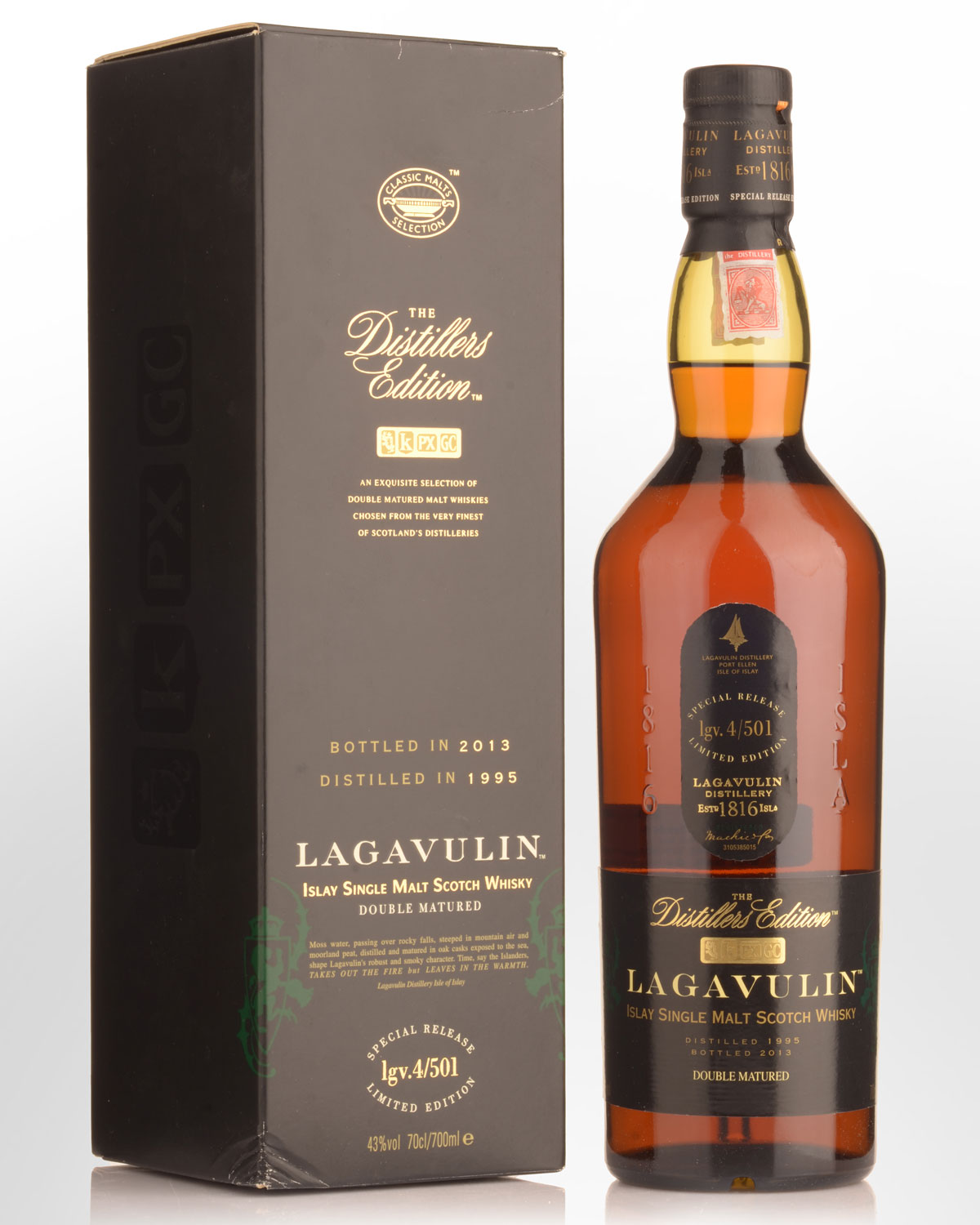 1995 Lagavulin Distillers Edition Double Matured Single Malt Scotch Whisky (700ml)
Note: Box has come from a private collection and as such has some minor scuffing/scratches/handling marks. Actual product pictured.
The PX influence is understated but present enough to add texture and depth while tempering Lagavulin's native aggression.
All six of the 'Classic Malts' have released limited edition 'Distiller's editions', which are finished in special casks selected by the master distiller at each distillery.
When Lagavulin decided to produce a secondary cask-finished version there were doubters who thought nothing could be a match for the pungent strength of Lagavulin. Those sceptics were unfamiliar with Pedro-Ximenez. This rare 16 Year Old bottling has all the classic Lagavulin sea-spray notes matched by the sweet accents of sun-dried grapes derived from Pedro Ximenez cask wood in which this whisky has been double matured. Distilled in 1995 and bottled in 2011.
Tasting note: Bright gold / brassy appearance. A sweet, lifted opening aroma reveals choc-fudge and honey with the peat coming through underneath as lanolin / wet wool / old liquorice. Astonishingly silky and soft by Lagavulin standards, with the peat smothered by fruit'n nut chocolate and honeycomb, but the balance is right. Retains its freshness to the finish as soft peat returns into the dry aftertaste with a lanolin and old liquorice flourish that shows good length. Feminine and poised, but probably not for those seeking an assertive Islay experience. 43%Alc./Vol.
Other reviews... It's a brave person who tries to persuade a malt like Lagavulin to go into a different direction. Indeed, even PX casks, from the sweetest fortified wine of all, can't fully obscure the distillery's character, just give it a raisined coating. The creosote turns to tar and licorice, while there's Syrah-like sootiness, and damson. This release is slightly less sweet than in the past and is the better for it, though I still prefer my Lagavulin relatively 'naked.' 88 points
www.maltadvocate.com, (Vol. 21, #2) Reviewed by: Dave Broomsize>