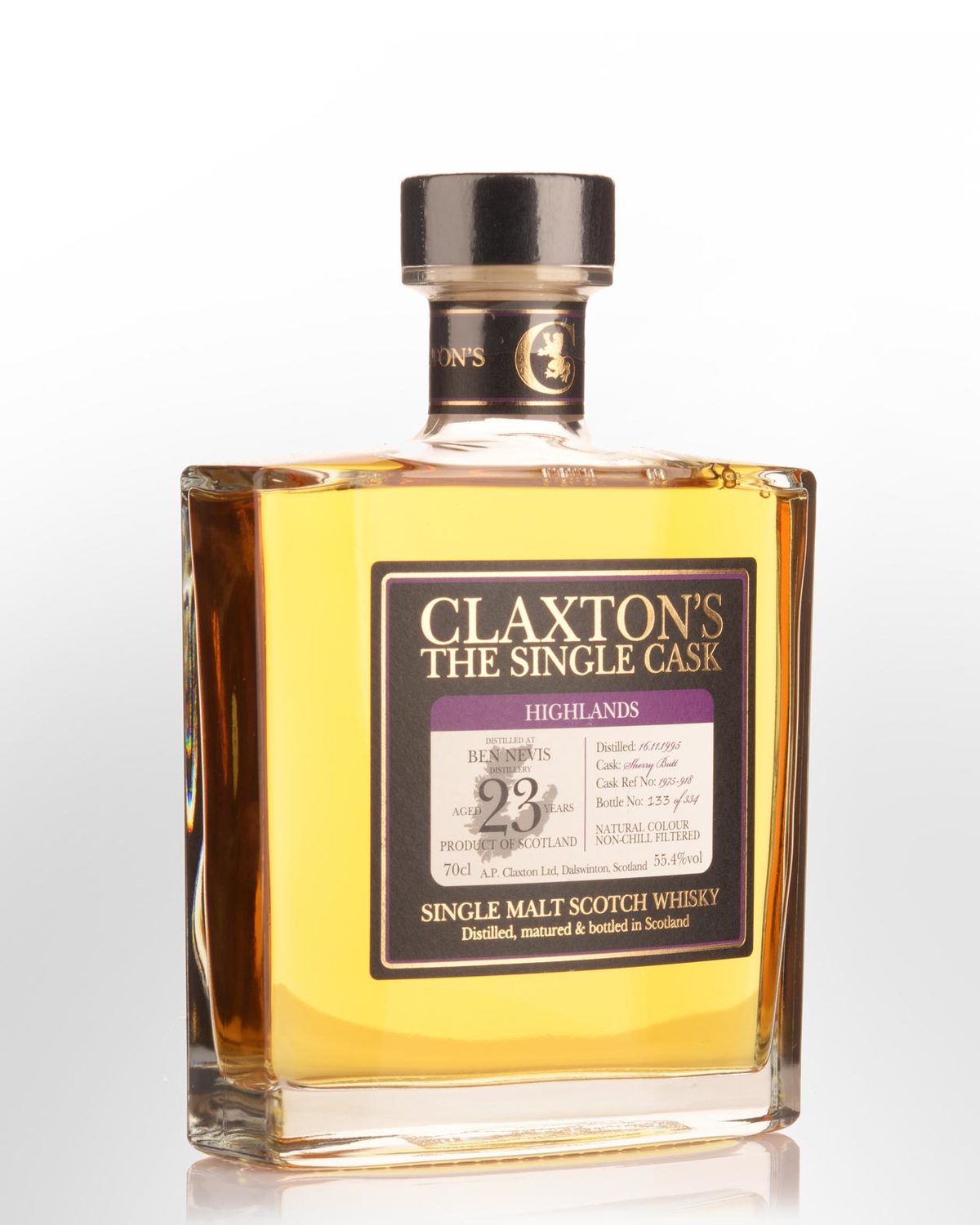 1995 Claxton's The Single Cask Ben Nevis 23 Year Old Cask Strength Single Malt Scotch Whisky (700ml)
Speyside, Highlands,
SCOTLAND
Here's a new indie bottler that stands out from the pack with both quality and value. Out of the blue, the Claxton's shipment represents one of the best indie selections we've tasted in recent times. This Family run, Yorkshire-based company is no different to other good indies; They bottle all-natural single cask whiskies and have been passionate collectors for decades. Since 2015, family members have been meeting together to decide what gets bottled (naturally, elders get the final vote). But setting Claxton's apart is a quality / price ratio that more than a few independents have lost sight of. Given the current exchange rate, the value really is remarkable (direct import pricing has helped further sharpen the deal). Presented in heavy rectangular decanters, all whiskies are non chill filtered and come with the highest recommendation. Tasting note: [Cask 1975-918] Matured in a sherry butt, this Ben Nevis really delivers the goods. Tasted on several occasions, it never failed to impress. Evolving with full, oily aromas of pineapple pudding, red berries, baked apples and more, flavour wise, it's everything you expect from this distillery; A knife and fork malt that completely satisfies - chewy, dense and highly textural with the fruity barley harmonised right through to the booming, oily finish. Brilliant without dilution, it's just about as big and lovable as Ben Nevis gets. Single casks with this kind of age also appeal to collectors, so expect this to sell fast. 55.4% Alc./Vol. Non chill filtered. 334 bottles. Notes from Claxton's... Tea and strawberry creams on the nose followed by a wet moss, bubblegum and a hint of metallic minerality on the palate. This finishes with Brazil nuts and cocoa. Probably one of the most complex drams we have tried all year that evolves hugely over time. Very complex and highly interesting. This one takes you on a huge journey and one to enjoy for a few hours. Incredible dram.