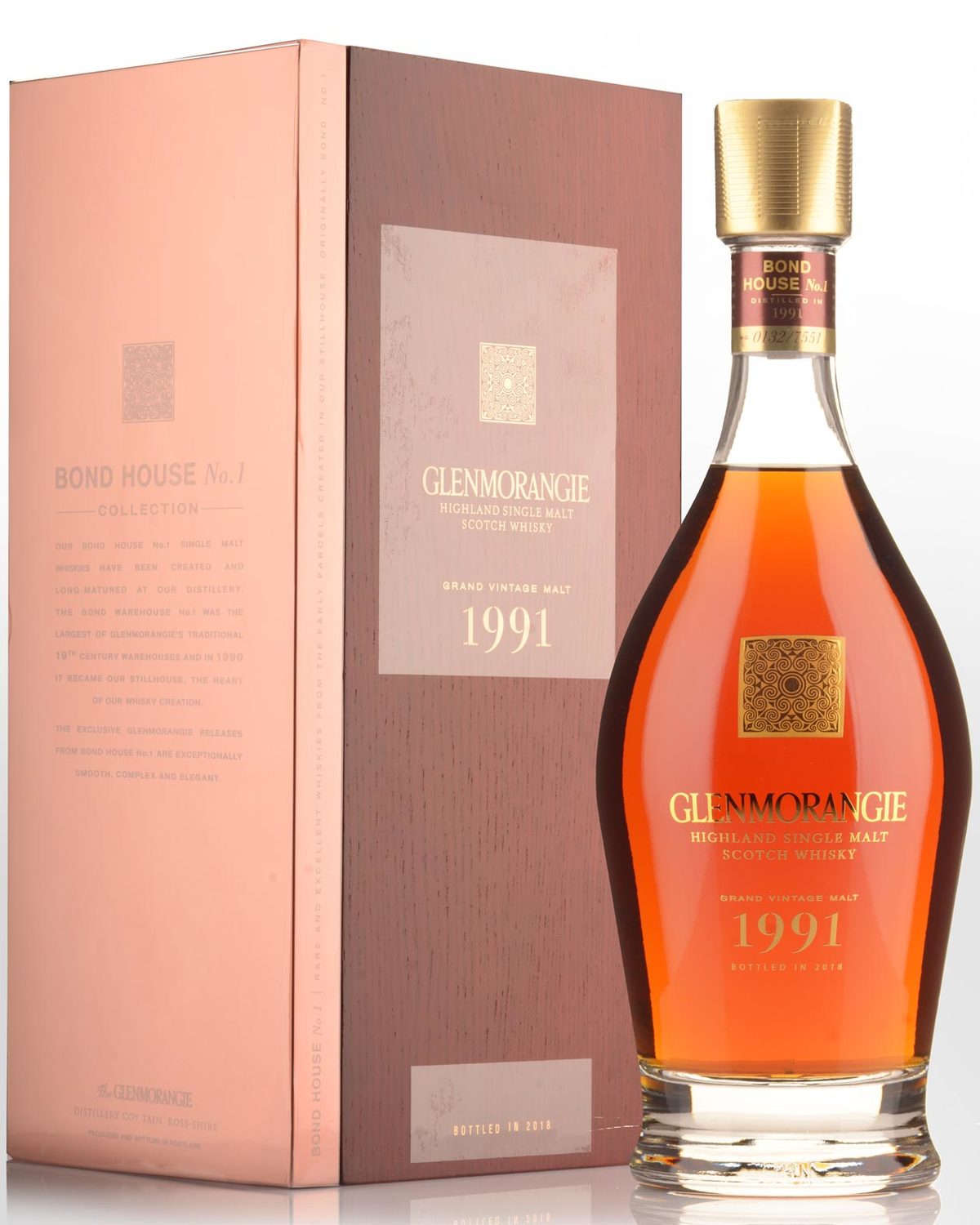 1991 Glenmorangie Grand Vintage 26 Year Old Single Malt Scotch Whisky (700ml)
Note: Box has come from a private collection and as such has some minor scuffing/scratches/handling marks.
The highest scoring whisky at the 2019 International Spirits Competition, Glenmorangie's luxury 1991 bottling has taken out the top prize as Whisky of the Year. Rated 97 points, we have secured the last Australian stocks. Aside from the stunning presentation and unanimous praise, this super-aged Highland gem is priced well under the going rate for the same whisky in the UK. If you are a collector and/or investor, our recommendation is a strong 'buy now'.
The 1991 is number four in Glenmorangie's Bond House No.1 Collection, a series of vintage whiskies that celebrates the largest of the distillery's traditional 19th century warehouses. Warehouse No.1 was transformed into Glenmorangie's impressive new still house in 1990.
This year's collector's edition owes its fruity depths to two rare parcels of 1991 whisky which, ordinarily, would never be brought together. Born from spirits originally matured in x Bourbon casks, the whiskies were then finished in red Burgundy casks and oloroso sherry casks, then bought together. According to Glenmorangie, "At first, their characters seem utterly incongruous. Yet, skilfully softened with a hint of whisky aged in new toasted oak, those contrasts unite in a limited-edition single malt whisky astonishingly mellow and deep."
Other reviews... Some years back - indeed, at around the time this whisky was distilled, I was reliably informed by the blender at Glenmorangie that his whisky was not designed for this kind of great age, hence it was bottled at 10 and, at a push and with sherried sticking plaster and grapey crutches, at 18. This has passed 25 now with no apparent damage and with seemingly many more years left on the clock. How times have changed. 94.5 points- Jim Murray's Whisky Bible 2019
...Influenced by a final decade spent in oloroso sherry and Burgundy casks. The nose offers orange segments dipped in honey, plus nougat, icing sugar, and more piercing citrus notes. The palate is supple, with milk chocolate and orange juice, joined by damsons and wood spices. A mouth-drying note persists behind juicy fruits, with aniseed and black pepper. The finish yields peaches dipped in salt and spicy oak. Collectibles. 43% Alc./Vol. 92 points - whiskyadvocate.com, reviewed by: Gavin Smith (Fall 2019)