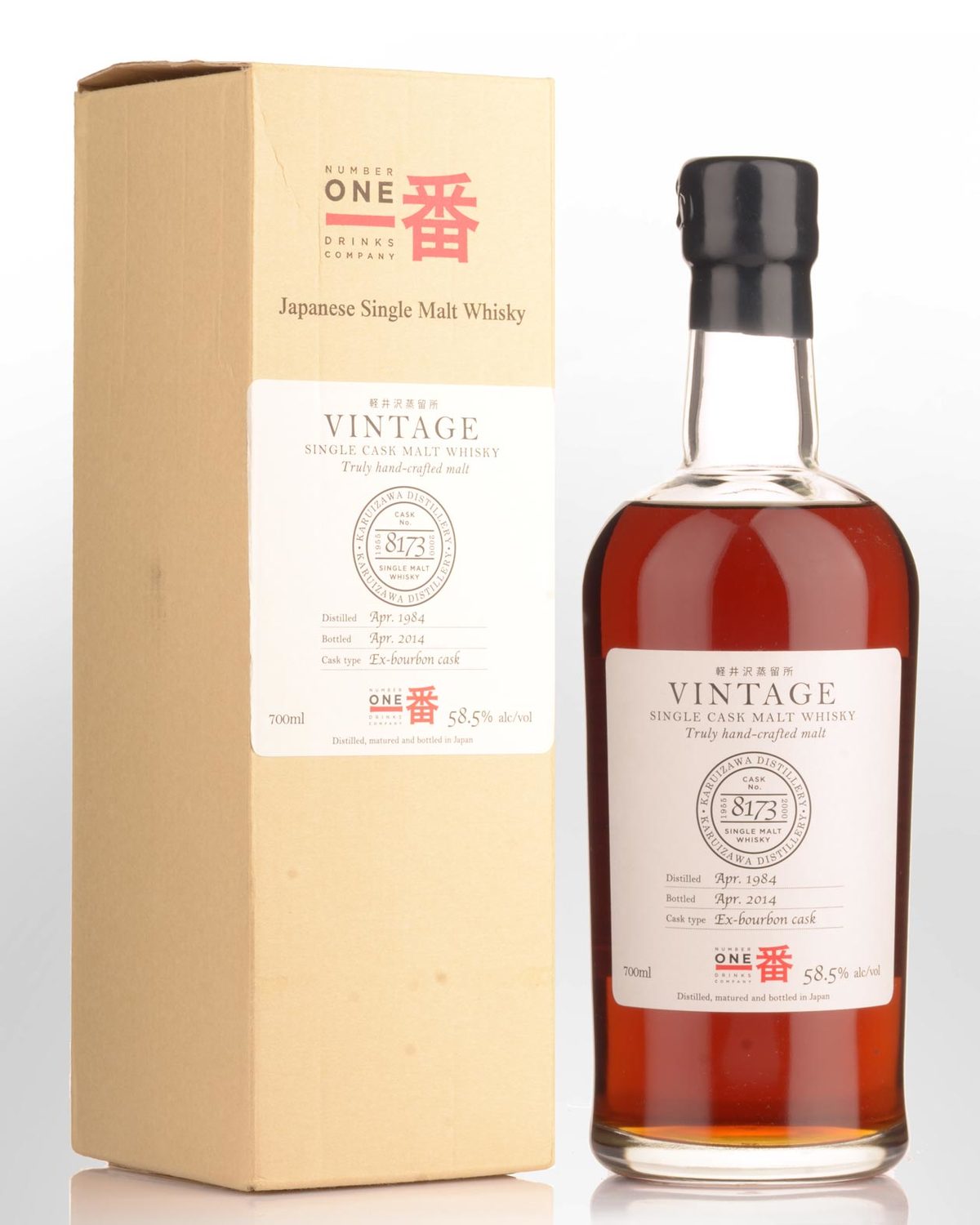 1984 Number One Drinks Company Karuizawa Ex-Bourbon Cask 8173 30 Year Old Cask Strength Single Malt Japanese Whisky (700ml)
JAPAN
Note: Some wear to the gift box, this is typical of the material used.
Karuizawa's cult whiskies have received international acclaim. The problem is finding them. French retailer, La Maison du Whisky periodically sources well-aged expressions. In 2014, they managed to secure two casks from owners/distributors 'Number One Drinks Co.' - one sherry and one matured in an ex-bourbon cask for thirty years before being bottled in April 2014.
363 bottles were sold exclusively via the Paris-based retailer, so we're very fortunate to have just one on offer.
Other reviews... Colour: dark amber. Nose: a pretty magnificent woodiness here, that is to say not only polished oak, but also other species, such as eucalyptus wood and many precious woods, but I just couldn't tell you which ones. Maybe rosewood? I imagine the interior of a 1950's Rolls Royce when it was brand new (maybe!) Other than that, there's a little smoke, there's tobacco for sure and there's a faint chalkiness. I also find dry sherry, or vin jaune, as well as their walnut notes. Also a little humus and mushrooms. Perfect. One strawberry or two after ten minutes. With water: the menthol comes out, old herbal liqueurs, verbena, chartreuse… This is almost a blend of essential oils. Having said that it gets much quieter after just one minute. Mouth (neat): huge and incredibly fruity! You would think that this massive woodiness would overwhelm the spirit and just make the whole extremely dry, while that's exactly what's not happening. We're gravitating around sweeter citrus, that is to say kumquats, oranges and mandarins, covered with crushed cloves and ground pepper. Christmassy? You said it. With water: same profile, just even more vivid and 'nervous'. Perfect oranges. Finish: long, never embarrassingly oak, always fresh albeit massive. The hidden child of a sumotori and a ballerina. Comments: I think I found this one ampler and more complex than other ex-bourbon Karuizawas. We're close to the best sherried versions in my opinion.
92 points- Serge Valentin, whiskyfun.com
Japanese whiskies have been delivering remarkable returns compared with other segments, and the most sought after of all are the whiskies from the now silent Karuizawa distillery. As one of the top performers on the UK auction scene in recent years, this bottle represents an opportunity to secure a piece of Japanese distilling history. Karuizawa ceased production in 2000 and completely closed in 2011.