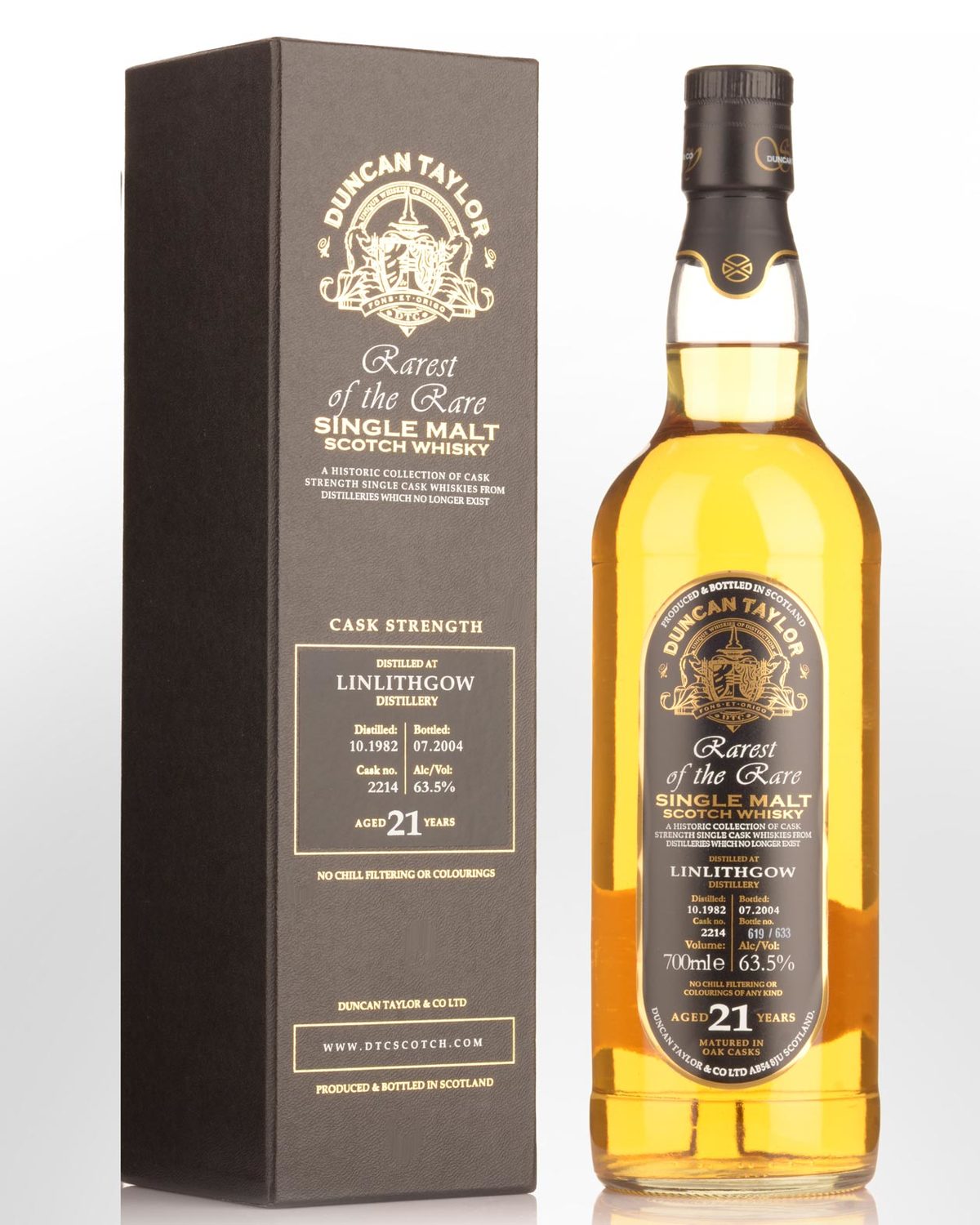 1982 Duncan Taylor Rarest of the Rare Linlithgow (St. Magdalene) Cask 2214 Cask Strength 21 Year Old Single Malt Scotch Whisky (700ml)
The label isn't lying - this is one incredibly rare whisky. Apart from Diageo's releases through the 1990s and just two official bottlings that we're aware of, Linlithgows are few and far between. Duncan Taylor's was distilled in 1982 and bottled in 2004 from cask number 2214. Non chill filtered. One only. Other reviews... Spicy and botanical on the nose, with notes of ginger, juniper, lemon grass, orange, and grapefruit rind. Similar followthrough on the palate, with added notes of vanilla, honeyed malt, and hay. Gentle, dried herb and spice finish. Certainly some interesting -- perhaps even peculiar -- flavours from this product of the demolished Lowland distillery.
83 points - whiskyadvocate.com Named after the town where it was located, the now demolished Linlithgow (a.k.a. St. Magdalene) is one of the mythical Lowland distilleries, along with Rosebank, for which senior malt enthusiasts feel an acute sense of loss. Amongst the oldest distilleries in Scotland, it was established at least by 1798 (and possibly as early as 1765). During its early life it was known as Linlithgow. It was moved to its final location in 1834, to be close to the Union Canal. Before the distillery existed, the site was home to a leper colony, convent, and hospital at various points in time between the 12th and 18th-centuries. The distillery took its name from St. Magdalene's Hospital, a lazar house which once stood upon the site. The vast majority of the output was devoted to blends. Then, partly as a consequence of the big whisky slump in the 1970's and 1980s, it ceased production and finally closed in 1983. Some of the buildings were converted into apartments, but the distinctive pagoda roofs are still present.