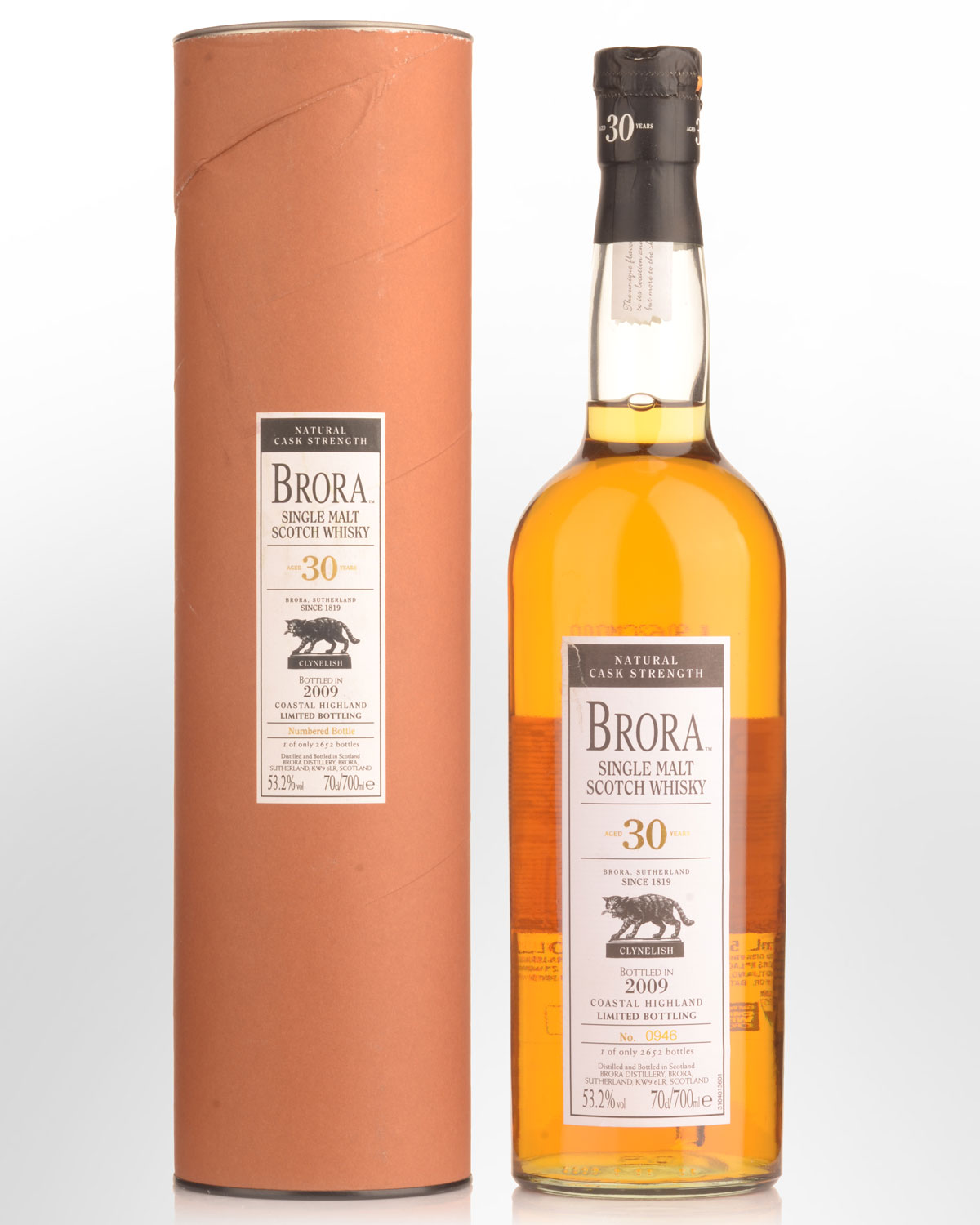 1979 Brora 30 Year Old Cask Strength Single Malt Scotch Whisky (700ml)
Note: The box has some minor scuffing/scratches/handling marks. This one, in particular, has a large crease on the tube and the bottle label has a small tear. Actual product pictured.
The distillery now known as Brora started life in 1819 when it was founded by the Marquis of Stafford, later known as the Duke of Sutherland. The distillery was originally founded as Clynelish, however during the subsequent recovery after the first world war, demand from blenders for Clynelish malt was extremely high, so to increase capacity DCL (Distillers Company Limited) built a new distillery adjacent to the existing one in 1967-68. This distillery was also called Clynelish, as the company wished to trade on the existing good name of the old distillery.
The original distillery ran in tandem with the new distillery under the names of Clynelish A and Clynelish B (sources disagree over which was the new distillery and which the original Clynelish) during 1968/9. Predictably, this arrangement was not to the liking of the Customs & Excise folk and the SWA due to the dissimilarity between the types of whisky being produced at the two distilleries. The original distillery was closed down in 1969 and then reopened bearing the name Brora. It then operated intermittently, producing heavily peated (around 40ppm) whisky for blending purposes.
The late Seventies and early Eighties saw another big slump in the industry, and with the parent company DCL needing to cut back on production, in 1983 the decision was taken to mothball Brora (along with many other distilleries, few of which have operated since). Sadly, all attempts to revive Brora have thus far met with no success. Despite all this, the reputation of the malt produced at Brora between 1969 and 1983 has gone from to strength to strength, with sought-after bottlings now changing hands for large sums. If there is to be no more Brora (and it now seems almost certain that there won't be) it will be a terrible shame, but there are still bottlings available. What is beyond doubt is that this will be a whisky aficionados will still be talking about decades after the last bottle is finally drunk.
Other reviews... Nose: there's much less sherry than in the 1972 but rather more smoke, wax, vanilla and herbal notes, which makes me think of a strongly peated Clynelish if you see what I mean, with also something of the 'old', pre-Brora Clynelish. Ooh, this is complicated, isn't it! It is not as farmy as the first 30yos and rather cleaner, coated with a little more vanilla, notes of fresh walnuts and some medicinal notes ala old Laphroaig (embrocations, gauze). The smokiness fades away a bit after quite some minutes, leaving room for more fresh fruits such s white peaches and gooseberries. With water: becomes a little grassier as often. Rather less smoke, rather more wax, even more 'Clynelish'. Wet rocks, whiffs of seaweed. Mouth (neat): powerful, the first thing I'm thinking of is some kind of mildly smoked fruits. Gooseberries again, apples, a little lemon… Rather less smoky than on the nose, and less waxy too, that is to say a little less 'Brora' globally - so far. A lot of liquorice. With water: superb now, with a perfect coherence and compactness. A little mustard coming through, the obvious waxiness is back, herbal liqueurs, cough sweets, some marzipan, playful notes of juicy apples (granny smith?) and quite some ash. Finish: long, saltier, more on lemon, almonds and a little green tea. The wood is perfect. Comments: there's much more peat smoke on the nose than on the palate. A very interesting Brora halfway between the early 70s' austere majesty and the 80s' waxy fruitiness. In a certain way, it reminds me of the old 20yo 1975 Rare Malts but with more fruits. Excellent once again! 91 points - whiskyfun.com