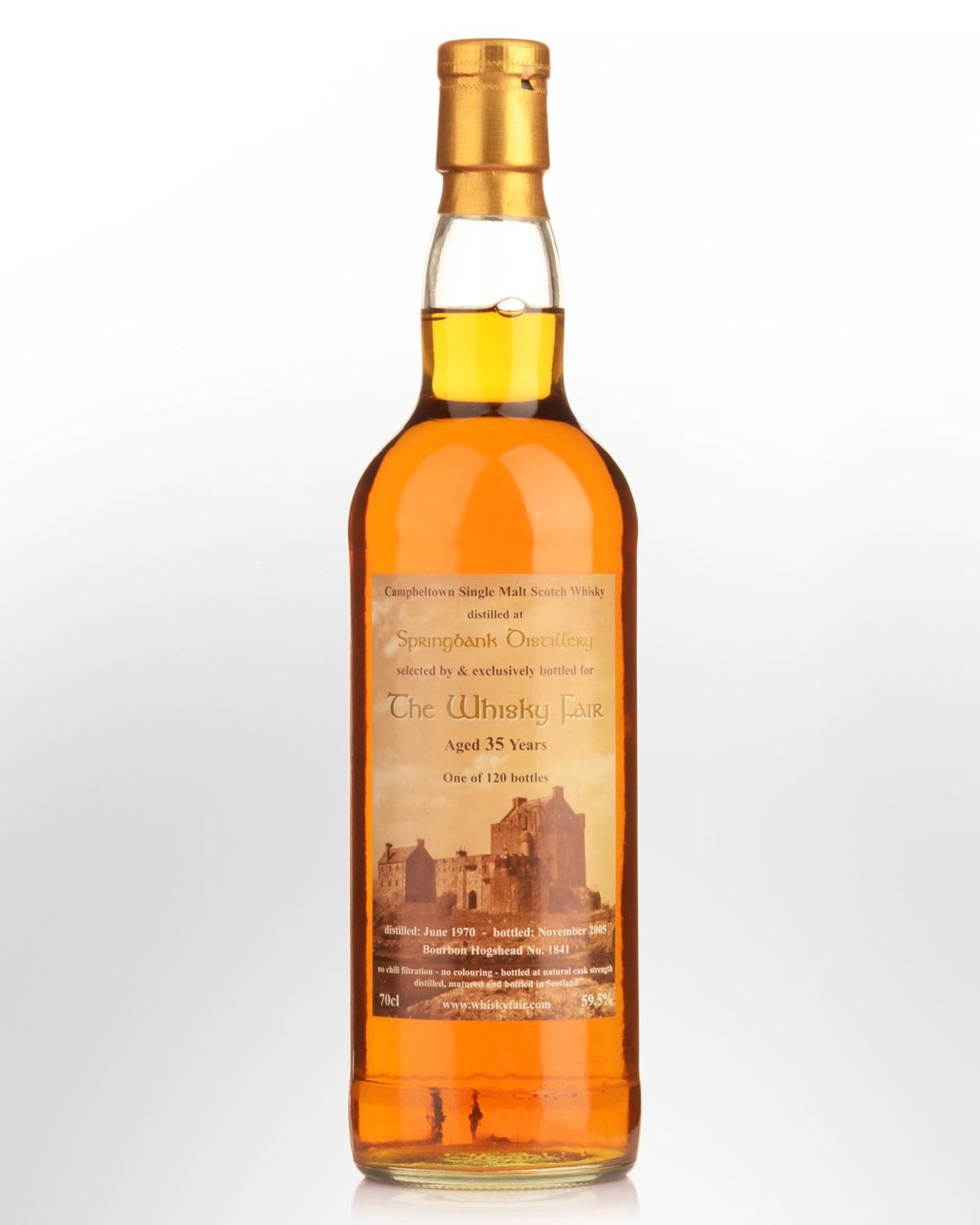 1970 The Whisky Fair Springbank 35 Year Old Cask Strength Single Malt Scotch Whisky (700ml)
Here's something you don't see every day: Springbank from 1970, drawn from a single Bourbon hogshead (No. #1841) yielding just 120 bottles!! Given the way Springbank has performed on the secondary market in the last few decades, it's one the more desirable collectables we've encountered for quite some time. Great review from whiskyfun below to top it off.
One only
from a private collection. Excellent condition. Bottled in 2005 at 59.5% Alc./Vol. Non chill filtered.
Other reviews... Colour: gold. Nose: a little more discreet right at the start but then some beautiful, and more delicate notes of fruit jellies and a beautiful oak (antiques) do arise slowly. Notes of wax polish, orange salad, fruity olive oil, dried coconat. It's probably 'narrower' than its brother but much more elegant. Classy stuff! It's also very clean… Keeps developing, with some notes of hazelnut oil, mint-flavoured tea, pepper… Menthol fir honey sweets, whiffs of coal… Beautiful! Mouth: I'm very curious now, almost 60% at 35yo! This one must have matured in a very hot environment, and probably very, very slowly. And the mouth confirms that, it's extremely punchy, with some super-bold wax, dried oranges, honey and a lot of salt – amazing. It's also rather bitter, tannic and drying, but nothing (too) excessive. Wow, it gets then saltier and saltier, with also a little rubber, mastic, salted liquorice, cake, marzipan, strong olive oil (ever tasted the Palestinian olive oil? It's excellent – no politics here.) Some bold notes of cough syrup, at that, mirabelle and apricot jam, quince jelly… Another (gentle) beast, no doubt, that reminds me of some very old OB's. No need to say I like it a lot.
93 points - Serge Valentin, whiskyfun.com