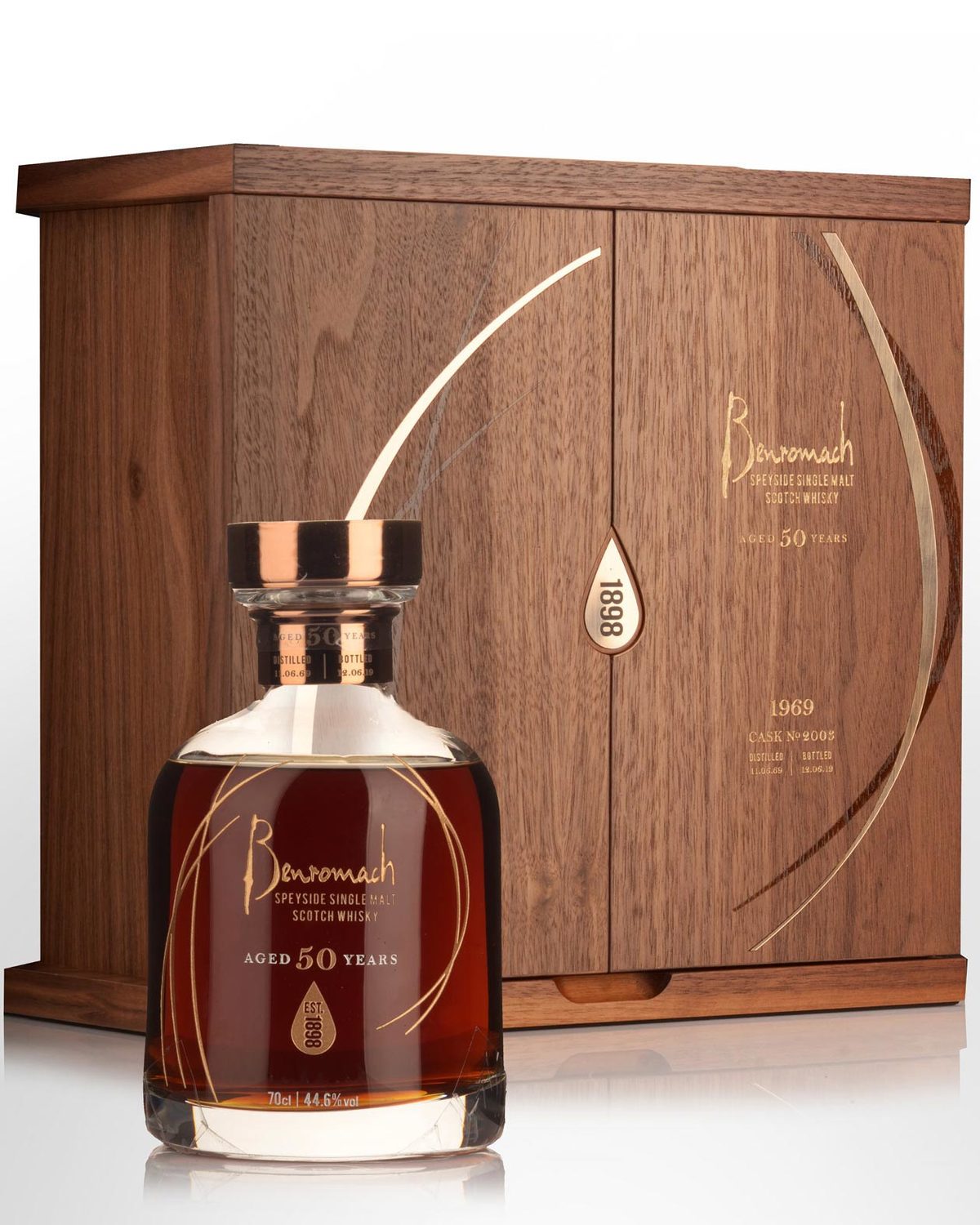 1969 Benromach Single Cask #2003 50 Year Old Single Malt Scotch Whisky (700ml)
Speyside, Highlands,
SCOTLAND
It doesn't get much rarer than Benromach's latest release which also ranks as the distillery's oldest to date. Distilled in the early Scottish summer of 1969 and bottled on 12th June 2019, owners, Gordon & Macphail have just 125 bottles on offer world wide. Fifty years in a refill Sherry Hogshead has imparted a natural warm mahogany tone visible through the heavyweight engraved decanter. Each is individually numbered with a bronze collar displaying the cask number, distillation and bottling dates. The bespoke presentation cabinet displays the story of its making, including details about the cask in which it was matured and the traditional Benromach process that is still in use today. We have one only on offer. Other reviews... A wonderful thing by G&M, once again. It's been said that family businesses usually take the long view, while corporations and public companies are rather obsessed with short-term profit. Well, a look at the ages of their inventories should confirm, or invalidate that saying. We've already tried a short few 1969s, especially a wonderful 1969/2004 (WF 91) and an even greater 1969/2011 (WF 92), so big hopes here… Colour: amber. Nose: oh sweet Mary and Joseph, what a glorious nose! Extraordinary notes of 'a walk in the woods', mushrooms, chestnut honey and honeydew, camphor, newly sawn fir wood, embrocations, Vicks, beeswax, lemongrass, tiger balm, angelica, woodruff… Well, this kind of complexity only comes with age, that's bleeding obvious, but naturally, you would not always need fifty years. In any case, this is fabulous, let's only hope this baby won't suffer from many a very old whisky's fate, you know, great fresh nose, woody and drying palate. Let's see… Mouth: the answer's no, there. Not that there isn't any oak, but it did not come out, it's still well-mingled with the rest, which includes many sorts of oranges and honeys, balms and ointments, tobacco, waxes, and just the right amounts of the usual cloves, cinnamon and nutmeg. Some well-mannered oak, I would say. Finish: long, rather on great teas, Assams, Darjeelings, and oranges again in the aftertaste, as well as chocolate… Comments: less smoke than in the 'G&M-distilled' brothers, and 'of course', a nose that's a little greater than the palate, which is absolutely normal at these ages. Not cheap, but who is counting? 44.6% Alc./Vol.
91 points - Serge Valentin, whiskyfun.com Notes from Benromach... Savour sweet sherry aromas, the sweet luxury of prune syrup, stewed raisins, brown sugar and warm spices. Hints of butterscotch, ginger and candied orange peel appear before giving way to undertones of gentle smoke. Palate: A peppery opening leads to ripe apricot and peach with subtly-sweet dried tobacco leaf, revealing a soft menthol edge and a lingering, fruity, mellow oak finish.