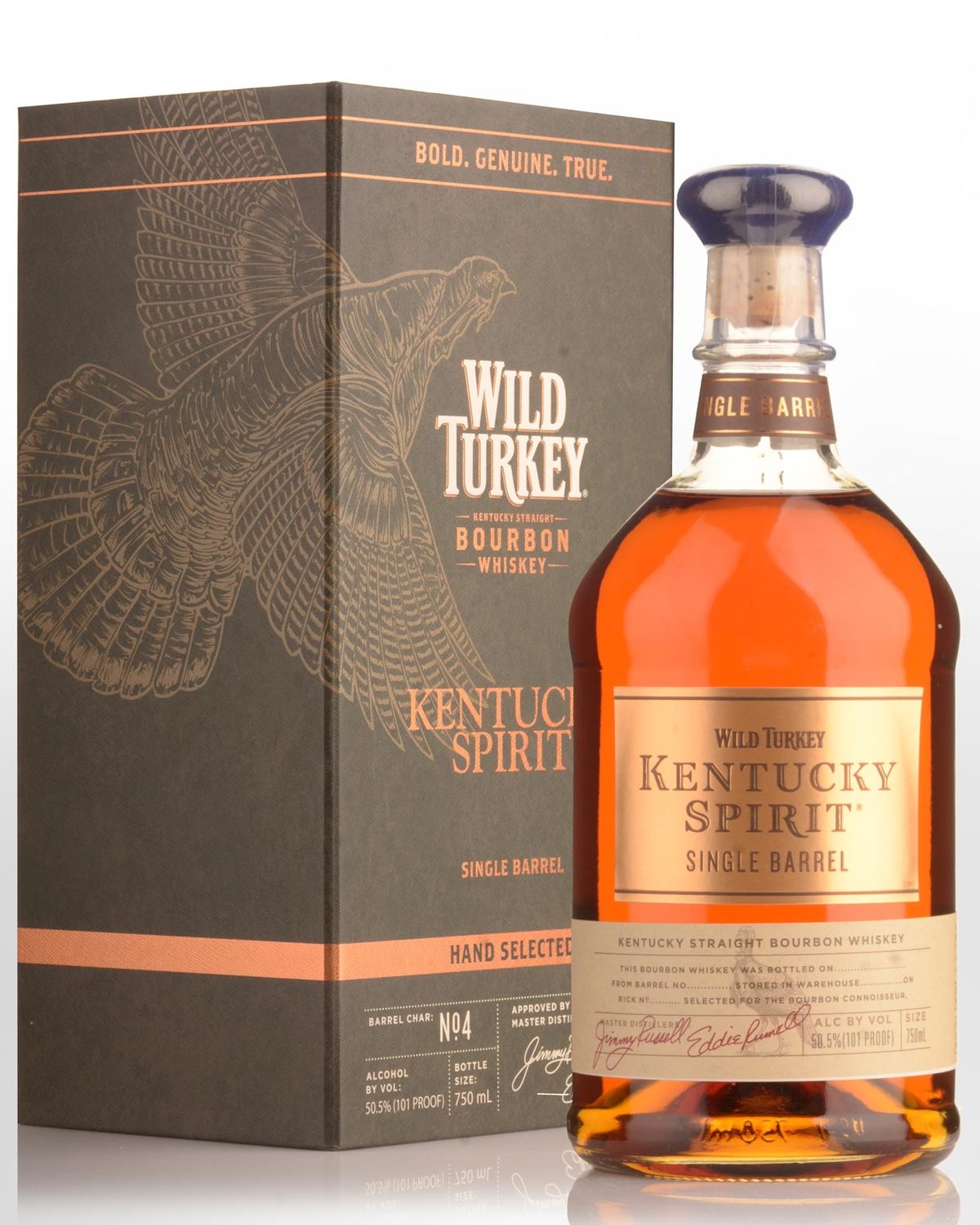 Wild Turkey Kentucky Spirit Single Barrel Bourbon Whiskey (750ml)
Wild Turkey was first created as a hospitality gesture for a group of wealthy sportsmen seeking the remarkable wild turkey bird.
The company's 'Kentucky Spirit' is a limited release, 101°proof release drawn from a single barrel. Each barrel is hand-selected at the peak of maturity before the bourbon is poured out and bottled. A stickler for quality, Jimmy Russell personally selects each of the barrels used. His challenge is to find single barrels that capture the essence of Wild Turkey, while at the same time, having a similarity that gives each taste of Kentucky Spirit consistency from bottle to bottle.
"Kentucky Spirit has a complex layering of almonds, honey, blackberries and leather. The finish is almost aristocratic -- long, dark, lingering, and crying out for a fine cigar", he says.
Available in limited quantities, each and every bottle is handsomely packaged with a hand-signed label bearing the barrel number, date and warehouse number.
Recipient of one Gold Medal from the 2011 San Francisco Wine & Spirit Competition.
Other reviews... Beautiful deep amber color. Lavish aromas of a cornucopia of dried fruits, vanilla maple fudge, Demerara sugar, and artisan chocolate toffee with a supple, lightly tannic full body and long,warming anise, toasted grain, and dusty mineral finish. A powerful oak driven, yet elegant bourbon. 94 points (Exceptional)
International Review of Spirits Award: Gold Medal. - tastings.comsize>
Nose: The most herbal and spicy of the WT range: wild thyme, sage, fennel, coriander, nutmeg, cumin. Also smokier than the rest with notes of molasses, chestnut honey, crème brûlée. Palate: Complex and very soft. Raisin bread, butter, tupelo honey/maple. Finish. Huge and everlasting. Highly complex.Comment. As sexy as Isaac Hayes' Hot Buttered Soul. One to savour all night. 90 points - David Broom, whiskymag.com