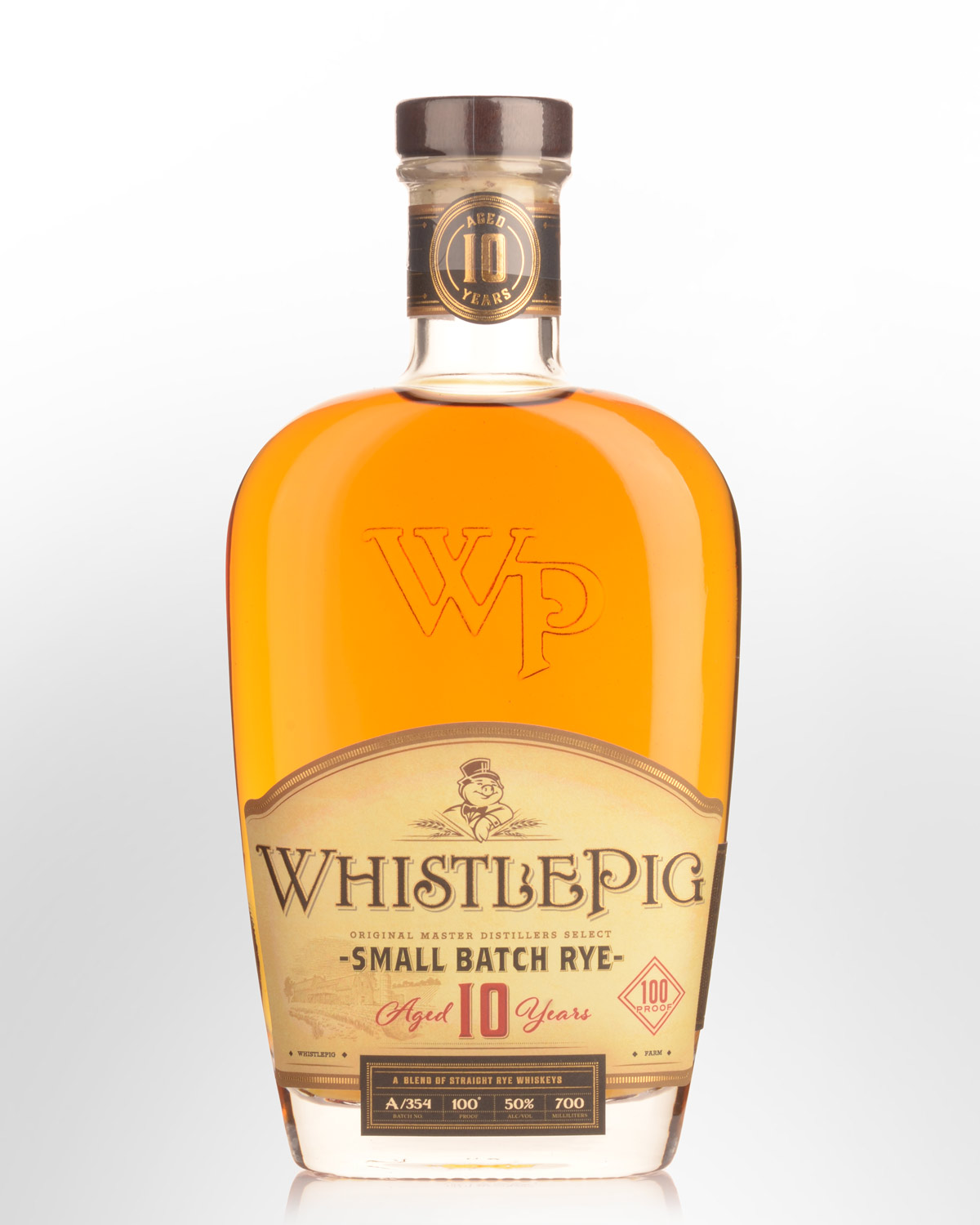 Whistle Pig 10 Year Old Straight Rye Whiskey (700ml)
UNITED STATES
Rye is a whiskey perhaps best known as the backbone of cocktails like the Manhattan, Sazerac and Old-Fashioned, however the last few decades has seen it re-gain traditional ground over bourbon and Tennessee whiskey as a standalone spirit. Among the more fanatical of the recent protagonists are the team behind Whistle Pig. First released in the summer of 2010 to great critical acclaim, their rye received 96 points from Wine Enthusiast, the highest rating ever for a rye whiskey, as well as a "highest recommendation" from Spirits Journal, plus accolades from The Wall Street Journal, GQ, Forbes, Maxim, Imbibe Magazine, and many others. For Australian rye whiskey enthusiasts, it became one the most awaited releases of the year.
The key figure behind production is David Pickerell. Fourteen years Master Distiller for Maker's Mark in Loretto, Kentucky, a luminary of whiskey knowledge and one of the nation's pre-eminent distillers, he arrived at Whistle Pig with a simple objective: To create the world's finest rye.
"You cannot get more flavour in whiskey than you can with rye", enthuses Pickerell.
"The bad news? From a business standpoint, it takes longer to age rye whiskey. Rye is stubborn and robust. It has spicy character, and a dark, rich flavour. To attain its signature smoothness, rye must be aged (a minimum of 9 years is ideal). Rye isn't sweet. In fact, it contains less sugar than any other grain. The challenges involved in producing rye whiskey are many. But when handled properly, there is no comparison."
Pickerell illustrates the difference between rye and bourbon in food terms. "Think of the sweet flavour of a fluorescent yellow cornbread that you nosh with BBQ", he explains. "Now imagine the earthy, spicy, powerfully brooding flavour of rye bread or pumpernickel used at a gourmet sandwich shop".
These differences that express themselves in bread also come across through the distillation process. We tend to agree. Pure, aged rye tends to be more flavourful and complex than almost any corn-based whiskey.
Rye is also conducive to sustainable agriculture. It grows densely enough to exclude weeds, keeping the need for herbicides to a minimum, and it's an excellent scavenger of soil-bound nitrogen, rendering heavy fertilisation unnecessary.
Up until recently, Whistle Pig's rye was been distilled and matured in Western Canada (reputedly sourced from the Alberta Premium distillery), then bottled in Vermont, making them a 'non-distiller producer' or NDP like Willett, Jefferson's or Angel's Envy. In the summer of 2014, after a three year legal process, the company finally obtained a permit to construct a farm-style distillery, with all the rye grown on site. They continue to use new American Oak or early use bourbon barrels for all their maturation.
Retasted September 2020... Opens with orange zest developing aromas of oily rye, cumin, peppermint and anise ending with grainstore, new leather, vanilla and chocolate box. A full and oily attack; muddled mint and herbal tones combine with chewy grains; white pepper builds through the finish. Leaves you with peaches and cream. Oily, delicious, vibrant and long. Delivers the mouthfeel of a single malt while maintaining the distinctive qualities of rye. 50% Alc./Vol.
First tasted February 2015 [20ml sample] Bright gold. Somewhat muted with vanilla accents... more definitive aromas of rye bread and cigar box follow. Relatively sweet and sedate; juicy rye is beautifully harmonised with the oak. Love the texture. Fabulous balance. Cedar and cigar box, then hints of peppermint through the aftertaste. 93 points
Other reviews... Maturity meets verve with aromas of leather, dark berry fruit, and damp earth, lifted by lively spices—clove and cinnamon—along with vivid citrus and licorice nibs. The palate also sits in a sweet spot of maturity, as bright flavors of clove-studded orange and Creamsicle give way to bold peppery spice, before a finish of drying leather with fine oak tannins. 91 points - whiskyadvocate.com, Reviewed by: Jeffery Lindenmuth 2021
...First, a warning: this is only for those who like their rye big and brawny. It starts off innocuously with a maple-syrup color, and a pretty, complex and subtle scent: honey, vanilla, a sight medicinal tinge and faint clover notes. It feels silky on the tongue and at first, the flavors reflect caramel, burnt orange and a whisper of smoke, but then a mouth-warming wave of tannic bite sweeps over all and lingers for a good long time. Straight up or on the rocks. [Tasted 2010] 96 points- wineenthusiast.com
...had enough sharpness and rye freshness to make for a very pleasant and worthwhile experience.
88 points - Jim Murrays Whisky Bible 2015