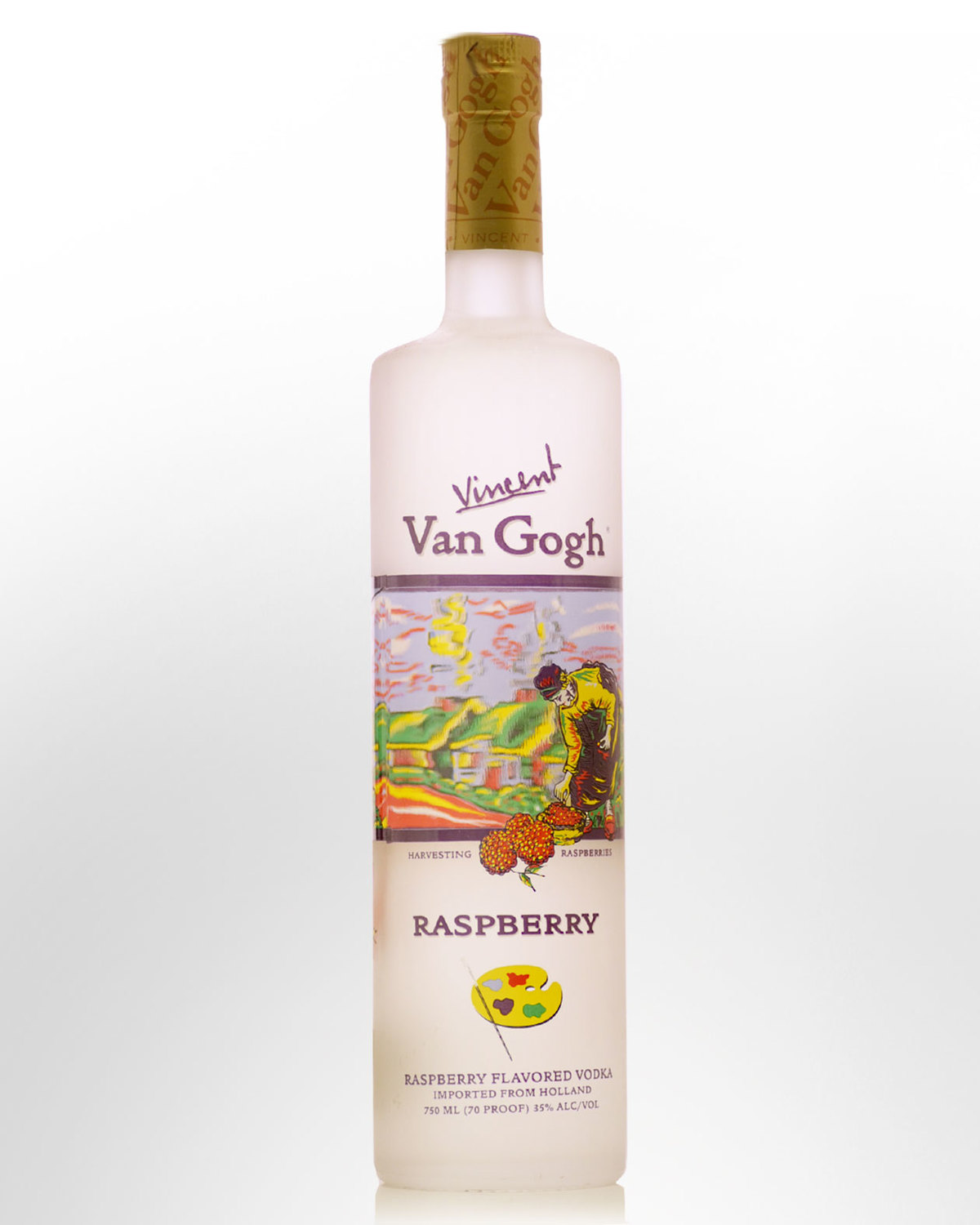 Vincent Van Gogh Raspberry Flavoured Vodka (750ml)
In 2000, Vincent Van Gogh Vodka was released and made a stunning entry into the highly competitive world vodka market. The brand received a Five-Star rating (the highest recommendation) from the highly respected "Spirit Journal." Shortly after, the "Wine Enthusiast" rated the Vodka 94/100 commenting: "The nose is rich and full, and the body is big and lush with a wonderful "bread-dough" quality that gives this vodka character and an oily sweetness. The finish is long, leaving the mouth with a final burst of pepperiness, and the oilness of the vodka seems to coat the throat. This vodka makes a stylish martini. 40% Alc./Vol."
The complete range of Van Gogh Vodkas are produced under contract at Dirkzwager Distillery, in Schiedam Holland , a family owned company established 125 years ago. Besides producing their own brands, the distillery also produce many private labels, including Van Gogh, various vodka-based Liqueurs and Amsterdam vodkas. Dirkzwager Distilleries Master Distiller, Mr. Tim Vos, handcrafts Van Gogh Vodka in small batches using the finest grains - primarily a combination of wheat and a little corn and barley. The vodka is distilled twice in column stills and then a third time in a traditional pot still to produce a spirit of the highest refinement. The copper pot still takes the "bite" out of the alcohol,making the vodka particularly smooth. Purified water which is considered superior over distilled water is employed. Mr. Vos believes that when water is distilled, it takes the character out and the water becomes a liquid without identity. Mr.Vos's desire and passion to continuously achieve perfection is evident in his award-winning vodkas, all made through this same multiple distillation process.
Van Gogh's patented square-shouldered bottles are frosted white, etched and feature Vincent Van Gogh's paintings. These are finished in multiple silk-screened colours, and can be viewed in three dimensions. The magnifying effect of the vodka makes the pictures larger, creating a different scene when the bottle is turned.
In perpetual pursuit of the perfect Martini for any ocassion, the Van Gogh company has compiled over 6,700 martini recipes for any mood (this number is soon to reach 10,000), available at www.vangoghvodka.com and also available by CD. These recipes include the Van Gogh Vodka flavours which are now also available in Australia: Citroen, Oranje, Wild Appel, Vanilla, Dutch Chocolate, Raspberry, Pineapple, Melon and Coconut - all made with the highest quality196 proof distilled alcohol and double-infused during a 6-week long process. The bold-tasting, all-natural flavours of these vodkas allow Van Gogh Vodkas to create the greatest number and best-tasting martinis of any vodka.
The raspberries that are used to produce Van Gogh Raspberry are grown in the southern part of Holland on islands called Zeeland. The ocean breeze makes the berries harder with less sugar but with more flavour.
Tasting notes: Clear, slightly viscous appearance. Initial sniffs reveal moderate aromas of raspberry jube and cherry glace. With time the bouquet is more maraschino like than berry, with suggestions of raspberry jam emerging late. The palate is light to medium, gently sweet and again, more reminiscent of maraschino liqueur. Concludes mildly tart with glace cherry and warming spices. Odd. 35% Alc./Vol.
RASPBERRY BANANA MARTINI
60ml Van Gogh Raspberry Vodka
15ml crème de banana
Pour ingredient into cocktail shaker and add crushed ice. Let stand for five seconds. Shake vigorously for five seconds. Strain into martini glass. Garnish with banana slice.
RASPBERRY BLACKBERRY MARTINI

60ml Van Gogh Raspberry Vodka
15ml blackberry schnapps
Pour ingredient into cocktail shaker and add crushed ice. Let stand for five seconds. Shake vigorously for five seconds. Strain into martini glass. Garnish with Hershey's Dark Chocolate Kiss.
 Click here to learn more about Vodka.