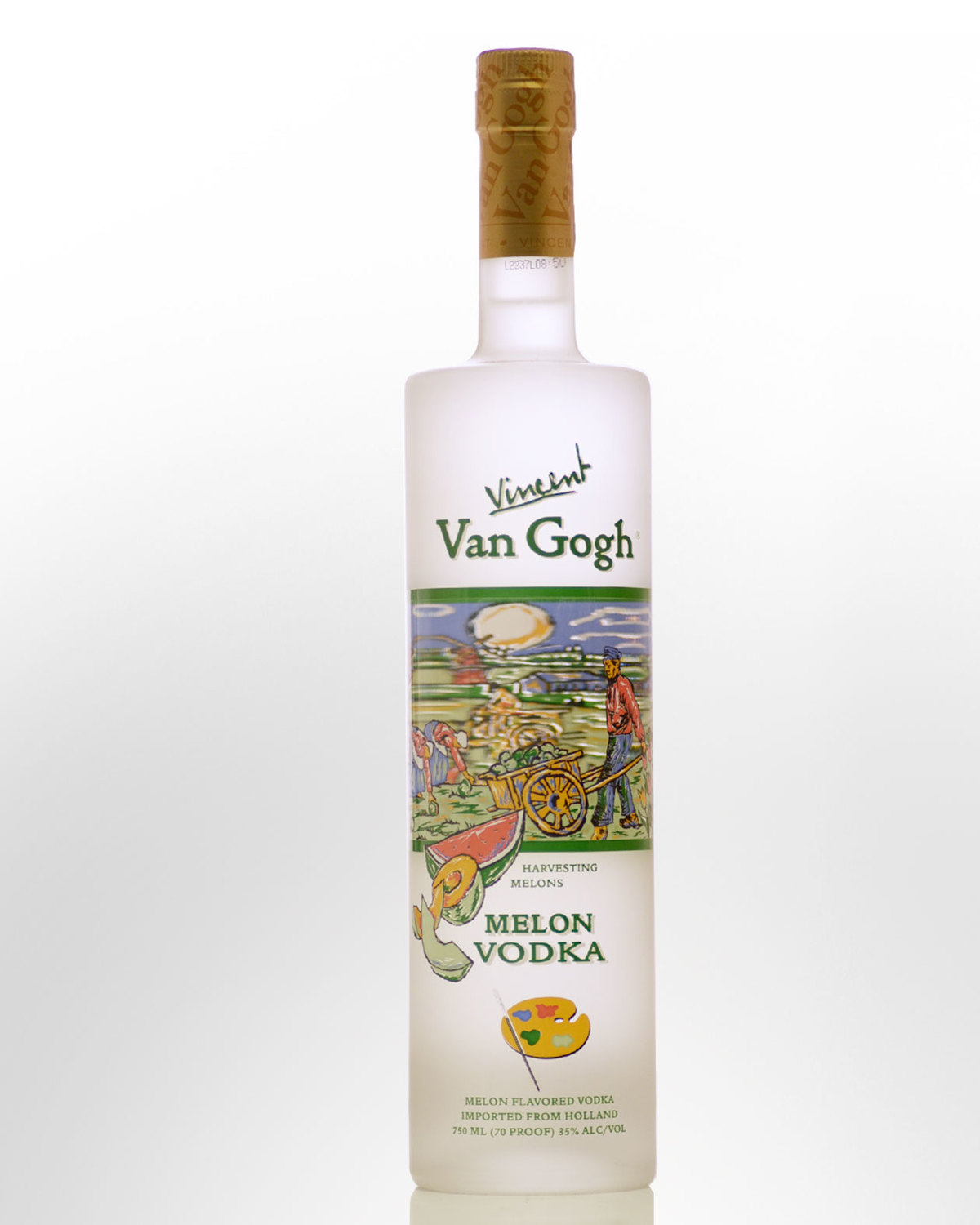 Vincent Van Gogh Melon Flavoured Vodka (750ml)
In 2000, Vincent Van Gogh Vodka was released and made a stunning entry into the highly competitive world vodka market. The brand received a Five-Star rating (the highest recommendation) from the highly respected "Spirit Journal." Shortly after, the "Wine Enthusiast" rated the Vodka 94/100 commenting: "The nose is rich and full, and the body is big and lush with a wonderful "bread-dough" quality that gives this vodka character and an oily sweetness. The finish is long, leaving the mouth with a final burst of pepperiness, and the oilness of the vodka seems to coat the throat. This vodka makes a stylish martini. 40% Alc./Vol."
The complete range of Van Gogh Vodkas are produced under contract at Dirkzwager Distillery, in Schiedam Holland , a family owned company established 125 years ago. Besides producing their own brands, the distillery also produce many private labels, including Van Gogh, various vodka-based Liqueurs and Amsterdam vodkas. Dirkzwager Distilleries Master Distiller, Mr. Tim Vos, handcrafts Van Gogh Vodka in small batches using the finest grains - primarily a combination of wheat and a little corn and barley. The vodka is distilled twice in column stills and then a third time in a traditional pot still to produce a spirit of the highest refinement. The copper pot still takes the "bite" out of the alcohol,making the vodka particularly smooth. Purified water which is considered superior over distilled water is employed. Mr. Vos believes that when water is distilled, it takes the character out and the water becomes a liquid without identity. Mr.Vos's desire and passion to continuously achieve perfection is evident in his award-winning vodkas, all made through this same multiple distillation process.
Van Gogh's patented square-shouldered bottles are frosted white, etched and feature Vincent Van Gogh's paintings. These are finished in multiple silk-screened colours, and can be viewed in three dimensions. The magnifying effect of the vodka makes the pictures larger, creating a different scene when the bottle is turned.
In perpetual pursuit of the perfect Martini for any ocassion, the Van Gogh company has compiled over 6,700 martini recipes for any mood (this number is soon to reach 10,000), available at www.vangoghvodka.com and also available by CD. These recipes include the Van Gogh Vodka flavours which are now also available in Australia: Citroen, Oranje, Wild Appel, Vanilla, Dutch Chocolate, Raspberry, Pineapple, Melon and Coconut - all made with the highest quality196 proof distilled alcohol and double-infused during a 6-week long process. The bold-tasting, all-natural flavours of these vodkas allow Van Gogh Vodkas to create the greatest number and best-tasting martinis of any vodka.
Like all other Van Gogh Vodkas, this is an all natural melon vodka. One bottle is made from 20 melons resulting in watermelon overtones with some sweetness from the honeydew followed by a lingering taste of cantaloupe.
Tasting note: Clear. Offers a bouquet of very ripe melon / honeydew that's bordering on over ripe and a little on the confected side. The soft, sweet palate possesses good concentration, but like the nose tends towards being over-sweet. Could be better balanced. While this is not the freshest expression in the range, you'd still buy this before sickly sweet concoctions like Midori. 35% Alc./Vol.
Other reviews... Lovely, balanced, pleasantly ripe fragrance of melon; as with all Van Gogh flavored vodkas, the key aromatic element is the underlying balance and subtlety. Palate entry is plump, viscous and reeks of ripe melon; the midpalate displays a lovely oiliness and viscosity that underpins the flavor of freshly harvested and cut melon. Concludes sweetly and mildly.
Rating: 90-95 - www.wineenthusiast.com