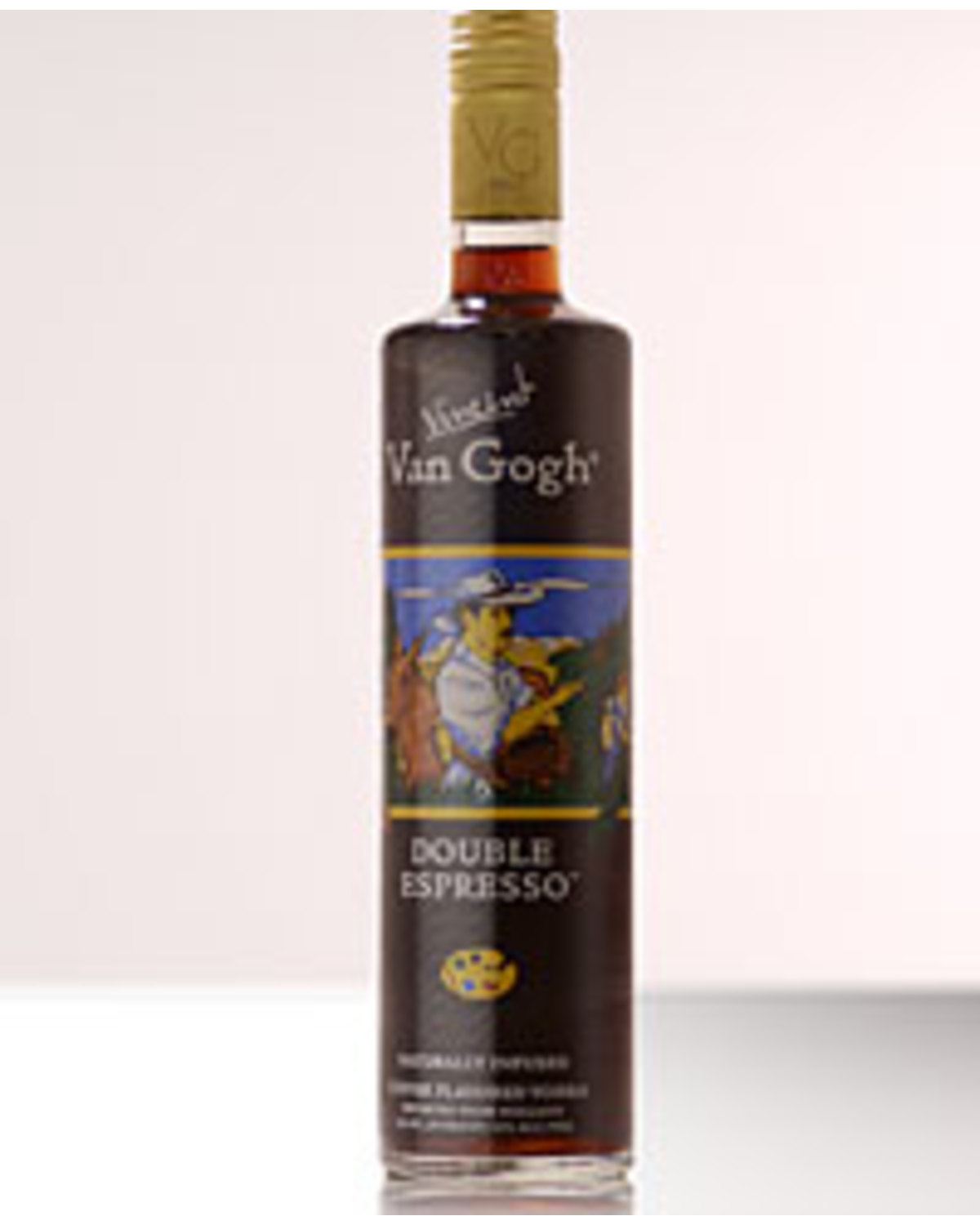 Vincent Van Gogh Double Espresso Flavoured Vodka
The complete range of Van Gogh Vodkas are produced under contract at Dirkzwager Distillery, in Schiedam Holland, a family owned company established 125 years ago. Besides producing their own brands, the distillery also produce many private labels, including Van Gogh, various vodka-based Liqueurs and Amsterdam vodkas. Dirkzwager Distilleries Master Distiller, Mr. Tim Vos, handcrafts Van Gogh Vodka in small batches using the finest grains - primarily a combination of wheat and a little corn and barley. The vodka is distilled twice in column stills and then a third time in a traditional pot still to produce a spirit of the highest refinement. The copper pot still takes the "bite" out of the alcohol, making the vodka particularly smooth. Purified water which is considered superior over distilled water is employed. Mr. Vos believes that when water is distilled, it takes the character out and the water becomes a liquid without identity. Mr.Vos's desire and passion to continuously achieve perfection is evident in his award-winning vodkas, all made through this same multiple distillation process.
For those in love with the standard Espresso bottling, this is the next step with double the caffeine content equivalent to three espresso shots.
Tasting note: Slightly viscous, deep transluscent, burnt umber appearance with a deep mauve blush. Smells like 'chico' lollies (a chocolate variation on the jelly baby). Second pass brings out more of the coffee-mocha naturalness with hints of milk chocolate. The palate repeats the aromas and maintains an appropriate balance between the sweet / gently bitter aspects although more bitterness would be desirable. Finishes clean, dry and mildly spicy. 35% Alc./Vol.
Other reviews... The supple bouquet has a strong coffee bean-like quality with additional scents of cocoa, road tar, roasted chestnut and wood smoke. The palate entry and midpalate are nicely mellow with plenty of rich espresso character. Finishes smoked and tar-like, with the coffee taking a back seat. P.P. (10/1/2006)
90-95: Superb/Highly Recommended. - www.wineenthusiast.com
Cocktail Recipe: Cappuccinotini
-30ml Van Gogh Double Espresso
-30ml Van Gogh Vanilla
-30ml Mozart Chocolate Liqueur.
 Click here to learn more about Liqueurs.

 Click here for Classic Cocktails.