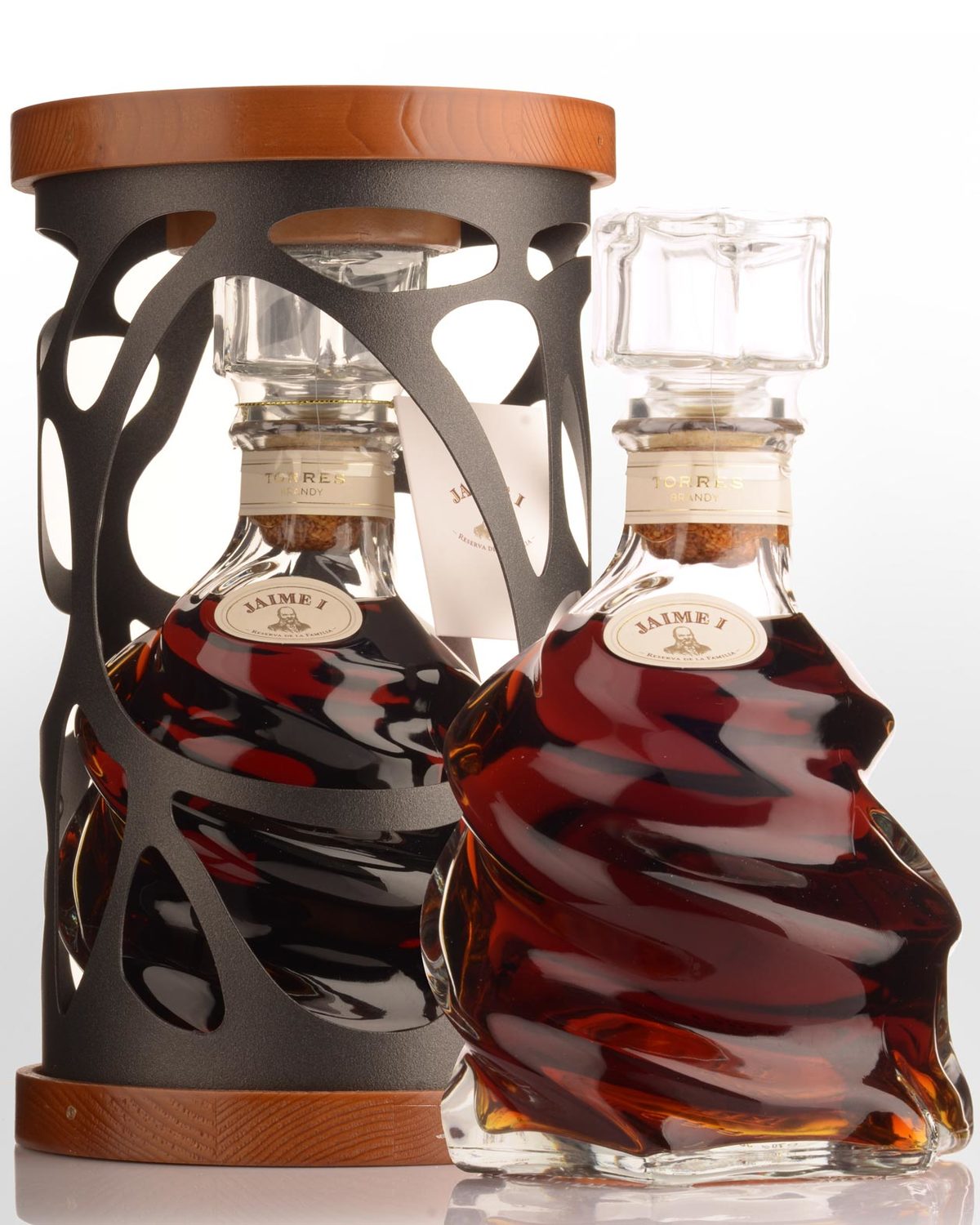 Torres Jaime I Brandy (700ml)
Spain's Venerable National Treasure to Rival Cognac.
In the last century Cognac has marketed its way to the top of the brandy hierarchy. Some Cognac houses have even entered the pantheon of popular culture. If other lengthy distilling traditions appear in a state of obscurity compared, it only affirms the success of Cognac's campaign and its ubiquity as the brandy of 'preference'.
Australia and South Africa are two to be left in the wake of the French. Spain is another. Due credit must be given to Cognac, but the world's other great grape based spirit discoveries can be made elsewhere. Readers are reminded that Australia still produces some stunning XO brandies, and a single estate South African bottling from KWV was honored as "Best Brandy in the World' at the London International Spirits Competition in 2010.
Spain remains a major player in the brandy field, and is second only to Cognac in production.
It's no surprise when one considers that thanks to their absorption of Arab culture around the early 8th century, Spaniards were amongst the first Europeans to learn the art of distillation. For a long time most of their output was sold off to the Dutch as raw spirit, until phylloxera hit Cognac in the early 1880s. At that point in history, Spanish brandy hit a golden age, if only briefly it became a desirable and readily available alternative to Cognac.
In present day Spain there are two regions with Denominacion Origin (DO) controlled brandy production and the spirit must be aged in the Jerez region in Andalucía, or the Penedès region in Catalonia to qualify for certification. For the former, most of the grapes grown are Airen and Palomino and distillation actually takes place in La Mancha, after which the distillate is transported via tanker trucks for maturation in Jerez.
Brandy from Jerez is a national favourite and anyone visiting Spain is bound to come across it. Here the Sherry bodegas mature the lions share of it which makes sense, as they already own the barrels to do it. Ageing usually takes place in 500 litre American oak casks, previously having contained any type of Sherry wine for at least three years.
Just like Scotch Whisky production which traditionally favoured maturation in x Sherry casks, these barrels also make a significant flavour contribution to the ageing process of brandy. Thus, Fino casks will produce brandy which is paler, typically featuring vanilla, fresh fruits and grilled nut characteristics; oloroso casks may lend aromas of walnut, plum, and figs; Pedro Ximenez casks will infuse sweet dried fruit notes and impart a darker colour, and so on. Solera systems are the norm. (More on this below).
While nine out of ten bottles of Brandy sold in Spain contain Brandy des Jerez, the contents of the tenth bottle is the result of those taking the road less traveled.
Brandies from Penedès are amongst those differentiated from the brandies of Jerez - both geographically and stylistically. Here in Catalonia, in the northeast corner of Spain near Barcelona you'll find an approach that's more aligned with the classic model of Cognac. Regional grapes are used but so is locally-grown Ugni Blanc, the variety that constitutes about 98% of Cognac plantings. Distillation takes place in pot stills and maturation follows in French Limousin oak.
Despite this apparent Francophilia, one Penedes producer has not entirely departed from local traditions. This is Torres. This large family run company set up a distillery here in 1928 and has made the decision to retain their soleras, although they do employ French Limousin oak rather than American oak.
The solera system of aging wines or spirits to maintain a uniform quality will be familiar to sherry enthusiasts. To illustrate this briefly, imagine a pyramid collection of casks arranged with each layer containing brandies of different average age.The rows above the bottom layer are called the criaderas, and contain younger and younger spirit as you ascend. The bottom row is called the solera. It's here that the brandy is drawn from when required for bottling, after which the casks are replenished with the same volume from the tier above and so on back through the system. Depending on the producer, this process can occur every 4-5 months, or 1-2 years. Because not more than 33% of the volume of each cask can be removed at any one time, this means that there's always a portion of brandy which never leaves the solera.
Intuition might suggest that adding the younger brandies would dominate the older material. In fact, the opposite happens and the younger stock takes on some of the character of the older one. Rather quaintly, the Spanish put it that the older brandy "teaches" the younger.
While Torres is a large concern, they clearly have not lost their artisan touch.
The flavour profile and mouthfeel are not the same as great Cognac, but then, nor should they be. This is not Cognac. Having said that there are resemblances. Overall Torres' style tends towards heavier tones - dessert fruits, Christmas cake in combination with a seductive overlay that comes across like ultra aged Rutherglen muscat, but with the sweetness kept in check. In short, this grandfather of the brandy family should find favour with any one who has enjoyed the finest Australian expressions, but may equally appeal to those who are finding many Cognacs from the larger houses now overly sweet.
Finally, those who have memories of Barcelona may recognise the bottle as a homage to Gaudí, suitably designed by the architect Tanaka to complete the package.
Tasting note: Very deep polished mahogany appearance with some particles floating in the glass, however, it should be noted that the sample on offer was a near empty bottle, so some natural sediment would be expected. It issues a profound perfume of dried apricot and fig, clove and cigar box as well as hints of muscat; Several minutes later hints of candied orange peel and vanilla emerge. A soft, svelte like entry leads into a creamy textured mid palate featuring Christmas cake, sweet tobacco and muscat notes, the latter accentuating towards the finish. Perfect balance. Concludes long and mildly tannic as the wood and dried fruit notes interchange into the prolonged aftertaste. Superb. 38% Alc./Vol.