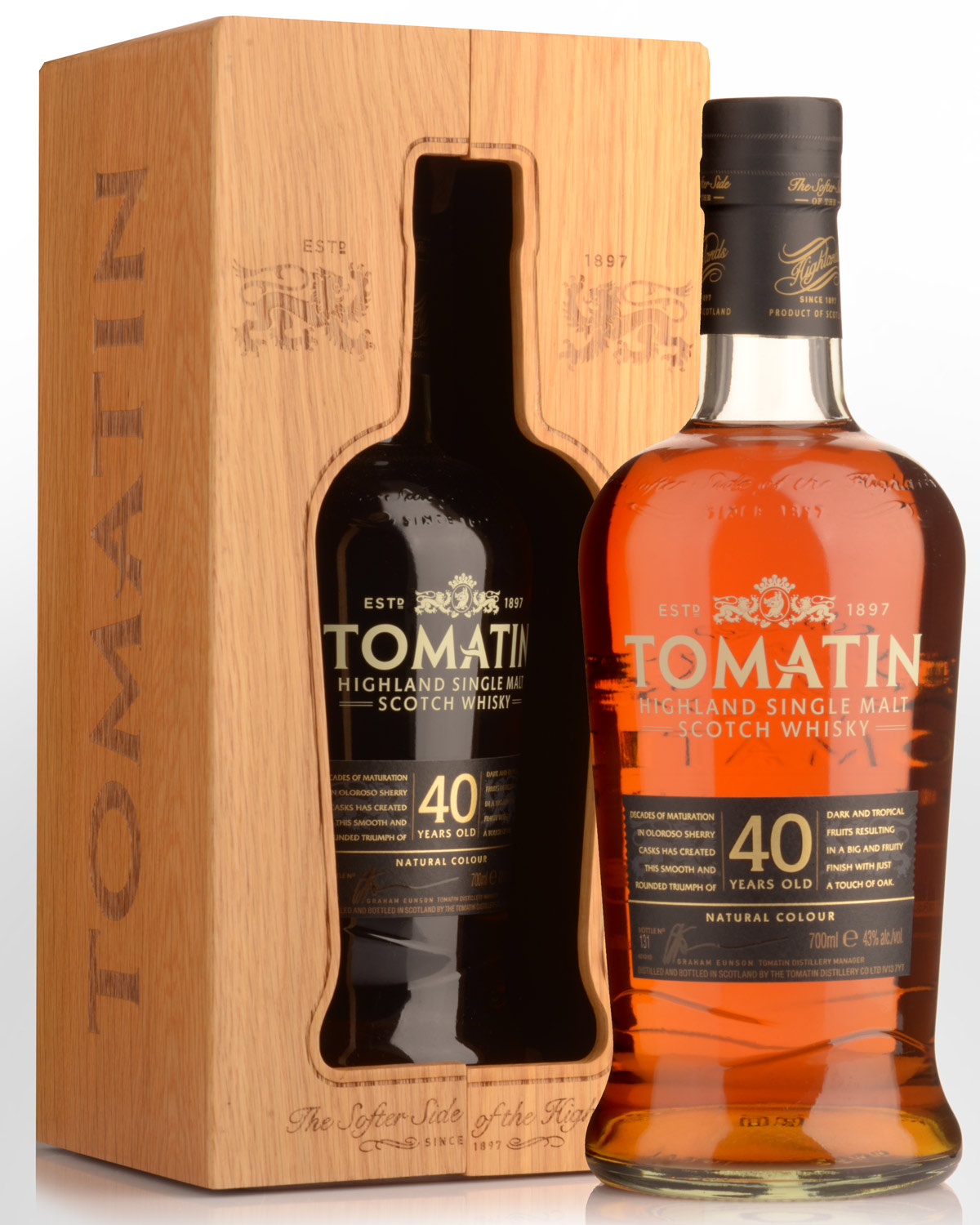 Tomatin Rare Casks 40 Year Old Single Malt Scotch Whisky (700ml)
Speyside, Highlands,
SCOTLAND
Decades of maturation in Oloroso sherry casks promises a profound Tomatin. Despite the sherry input, the fruity distillate remains pronounced. Expect something dark, brooding and unexpectedly tropical. Great review from whiskyfun.com below. 43% Alc./Vol. Very limited stocks.
Other reviews... Part of a new set of travel retail exclusives that also includes a proud (and somewhat Lagavulinesque) age-stated 8 years old, sadly broken during transport (but I'll find it again!) What's cooler is that this little 40 did not break, but would I have been given the choice, I'm not sure I wouldn't have preferred to sacrifice the… 15 yo rather than the 8 ;-). Imagine, age statements in travel retail! Colour: gold. Nose: no sherry bomb, and one that's so totally Tomatin! Not sure this baby contains a lot of, or maybe even exclusively some 1976, but what's sure is that 1976 was a great vintage! Perfect tarte tatin, light menthol, cigar box, honeydew, cedar wood, beeswax, and more apple pie(s), then rather dried tropical fruits, not unlike these mixes they make as snacks for our aperitifs. Bananas, papayas… I find it totally perfect, fresh, complex, and true to the distillery. Mouth: a touch of oak, then a perfect, very fresh avalanche of more dried and fresh tropical fruits (oranges first) as well as raisins, the expected honey and mint combination, and then more oak spices, as often in these oldies. Around cinnamon, nutmeg, and cloves. Also strong mint-floured black tea. Yet, the sherry remained rather discreet, those should have been refill butts. Finish: medium, more mentholated, with a wee turpentine-y aftertaste. Comments: it's not impossible that this very lovely old Tomatin was (even) better at 30, but I find it very perfect and worthy of a big fat 90 (perhaps would that have been 91 or 92 when it was 30?) 90 points - whiskyfun.com