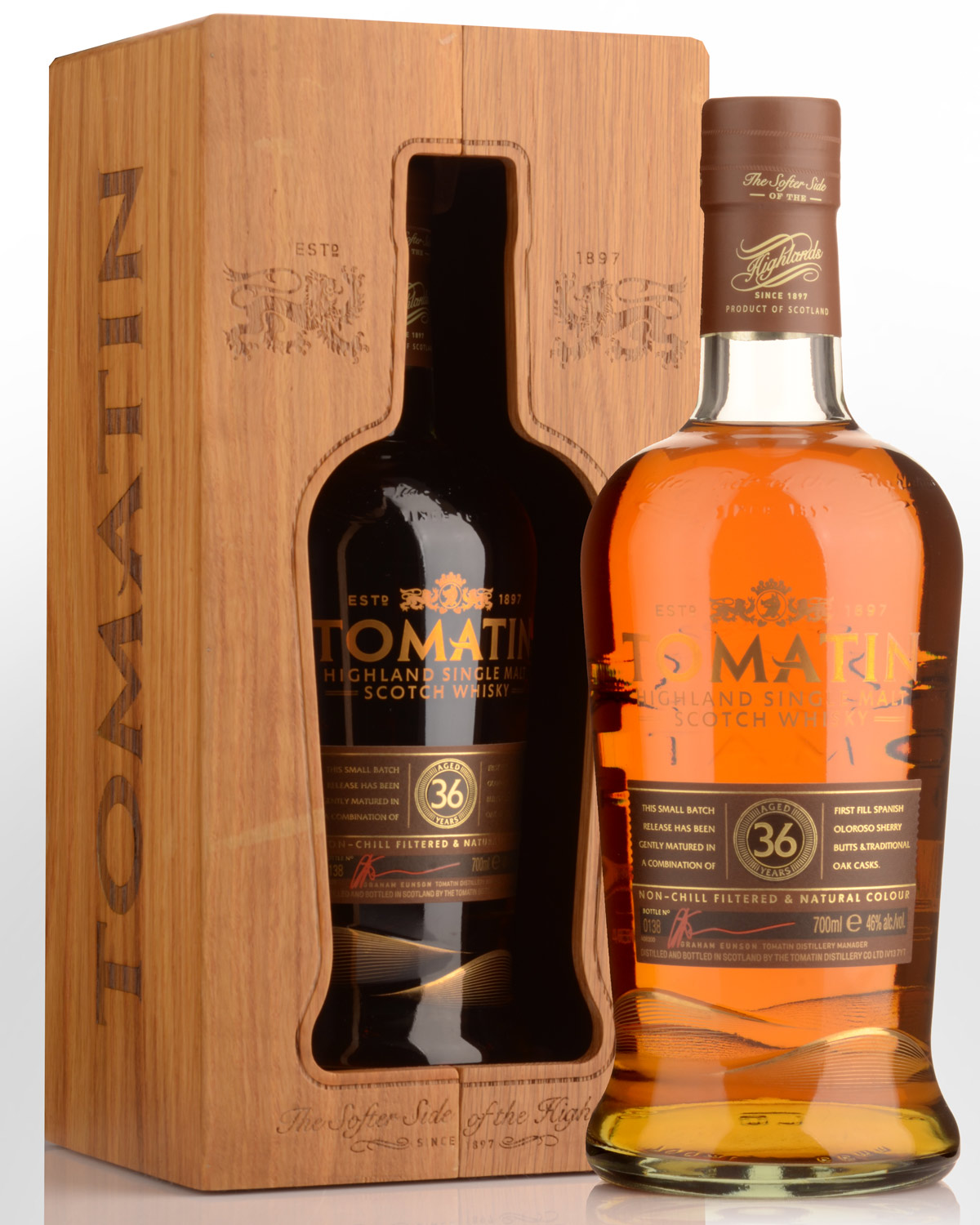 Tomatin Rare Casks 36 Year Old Single Malt Scotch Whisky (700ml)
Speyside, Highlands,
SCOTLAND
There have been numerous batches of the legendary 36 year old, however its understood this version is part of a duty free series (no batch number is stated). Regardless, to our knowledge, all of them were matured in a combination of 'traditional oak' casks and first-fill oloroso sherry butts. Whichever you come across, the consensus is that these 36-ers are truly exceptional distillery expressions. Very limited stocks. Bottled non chill filtered at 46%.
Other reviews... The difference between old oak and the newer stuff is brilliantly displayed here. Make no mistake: This is a masterpiece of a malt. 96.5 points - Jim Murray's Whisky Bible 2022
[Batch 3 tasted] Composed from a mix of sherry casks and plain oak hogsheads. Colour: gold. Nose: Luscious old school Tomatin. Bags of nectars, guava, mango and papaya. Some menthol tobacco, soft waxes, hessian, eucalyptus resin, aged herbal liqueurs and fragrant sandalwood. Underneath, in time, there's also nectarine, ripe mandarin, star fruit and overripe banana. This typically Tomatin and thoroughly seductive abundance of exotic and green fruits basically. Mouth: various resinous and nervous fruit qualities with sweet fruit jellies, green apple peelings, spiced honey, pears baked in calvados, lime peel and wood spices such as nutmeg and cinnamon bark. Some lemony waxes, gently smoky paprika and further menthol qualities such as wormwood and mint tea. Finish: long with resurgent papaya and guava, pineapple juice and precious hardwood notes. Comments: Predictably delicious. If it were legal I'm sure Tomatin could declare that their 1970s stocks contain vitamin C. 91 points - whiskyfun.com
[Batch 1 tasted] Tomatin has introduced a permanently-available 36 year old expression, and the first batch comprises 800 bottles. Matured in a combination of bourbon and oloroso sherry casks, this expression has not been chill-filtered. Milk chocolate and vanilla on the early nose, with background apricots, malt, and ginger. Ultimately citrus fruit and sherry. Good mouth-feel, lively sweet fruits, cloves, and more ginger on the palate. Long in the finish, drying slowly to fruity licorice and plain chocolate. 88 points - whiskyadvocate.com, reviewed by: Gavin Smith 2015